Foam

Liberator introduce themselves as promoting "sexual wellness and freedom, bringing lovers together through a variety of shapes, furniture, toys and more". I'll admit, I'm a sucker for mission-statement-marketing.

I find that the Liberator Black Label Esse Chaise offers that perfect balance for a kinkster: aesthetics, practicality, versatility and supremely comfortable consensual discomfort. Of course the Liberator Black Label Esse Chaise can be used simply as a chaise longue if you wish, and upgraded to a supportive sex sofa when you're in the mood. It has the spectrum covered: you can go from sitting to sex -and more- in seconds.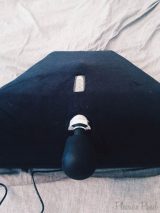 I was thrilled and honoured to get the opportunity to review the Liberator Axis Magic Wand Mount! I had been looking at all the different Liberator sex furniture and weighing my options and thoughts on which one to purchase, but then the amazing Cara Sutra offered me one of these to review for her sex blog! To say the least I was very excited!

The Liberator Fleshlight Mount on a Mission comes vacuum packed, like all liberator shapes/wedges. The Liberator Fleshlight Mount on a Mission came in a rectangular box. Upon opening the box I saw it came with a waterproof valour (this is on the underside and helps stop the mount from moving during use)/faux leather cover and an instruction manual with position suggestions.

I guess I felt like it was Christmas morning when I'd been chosen to test the Liberator Wedge Ramp Combo as part of Cara's sex toy tester program. It's at this point, I really need to say thank you again to Cara for choosing me and to Liberator for changing my sex life. Yes, you did read that correctly - it has really changed our sex life.

The Liberator Talea Spreader Bar box itself was about the size of a box of copier paper. Quite small for a spreader bar was my initial thought; it would barely separate my legs more than hip width if it was as wide as the box. My fears were unwarranted though, as upon opening the box I was greeted with a 'Vacuum Compressed' notice informing me that my product would 'expand to full size upon opening'. A memory foam sex aid - wow, that is definitely a first for me!

When I was asked by Cara if I'd like to review a Liberator Black Label Wedge for her sex blog I made a noise like a startled cat with excitement. I've long admired Liberator products from afar and The Wedge was in my top two alongside the Throe. The parcel arrived very quickly and was extremely discreet, the fact it had actually sat at my mum's house for a few days is a testament as to how much.

I love the Liberator Black Label Sex Wedge and it's worth every penny of it's (at first, seemingly high) price tag. We're really enjoyed putting it through its paces and it's now got a permanent place next to the bed (although room there is seriously running out fast, I can barely see any carpet now). Whether I'm reading my latest sexy read and chilling out, having some incredibly deep penetration sex or a hot spanking session, the Liberator Black Label Wedge is there to give us a silent but sensual helping hand.

Using a dildo or vaginal vibrator I could enjoy the satisfaction of being filled internally, riding the shaft of the toy as I wished, and added in clitoral stimulation via a bullet vibrator or one of the Doxy Wands exactly when and how I liked. As with everything sexual and masturbation the best way to use the Liberator BonBon Sex Toy Mount will be a personal thing, and it's extremely fun discovering what exactly works for you.

Spank Ties are an unintimidating and fun item for lovers or those new to kink and BDSM. I must confess to having a bit more fun with the Spank Ties than merely sexual... I can be such a child!