Foam

Liberator introduce themselves as promoting "sexual wellness and freedom, bringing lovers together through a variety of shapes, furniture, toys and more". I'll admit, I'm a sucker for mission-statement-marketing.

By Cara Sutra: You can read all the Liberator reviews at CaraSutra here, and discover exactly what I've been enjoying, and how. Cut to summer 2016, and Liberator got in touch to arrange some Pleasure Panel reviews, which were completed by some extra lucky VIP reviewers (and include an exclusive 10% off discount code). But never in my most optimistic dreams did I think this would lead to me owning the lust-worthy signature piece from Liberator: the Liberator Black Label Esse Chaise.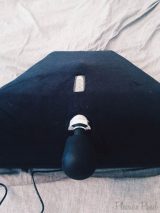 By Puspus: I was thrilled and honoured to get the opportunity to review the Liberator Axis Magic Wand Mount! I had been looking at all the different Liberator sex furniture and weighing my options and thoughts on which one to purchase, but then the amazing Cara Sutra offered me one to review for the Pleasure Panel!

By Kinky Kitten Kim: The Liberator Fleshlight Mount on a Mission comes vacuum packed, like all liberator shapes/wedges. The Liberator Fleshlight Mount on a Mission came in a rectangular box.

By Little Switch Bitch: I guess I felt like it was Christmas morning when I'd been chosen to test the Liberator Wedge Ramp Combo as part of Cara's Pleasure Panel.

By Louise Lace: I was thrilled to be selected to review one of the special collection of Liberator items that Cara had available to VIP reviewers on her Pleasure Panel.

By Cara Sutra: My Liberator sex furniture collection grows from one item, the Liberator Bon Bon for use with sex toys, to two with the addition of this Liberator Black Label Wedge. After visiting UberKinky a few months ago, having talked about which products really appeal to me, I was offered the chance to review this flagship item from the Liberator range.

By Cara Sutra: My Liberator sex furniture cherry has been popped with this Liberator BonBon Sex Toy Mount. Probably not a sentence you were expecting to read today, but read on and all will become clear.

These ties can be used in a couple of ways. They are very flexible and can be bent and used as bondage restraints, of fashioned into a spanking implement. There are diagrams on the back of the pack to give you some ideas. Spank Ties are an unintimidating and fun item for lovers or those new to kink and BDSM.