Thanks to the Pleasure Panel (which you should totally support on Patreon) Cara Sutra has kindly sent me the Jimmyjane Hello Touch X with Electro Stimulation from Bondara to review.

I was absolutely delighted when Cara sent me the ElectraStim Silicone Noir Rocker Butt Plug to review. It is a sex toy that really flicks my switch. It allows you to have even more fun when playing with a butt plug.

I was delighted when I found out that Cara needed someone to review the ElectraStim Jack Socket Electro Sex Penis Masturbator as I have a lot of experience with reviewing e-stim equipment and I've actually had my eye on this product for a while now.

You know how sometimes something seems like a good idea, but then turns out to be a bit of a disappointment? Well let me introduce you to the Zeus Electrosex Nocturna Electro G Spot Vibrator. When Cara Sutra was looking for someone to test this product, I of course said yes, being the Electrically Loving individual that I am.

By Cara Sutra: I was asked if I'd like to review the Kegel8 Ultra 20 by the lovely people over at Kegel8 a couple of months ago. Although initially apprehensive – both due to the internal electro stim element as well as the fact I don't tend to respond well to kegel balls – I agreed to give this electro stim pelvic toner a go.

The e-stim from the ZackZack Cordless Vibrating E-stim Wand Massager works when the 2 rings that are visible on the silicone head both make contact with the skin at the same time. It is advised that a film of the gel is put around the wand and more gel on whatever body part it's destined for.

I love it, it works for me every time and has been a fantastic surprise. If you love wand vibrators, thuddy strong vibrations and will give electro pulses a try (I don't usually like electrosex toys and this one did it for me) then you NEED this wand in your life. It's quiet, powerful, easy to use and really delivers.

The ring is so very shiny and very pretty; it's made from "a solid bar of aluminium - T6082T6" according to the Electrastim site. I had at first thought stainless steel, but nope - aluminium. You get all the instructions you need on the enclosed leaflet including how to connect up your main power kit to the ring.

As with the Electrastim The Controller EM-48E electrosex kit, this prostate massager/electrosex g-spot dildo was sent to me by the Electrastim team. The small bundle of items was safely and discreetly packed, and delivered fast too. You get the true sense that you've got a high quality, trustworthy item in your hands when you own Electrastim products.

The lovely Electrastim team recently sent a bundle of their electro sex toys for minnie and I to review. I've let minnie tell his feedback for this Electrastim EM48-E The Controller Electro Sex Kit as well as the brand new Electrastim Silicone Noir Nona G-Spot Dildo as he's the one on the receiving end, as it were!

As promised, I've dug through the archives and found my ElectraStim reviews (including this one for the ElectraStim Wave Electro Dildo) that switched me on to using electro sex toys - and approaching Cyrex for work! ...

I was contacted by ElectraStim and asked whether I'd like to try out a few of their products, in exchange for a fair, honest and unbiased review. I'm not the world's biggest fan of electrosex, but only because I choose other styles of sexual stimulation. I wanted to branch out and finally get more experience of electro sex and electric stimulation for sensual pleasure, so I said yes.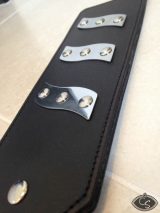 I received the ElectraStim Bi-Polar ElectraPaddle Leather Spanking Paddle along with the ElectraStim EM-60 E Flick control unit pack, and the ElectraStim electrosex Conductive Gel. These items were sent free of charge by ElectraStim in exchange for a fair and honest review.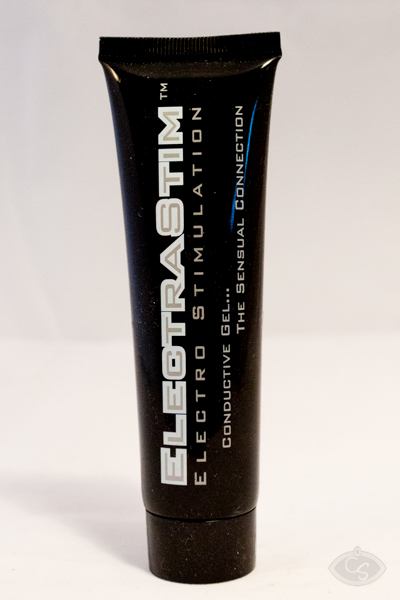 This ElectraStim Electro-Conductive Electrode Gel was sent to me along with a couple of other ElectraStim products, in exchange for a fair and honest review.