Sex Machine Reviews
Sex machine reviews by Cara Sutra & team.

The HiSmith Premium App-Controlled Sex Machine is quite simply the best thrusting fucking machine you can buy. It'll fuck you in ways you never dreamed of, at speeds beyond those possible by any mere mortal, plus it features industry-leading Bluetooth app and web control. For cam streamers, the HiSmith Premium tipping integration means you can lie back and watch the tips roll in.

What's a girl (or guy) to do if buzzy vibrators just don't do the job? Well, you might want to look at sex machines: mechanical beasts that thrust relentlessly on command and keep hammering away until you say stop. The robot revolution is here, and I for one welcome my new orgasmic machine overlords.

I was delighted when the lovely Cara Sutra got in touch asking if I would be interested in reviewing The Tremor Sex Machine. I've my had my eyes on The Tremor for a while now, and so naturally I jumped at the chance.

I really like the MotorBunny Sex Machine. Yes it isn't as polished as its inspiration but it certainly does the job that's required of it. It can rip an orgasm out of its rider or be used to tease and edge for prolonged periods of time. It's also great for BDSM play and would go well in any professional dungeon.

It has long been on my bucket list to try a sex machine. So, when the awesome Cara Sutra allocated me the You2Toys Rotating G-Spot and P-Spot Sex Machine to review for Pleasure Panel I screamed!

By Random Red Rose: The Mia Maxx appears to be a handheld sex machine. It has a thrusting action! *Swoons*.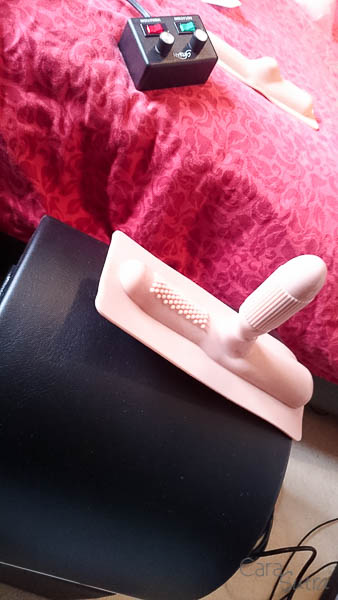 By Cara Sutra: This is the sex toy I always imagined to be the swansong of my reviews. The famously monstrous masturbation machine. The clit basher, the cunt bucker. A beast of a pleasure giver. The original fuck box. The Sybian Sex Machine.

I was finally ready to give the F-Machine Gigolo Fucking Machine a try. So exciting! I put the lights down low, had my glass of wine on the side and an array of Sliquid for comfort. Doxy and other clit vibes within reach, because I'm greedy. I didn't know if I was testing the fuck machine or seducing it.