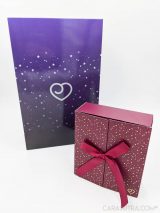 Lovehoney have been releasing new sexy advent calendars every Christmas for a few years now, and they are consistently popular –to the point of selling out entirely, well before Christmas. I was obviously delighted when the team sent me the Lovehoney Couple's Sex Toy Advent Calendar 2020 for my review here on the Cara Sutra sex blog. Spoiler: this Christmas countdown calendar is very exciting and well worth the price tag.

This very textured penis extender is made of very flexible TPE. Therefore despite the potentially intimidating bumps and spikes, the Lovehoney Extra Texture 2 Extra Inches Penis Extender With Ball Loop is quite soft and malleable.

Kinx have delivered an interesting 'universal' add on for, I guess, any vibrator (with a shaft) that you have to hand and, also, with the addition of one slightly larger piece, to fit a penis!  The Kinx Sensational Seven Masturbation Sleeves come in one package with an array of super stretchy sleeves to slip tantalisingly over your favourite vibrator to add some extra texture where you may fancy it!

...when the Perfect Fit Fat Boy Penis Extender 7.5 Inch came up for review and I saw that the sex shop website described it as "insanely stretchy" I just knew if it was going to be any extender, I had to give the Perfect Fit Fat Boy Stretchy Cock Extender a try!

Pleasure Panel Review: Sweet Smile Horny Pink Silicone Hollow Strap On from Bondara

So September round of review products for the Pleasure Panel is here. I almost always try to nab something new to me. This month I was thrilled to see the Linx Emperor Penis Sleeve was part of the package. I was very lucky to get selected to review this product.

First things first, I'd like to welcome you all and thank you for taking the time to read our first review for Cara Sutra and thank Cara herself for arranging this item (the Kinx Orgasma Textured Penis Sleeve) to be sent to us.

Taking the Kinx The Extender Vibrating Hollow Strap On out of the box I was quite surprised as how hard the dong was, I thought there may be a little flexibility. The leg loops are made of elastic and are quite thin and flimsy. They have two press-studs on each leg loop to enable it to easily fit the wearer. I looked at the end of the dong and the size of the hollow in the centre of it. My initial thoughts were: Will it fit, and how do I wear it? Removing the protective plastic I saw that it was slightly larger than I am - both in length and girth however the space I had to slip myself inside it looked very small.

Sometimes you really want to like something. Sometimes something looks really intriguing. Sometimes a sex toy looks like it could be a really good idea... but… Reviewing the Kinx The Extender Duet Hollow Strap On has been an adventure, not one I've entirely enjoyed, but one that I am really glad I took.

My personal preference when using the Rhino Genesis is as a handy upgrade for existing sex toys. Slipping the sleeve over a slimmer dildo or vibrator gives you a monster masturbatory ride. Yes, the vibrations will be muffled and you shouldn't leave the sleeve next to a silicone toy for too long, but for a horny humpathon it's a novel boost. I don't much rate the Rhino Genesis as a dildo on its own, the empty area doesn't give you much to hold on to and thrust with. It was much better for me when I slipped a dildo inside - I used the slim one out of this wooden set. You could also slip a bullet vibrator in the sleeve first (turn it on first) then seal it with the stopper insert if you did want some motion inside.

In summary, this is a wonderful idea and I know a lot of men (and women) out there are going to adore the humpable butt plug from the Perfect Fit range. For me, it's on the back burner, excuse the pun. I need a good warm up (and stretch out) session first to even get a few inches inside; but he absolutely loves the idea, the feel, the kinky aspects and, to be honest, the fact it hurts me a little bit. Sadist.