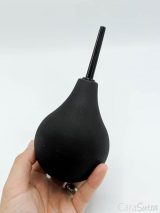 Nexus are a brand I have a great deal of time and respect for. They invest a lot of research into their luxurious and effective prostate stim toys, and are regular recipients of various adult industry awards. No area of anal pleasure is overlooked, as can be seen in this review, which is for the Nexus Douche.

This month I will be reviewing the Prowler Flexi Anal Douche. I've recently started using these douches as a way to make anal play for my wife and I more pleasurable. It allows for less mess, easier cleanup and no awkward moments or smells. This is the largest one I have tested so its size makes me a little nervous, so we will see how things go.

This is the second douche from Prowler that I have had the fortune to test and review for the ol' Pleasure Panel and a surprising treat it was!  I now am the proud owner of two different Prowler douches and I'm happy to say they are an essential aid to prepare for some hygienic and (comparatively) mess free anal fun time.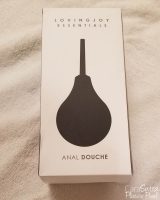 This month I will be reviewing a couple of toys again. The first one is the Loving Joy Anal Douche from Loving Joy. This is the first time I have used one of these. It's kind of like the little bulb syringe that you would use for flushing out your nose or ear only much bigger.

It's never occurred to me to use an anal douche to clean the area beforehand, so I was very interested to see how the Prowler Perfect Angle Douche would change the way I approach using anal toys.  The fact that Prowler have described how the angle of dispensed water will perfectly hit the prostate is an added bonus!

Whether you enjoy the process of getting an enema or douche, or merely endure it as the prelude to greater fun to come, there's no denying it can be a messy and fiddly process. I've tried all manner of syringes, bulbs, pumps, and none has been as simple to use as the Titus Silicone Series Shower Shot Douche Attachment from Clonezone Direct. Put simply: it's a shower head attachment that makes shooting a large amount of water into your bum relatively easy.

I was thrilled to receive the Nexus Douche Pro (aka Cleansing Prostate Stimulator) for review from Nexus Range via Cara Sutra's Pleasure Panel. It features a beautifully curved douching nozzle, meaning you can also enjoy a gently probing Prostate Massage whilst preparing for clean anal play.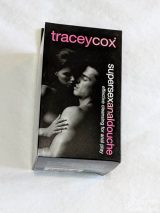 Mrs. Sexy and I recently talked about our curiosity to explore more with anal play, so when we were selected by Cara Sutra to review the Tracey Cox Supersex Anal Douche for this month's Pleasure Panel, it could not have come at a better time.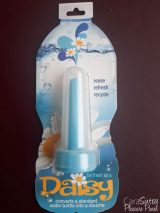 I received the Daisy (be fresh as) Douche and have to say it was not what I thought it would be. The Boneyard Daisy Douche Water Bottle Attachment Anal Douche is so small and compact and since I have a lot of anal play in my life I was excited to see how this would convert any bottle to being a douche.

The idea behind the Bathmate Hydrodouche is that you can hang the bottle in your shower which will then keep it topped up. In practice I found it difficult to position the bottle so that it was filled. Only by pointing the shower rose so that it sprayed right down would it fill the bottle but this meant it splashed all over the bath mixer taps and I was left high and dry. The instruction leaflet advises not to use water that is too warm which in turn means it is colder than usual for showering.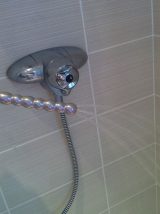 Just slide the Shower Attachment Anal Dildo Douche inside and keep your hand on the water dial, ready to switch off if need be. The sensation is made better if you insert before turning the water on, then turn on as you slowly slide the toy out.