Liberator Wedge Ramp Combo Review
By Little Switch Bitch
I guess I felt like it was Christmas morning when I'd been chosen to test the Liberator Wedge Ramp Combo as part of Cara's sex toy tester program. It's at this point, I really need to say thank you again to Cara for choosing me and to Liberator for changing my sex life.
Yes, you did read that correctly – it has really changed our sex life.


Related: Click to read all our Liberator reviews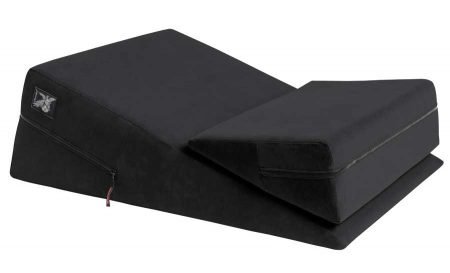 I expected this massive box to arrive containing the Liberator Wedge Ramp Combo. Like I mean,  look at it. It's not the smallest thing in the world now, is it? Yet the box it comes it is about three times smaller than the wedge itself.  This is because the clever folks over at Liberator thought of their consumer's pockets and shipping fees and zapped every bit of air they could out of the wedge's foamy interior via vacuum compression. As well as that, the other reason is to help reduce their carbon footprint. So as well as helping folk fix their sex lives, they are also helping do their bit for the environment.
The snazzy cardboard box, has glossy pictures of how to use your Liberator Wedge Ramp Combo on one side of the box, hidden underneath a magnetic held card. Inside the box, compressed in a zipped up, sealed by a cable tied storage pouch is your wedge. As well as that, the removable covers are also in there, sealed in plastic.
Once you remove the cable tie and pull out the two wedges that make up the Liberator Wedge Ramp Combo – they start to grow. We left them for 24hrs before using them. Though, I did keep peeking in at them and it's quite fascinating to see something so small get so big. Once fully expanded, I slipped the covers onto each. Fairly basic to be honest,  I found it easiest to match the corners up, pull up the rest of the covering and zip them up.
These covers are washable so can be popped into the machine to freshen up when needed. I also, love the fact there is a moisture resistant layer running through them – stopping any liquids leaking through into the foam. Not alone does the velvet feel amazing against bare skin, but it also doubles up and acts like glue against fabric/carpets when in use.
We fell in love with the Liberator Wedge Ramp Combo for two reasons.
One, the covers. Moisture resistant, non moving in use and feel so amazing against our skin, these covers offer so much versatility and really give the overall luxury feel to the product. As well as that, the covers allow you to place the smaller wedge anywhere on the bigger wedge with complete peace of mind that it won't move.
And two, the foam the wedges are made from. They are friggin amazing. Remember when you shoved a pillow under your ass to gain some height or perhaps to create the perfect angle to hit your g-spot.  Remember, sex instantly feeling better and getting there only for the air to be puffed out of the pillow or even worse, it moves just as you're about to reach the finish line in the orgasm race. None of that happens with the wedge. I have been bent over, leaning on it for support and my OH has banged the hell outta me without the wedge budging an inch. Both are specifically designed and made to have a  27 degree tilt to create the perfect pelvic tilt.
We had loads of fun trying to suss out which positions worked for us with the Liberator Wedge Ramp Combo, as well as discovering new ones. One particular time really sticks out in my head. I wanted my OH to lie back, relax and I had planned to give him head. Recently, we have started to try out prostate play and I wanted him to be as relaxed and as comfortable as he could possibly be. I got him to sit on to top and lie down the wedge. I forgot to place the smaller wedge above him so he could use it as a pillow so when he lied back all I could see was an ass and two thighs in the air. It was so funny – the two of us got a really good giggle out of it.
Missionary – I guess some might find it rather boring. I however, love it. If we are having vanilla sex, I love nothing more than to feel the entire weight of my husband against my bare skin. During the summer, my OH suffers from hay fever which causes breathing issues for him. Anyway, me lying on the larger wedge gives me extra height meaning my OH doesn't have lean so much. Slipping the smaller wedge under my bum, allows me to be the perfect height for him to give me head perfectly without straining his neck. Also,when the wedges are positioned that way, my OH can kneel on the smaller wedge allowing him to gain extra height meaning he is bang on, the perfect target to hit my g – spot.
Ooh, and I amongst forgot. Most importantly, well I think it's important!  The foam that's used making this fantastic piece of kit doesn't give under pressure. It can easily take a full combined weight of us both (which is roughly 25 stone) without losing a puff of air. That me is incredible. It o could take more weight in my opinion without it affecting the Wedge.
I really cannot stress how much this wedge has changed our sex life. It isn't a want – it's a need. It is really worth its price tag. Yes, I know it's high up on the price scale. But you are paying for a high quality, super luxurious, revolutionary product which will change your sex life. Positions we love, which would usually be awkward just kinda flow and merge now. Instead of faffing about, it's all about intimacy and getting our freak on.
Thanks again to Cara for sending me the Liberator Wedge Ramp Combo in exchange for an honest and unbiased review.
10/10
– Little Switch Bitch
---
Thanks to our reviewer Little Switch Bitch for this review of the Liberator Wedge Ramp Combo.



This product was sent free of charge, in exchange for a fair and honest review by the Cara Sutra team. 
Contains affiliate links