Real Life Cock Sucking Story: How I Give Him A Blow Job
It was in a recent post-swallow glory haze that my mind turned to what exactly makes for a superb blow job. I like to think I'm pretty good at cock sucking – but don't we all? To quote Shakira though, hips don't lie – and neither does that hot spunk explosion shooting down my throat with some melodic grunting and moaning in the background. What is it about the way I suck cock that he enjoys so much? It is just the physical sensations, or a combination of physical and mental stimulation – or would he come in any warm wet hole if offered the chance? He seems to really enjoy the specific way in which I give him a blow job…
I put myself into a certain mindset when I suck cock. It's almost a sub space – but a cock sucking space. I think it really helps me to give the best blow job possible. Trying to imagine what the view is like from where he is, and how every sensation will be felt by him, means that I'm sucking cock mindfully with his enjoyment a priority – quickly seconded by my own.
It probably helps that we don't just leap into a cock sucking situation, there's usually some role-play with a heavy focus on how I should suck his cock like a good little girl, and how he'll teach me to deep throat. It's all excellent motivation to give the best blow job ever and I also feel extremely sexy as I satisfy my man with my mouth.
There's a transition period where I allow myself to shake off any worries from the day and put stresses and other thoughts out of my mind. There's also a combination of feelings – both wanting to be the best cock sucking slut for him but also imagining I have my own cock and how I would want it to be satisfied in my slut's mouth. The sensations I'd want around my cock collar, down the shaft, the head of my cock completely covered with her warm wet mouth, attention given to my balls and then depending on the mood moving towards anal lubrication and penetration.
I do feel like blowjobs are 90% imagining you have a cock, 5% listening to the audible responses and 5% making sure you don't choke.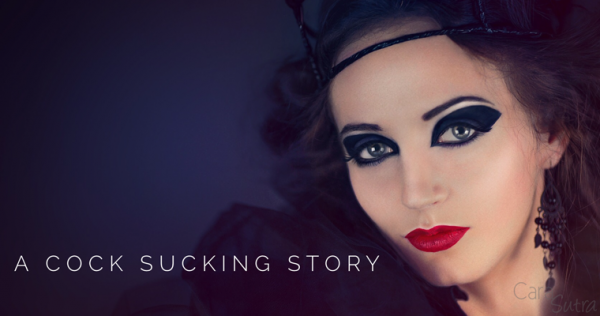 When we begin he's always hard and ready, lying on the bed next to me, by the time my head is anywhere near his cock. Just to make sure, I first gently brush my fingertips up the shaft of his penis and enjoy watching it bounce excitedly, trying to lengthen the time it's in contact with my fingers. A little more teasing in this way and the first drop of pre-cum is glistening at the top of his cock. I like to use that first drop, placing my thumb and index finger to his frenulum and the other side of his cock tip to squeeze out as much as possible. I then brush my thumb lightly over the surface of his shiny exposed head, polishing his weapon with his own brand of lube.
His back is already arching at this point and eyes rolling in pleasure… I know because I glance up to make sure. I smile and a tingle stirs my clit.
My fingers curl around his rock hard erection and gently move up and down, letting his penis travel in my loose grip rather than holding too tight which may be uncomfortable. His foreskin moves over his frenulum and encourages more pre-cum to leak from his tip, lubricating my actions and resulting in gasps from above me rather than the mere sharply drawn breaths from a moment ago.
Enjoying this early tease, I quicken my pace gradually until I feel like he can't take any more; that he needs to be in my mouth now. Sometimes I make that decision, sometimes he makes it for me and I find myself shoved down on his cock, filling my mouth to my tonsils.
If he's blissed out and allowing me to take charge of the situation, I take things a little slower than that. Continuing the steady pace, working his shaft with my fingers curled round, I lower my mouth to that shiny tip. The cock head exposed in full one moment then his foreskin coming up to stimulate his frenulum and collar every other second. My tongue darts out to taste that shiny surface with a salty tang, and I savour that first connection with my mouth. My tongue swirls over it as my hand continues its movements, and my other hand finds his balls and starts to tease and pull gently on them to add to the sensations he's feeling.
Pretty soon I can't stand not having his cock in my mouth properly. My lips form an O and I pop my mouth over his attention-lavished cock, but not all the way down for now. There's not even any suction to start with, and I don't connect my tongue with his cock tip right away either. I just let the tight circle of my lips meet the tip of his penis and slowly roll them downwards, letting my mouth water more at the thoughts and sensations happening in my mind and body so as to lubricate my lips' journey down his shaft.
Bringing the circle of my lips back up to his cock tip and having my hand resume its attentions on his shaft, I finally get my tongue into action. It makes its connection with his frenulum and all the way round his cock collar while my lips retain that snug seal… I also begin the slight suction which means the insides of my cheeks will connect with his penis shaft as I travel downwards while sucking him off.
I need all the saliva I can conjure right now… that's easy enough as I'm hungry to relish his cock filling my mouth. My appetite is wet and so is my cunt as I tease and toy with his shaft and balls more urgently, my mouth working the head of his cock and beginning to let out those tell-tale suction noises as we both become completely immersed in my cock sucking.
Getting to all fours to be better positioned for his pleasure, I use one hand to steady myself and the other is toying with his balls just the way he likes. A combination of gentle touches and taking them firmly but comfortably in hand and pulling downwards, which causes him to stiffen to maximum in my mouth. I'm finding it difficult to retain complete suction round his cock as the speed increases, and he's usually mauling with my breasts and pinching my nipples by then which makes it almost impossible to think properly. My mouth takes his full length so his cock head hits the back of my throat with every thrust, and when his hands aren't molesting my tits he's got his hands in my hair and forcing my head back and forth off of him.
All pretence of taking his full cock length in and out of my mouth is soon relegated to the past 'tease' part of the blowjob, and it's all about the head of his cock right in my throat. That's where he enjoys the most suction, the tightest sensation, the most friction – and the fact it makes me choke so violently and loudly around him. I'm struggling to breathe – and that's turning him on even more. I gasp breaths any time I can but it never seems I get enough air. Nothing exists now apart from his cock and making it feel good for him; and that, in turn, is really fucking turning me on.
Both his hands are in my hair now and I'm being bounced off his cock. He's using the very deepest part of my throat as his personal wank sleeve – a fuck toy in which to dump his cum. I'm thinking nothing except "remember to breathe", and "pleasing Daddy with my cock sucking mouth". It's difficult to swallow but I need to if I don't want drool to drop out of my mouth around him and make a mess everywhere… which he would find hot but what he enjoys even more is my struggle to swallow round his cock. He loves my struggle to breathe, and to swallow, and the feelings of my throat stimulating his cock tip as I'm swallowing my saliva right next to it.
It's not long at this point til I feel that final stiffening of his large cock deep in my mouth, and he's holding my head still as he grunts his hot ejaculation past my fucked raw tonsils deep into my throat.
---
Contains affiliate links