BeGloss Perfect Shine Latex Shiner has left a smooth, glossy finish to the pieces that I treated and works really well in combination win the BeGloss Special Wash Latex Cleaner and BeGloss Easy Glide Dressing Aid. I wouldn't use this without the other two products being involved as it is a little oily without the use of the cleaner first, but if I had the other two items on hand, this would be my go-to polish.

I don't think I'll be going back to talc. I found the BeGloss Easy Glide Latex Dressing Aid to be really useful in terms of functionality, convenience and appeal. It has a great consistency, applies easily and makes putting latex garments on a less time-consuming and pleasant experience.

BeGloss Special Wash Latex Cleaner / BeGloss Perfect Shine Latex Shiner review: I love the feeling of latex and own a couple of beautiful bespoke latex dresses. When Cara put a call out for testers for a latex polish by a company called BeGloss I was happy to offer.

The shine on latex builds over time with multiple uses and Pjur Cult Conditioner Dressing Aid & Conditioner will help your sexy latex fetish fashions last much longer. Great product!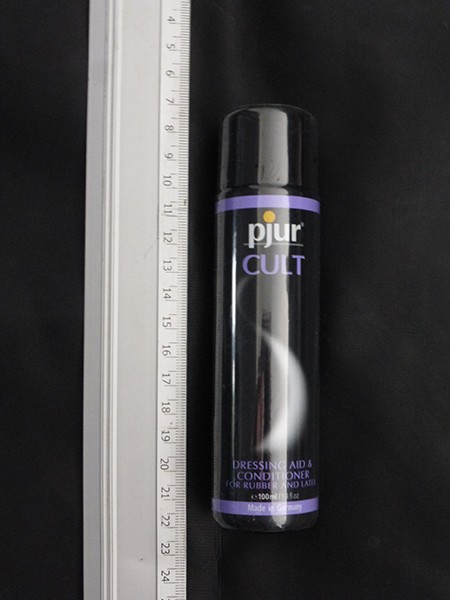 Functionally the Pjur Cult Easy Latex Dressing Aid does the job, I'm not sure if it's any better than talc to get your rubber on but at it doesn't turn into that thick, claggy white gunk we all know and love after a bit of sweating. All in all I can't honestly say that Pjur Cult dressing aid and conditioner is an essential product but it is much more convenient than carrying around a tub of talc and leads to more pleasant cleaning up process afterwards.

I was thrilled when I opened the package and discovered the latex/rubber conditioner was Pjur Cult, it is one that I personally recommend the most. Using the Pjur Cult Latex Dressing Aid, and taking normal safe storage/care for my latex items, has helped make several of my items (catsuits, hoods, and gloves) last for several years. Additionally, there is a noticeable difference in using Cult, as I find it has less residue slipperiness found after using other silicone-based lubes for dressing.

Pjur have formulated a special latex and rubber shine spray which is easy to use and comes in a large size bottle. The Pjur Cult Ultra Shine Latex Shiner Spray is easy to dispense on to your latex and rubber items, simply squeeze the trigger once opening the nozzle, which is very similar to household cleaning fluid bottles.