One of my favourite Sunday afternoon activities is to tie up and blindfold my girlfriend, and use various sensory stimulating devices on her. We have picked up quite a few over the years, including a pinwheel with a single row of spikes, and the MEO Dr Sado Painwheel Hardcore SM Pinwheel from MEO seemed like a great item to add to my collection.

The box for the Fetish Fantasy Gold pinwheel (let's face it, Wartenburg is a mouthful) is quite attractive. Black and grey with 'mock croc' textured side panels, and a black and white tonal image of a hand, drawing the wheel across someone's skin.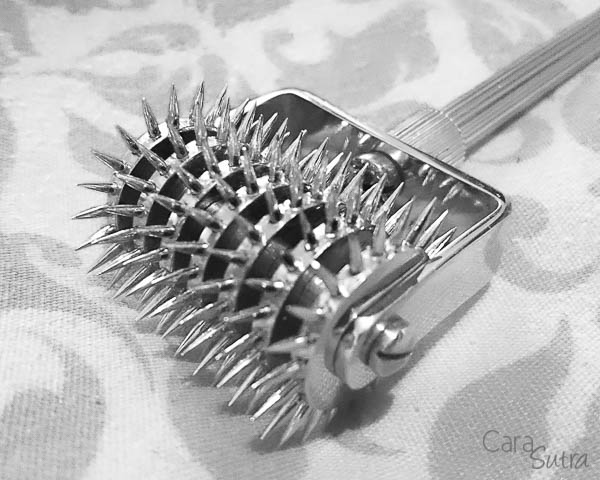 Ever since I was introduced to the pleasure of spiky vampire gloves, I've been addicted to BDSM sensation tools which cause that seductive prickle all over your skin. Mimicking the same sensation that occurs when you get goosebumps, whether it's down my spine, over my thighs or elsewhere, sends me straight into high physical alert and arousal mode.

Used lightly over the sensitive skin of the inner thighs, or trailing down my back, or along the insides of my arms, or around my navel area, the UberKinky Dragon Claws awakened a heightened sense of physical awareness and it wasn't long before the flickers of desire sparked up.

The Kinklab Leather Vampire Gloves are made from the most gorgeous, butter-soft black leather and in that way, they're beautifully soft. These spiky fetish gloves are made from genuine sheep leather.