Wet For Her Union Vibrating Double Dildo Review
Wet For Her manufacture and provide sex toys which are designed 'by women, for women'. Or to be specific, toys to be enjoyed by vagina-owning persons. I was recently lucky enough to be approached by the Wet For Her sex shop and offered two of their sex toys to test out then review here on the blog. You can click to read my Wet For Her Fusion Strap-On Dildo review; in this post I'm sharing with you my experiences with and thoughts about the Wet For Her Union Vibrating Double Dildo.


Packaging & What's In The Box
The Wet For Her Union Vibrating Double Dildo arrives in very discreet and secure outer packaging for the post, while the toy itself is sealed inside a clean-feeling, modern and well-designed box. This box is sealed with transparent plastic for hygiene assurance, and bears some information about the toy inside as well as a large image on the front.
Inside the box you receive the vibrating double dildo, a bullet vibrator (which fits into the silicone toy and provides the vibrations) and a charging lead.
First Impressions & Measurements
It's piiiiink! The Wet For Her Union Vibrating Double Dildo is very, very pink. I don't really care what colour my sex toys are as efficiency comes before aesthetics for me, but I know some people adore pink while others aren't so keen. If you're one of the latter, you might prefer the purple or black version also available from the Wet For Her website.
The vibrating double dildo is made from 100% medical grade silicone, and the toy feels smooth, flexible while being robust and solid. The shaft is quite lengthy, and is all one-piece with the vaginally-worn bulb at the other end. There's a cavity on the underside into which the vibrating bullet (once charged up) is slotted into. Silicone is great at transmitting vibrations, so I was looking forward to trying this out. It's also bendy; you can bend the shaft and the wearer's plug portion to an angle which suits you/your partner best.
Measurements: The wearer's insertable bulb part of the Wet For Her Union Vibrating Double Dildo measures 4 inches in length, is insertable to 3.5 inches and has a maximum circumference of 5.25 inches. The protruding dildo for the recipient measures 11.25 inches in overall length, is insertable to 6.5 inches approx (then you're at the ridged hump), and has a maximum circumference of 4.4 inches.
I've got the 'medium' size of this product.
Charging Up
As I've mentioned, the little bullet vibrator needs charging up before use; this provides the vibrations which are transmitted through the silicone toy. The lead is a USB/jackpin style, which fits into the port on one side of the bullet. There's a red LED which lights up while it's charging. Charge up using any USB port – I like to use my PC or a USB-to-mains adaptor plug by the bed.
During Use
I've used strapless strap-ons in the past, and in my experience there's definitely a learning curve involved. Unless you've got a vagina that could shame a Dyson I wouldn't expect to be able to hold the internal bulb with ease and fuck your partner with the protruding shaft totally hands-free. At least for the first few times.
The shape and size of the Wet For Her Union Vibrating Double Dildo is fantastic, and I love that it's completely silicone which allows me to just get on with enjoying the fun aspects and stimulation without any material-related worries (or worse, a negative reaction). Even better is the fact that the Union has optional vibrations, and that those vibrations are from a rechargeable element. Not only can I choose whether to enjoy the Union as either a strapless strap-on dildo or as a shareable vibrating toy, I don't have to worry about sourcing/replacing batteries, either.
I would definitely have chosen the black version, personally, or at the very least the purple –I'm not a pink lover, as previously mentioned. However, that doesn't affect the use/efficiency of the toy at all (just how it coordinates with the rest of my sex accessories!).
Using lubricant with the Wet For Her Union Vibrating Double Dildo helps make it feel less 'draggy' and keeps things smooth throughout. I prefer to use water-based lube, but you can use silicone lubricant with silicone sex toys without any negative effects to the material (as long as you're sure the toy is genuinely silicone).
After having difficulty removing the vibrating bullet from the hole after our first session with the Union, I've been popping a very small amount of lube in there as well just to aid removal between uses. The box states that the bullet vibrator is waterproof. However, it came apart as I was trying to remove it from the hole that first time, so I'm not sure whether mine is, now. I certainly don't want it to get damaged when I'm submerging the rest of the toy after use to wash it thoroughly, so I just wipe the bullet carefully and get on with cleaning the rest of the toy (the fully silicone part) separately.
You could use the Wet For Her Union Vibrating Double Dildo with a strap-on harness if you do want to enjoy it in an easier, optionally hands-free way. This is a great plan if you find it difficult to grip the internally worn bulb during use, whether due to existing issues, muscle weakness or simply being distracted by all the sexiness occurring (always my excuse 😉).
The Union fits through my leather harness no problem – I was worried that I'd get stuck where the ridge part is, near the base of the protruding shaft, but it all pulled through from the back of the hole in the front of my harness. The internally worn bulb is therefore left behind the harness hole to still be worn vaginally while the other side is free to pleasure your partner. This did mean, however, that the ridges were on the other side of the leather harness rather than available for me to enjoy clitorally while using. It does feel more like a seamless, fully stimulating experience when using the Union without any additional harness.
We added some water-based lubricant to aid proceedings, to avoid any dragginess and unwanted friction during penetration. I also like to use a condom over a strap-on toy (when giving anal stimulation with it) just to make it a little easier to clean after use and to help avoid any scent lingering in the silicone material. My partner found it difficult to take the full length of the strap-on -it's quite lengthy!
We found it especially practical and helpful that the Union can be bent according to how it suits you & your partner best. Especially when it comes to the penetrating dildo part… With other similar toys, sometimes the angle can be so severe that it's difficult to get it in the right position or to feel like it's comfortable the entire time. We really appreciated the option of bending it this way or that, up slightly or down, to help us achieve the best angling for us.
We had great fun exploring the different routes to the peak of pleasure with the Wet For Her Union Vibrating Double Dildo, and I'm sure in a F/F sex session it would truly come into its own.
Summary
The Wet For Her Union Vibrating Double Dildo is well-made, thoughtfully designed and extremely versatile. The silicone is smooth and removes any need to worry about uncomfortable seams or irritation from cheaper, potentially hazardous materials. It's also easy to clean between uses; you can simply remove the bullet vibrator and completely submerge the silicone toy, cleaning thoroughly with cool or tepid soapy water and/or an anti-bacterial sex toy cleaner.
Without the bullet vibrator inside you could also place it in boiling water for several minutes or run it through a dishwasher (without any detergent added) to return it to a completely sterilised state. This is particularly useful if you've used it anally and wish to use it elsewhere next time.
Despite not being the cheapest sex toy out there, the Wet For Her Union Vibrating Double Dildo represents a good investment for those seeking a dual-vagina based sex session, or something different if you're more into pegging/giving anal-based strap-on stimulation. The internally worn bulb also reminds you to keep up with your pelvic floor exercises –something I've found particularly useful!
Where To Buy Yours
If you love the sound of this strapless strap-on and wish to experience a blissful union with a high-quality sex toy, check out the Wet For Her Union Vibrating Double Dildo. You can buy yours directly from Wet For Her – click through the big green button below for ease.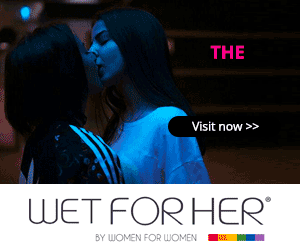 Thanks so much to Wet For Her for providing the Wet For Her Union Vibrating Double Dildo to me free of charge, in exchange for my fair and honest review.


Sponsored review, contains affiliate links