Wet For Her Fusion Strap-On Dildo Review
As you'll have read in my recent Wet For Her Union Vibrating Double Dildo review, I was spoilt by the Wet For Her sex shop when they sent me not one, but two of their awesome sex toys to review. This store specialises in designing and selling vagina-oriented sex toys, and their tagline is 'by women, for women'. Today I'm sharing my thoughts on the sleek and sexy Wet For Her Fusion Strap-On Dildo.


Packaging & What's In The Box
I received the Wet For Her Fusion Strap-On Dildo in the same package as the Wet For Her Union Vibrating Double Dildo, which was both discreet and well wrapped for the post. Inside the package, I found my new Fusion, contained in a sleek and modern-feel box sealed for hygiene assurance in transparent plastic.
The box has a lovely big image of the dildo, while the back of the box tells you all you want to know about the product including material, size, usage tips and more.
Inside the box I found the Wet For Her Fusion Strap-On Dildo nestled in a plastic-moulded cradle, keeping it snug and secure during transit and delivery. That's it! No unnecessary faff, just the Fusion Dildo beautifully made and ready for action.
First Impressions & Measurements
My Wet For Her Fusion Strap-On Dildo is black, but it's also available from Wet For Her in purple or pink, if you prefer. Black's a good colour for me – I'm not much of a pinky-pink woman, and fairly goth besides. The dildo is shapely, with a slightly tilted upwards tip. It's made from 100% medical grade silicone which is smooth, flexible, robust and solid.
The base of the dildo, instead of being completely flat, has a raised oval ridge coming to a smoothed peak down the centre. While nestled against my vulva/clitoral area when placed in a compatible strap-on harness I hoped this would provide me with some brilliant grinding stimulation.
By my measurements, the Wet For Her Fusion Strap-On Dildo is 7 inches in overall length, with an insertable length of 5.75 inches and a maximum circumference of 4.4 inches. This is the 'large' version of this product.
During Use
The Wet For Her Fusion Strap-On Dildo is as pleasurable to give as it is to receive, albeit in a different way. Using it as a simple dildo on myself, during masturbation sessions, was fun. The sculpted silicone, with its nuanced contours, felt sublime sliding home –a splash of lubricant definitely helped. I prefer water-based, but you can use silicone lubricant with silicone sex toys without any negative effects to the material (as long as you're sure the toy is genuinely silicone).
I need to add some vibrations in order to reach climax in solo play sessions, but this was a fun (literal) filler. It provided that satisfying internal fulfilment while I added the powerful stimulation from a bullet vibrator one time, a wand vibrator another.
The Wet For Her Fusion Strap-On Dildo came into its own when placed into a strap-on harness for couples' play. Although my leather harness has a metal O-ring which typical flared base, harness compatible dildos are placed through, the Fusion Dildo has a slightly different base and therefore worked best when popped through from the back of the harness itself, not just the ring alone. In this way I could wear the strap-on harness and enjoy the thoughtfully designed base of the dildo against my vulva and clitoris while fucking my partner with the smooth length of the toy.
Again, we added some water-based lubricant to aid proceedings, and I also like to use a condom over a strap-on toy (when giving anal stimulation with it) just to make it a little easier to clean after use and to help avoid any scent lingering in the silicone material.
I found that the different design of the base gave me some great grinding stimulation during our fuckery fun, particularly good when I could shove the length of the dildo into my partner right to the hilt, and enjoy close cuddling while grinding my naked vulva firmly over the base of the dildo that was buried in them. Extremely raunchy and arousing.
Summary
If you're looking for a high-quality, well-designed dildo which feels great, is effective and versatile in use, then the Wet For Her Fusion Strap-On Dildo certainly fits the bill. There's no faff or frills, just a simple and well-made sex toy which you can rely on to provide the fulfilment you (and your partner, if you choose to share) are seeking.
This isn't the cheapest dildo, but then again cheap isn't always the route to go. Investing in a solid, beautifully smooth and contoured genuine silicone dildo will mean you have a top-quality pleasure product to reach for whether you need to slip it inside and ride, or pop it into a harness to thrill your partner with. It's non-realistic and available in pink, purple or black, meaning it has true universal appeal. Thanks to the design of the base you can enjoy the Fusion Dildo vaginally or anally.
After use the Fusion Dildo is easy to clean as it's simply silicone –wash in cool to tepid soapy water and leave to dry naturally or use a clean cloth. You may also opt to use an anti-bacterial sex toy cleaner, or (as it's silicone) you could place it in boiling water for several minutes or run it through a dishwasher (without any detergent added) to return it to a completely sterilised state. This is particularly useful if you've used it anally and wish to use it elsewhere next time.
Where To Buy Your Wet For Her Fusion Strap-On Dildo
Ready to enjoy a beautiful fusion? Buy your Wet For Her Fusion Strap-On Dildo directly from Wet For Her -you can click through the big green button below for ease.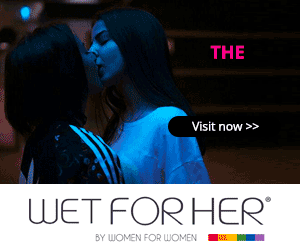 Thanks so much to Wet For Her for sending me their Wet For Her Fusion Strap-On Dildo free of charge in exchange for this fair and honest review.


Sponsored review, contains affiliate links