Vawn and Boon Red PVC Thorax Corset Review (24″)
As you'll have read in my latest review, I received a very exciting package just prior to Christmas last year. The lovely folk over at Vawn and Boon sent me two more items to try on, review and keep; I'd loved the Vawn and Boon Black PVC Vortex Catsuit I reviewed last spring so I couldn't wait to slip into the new pieces. I received the red version, this time, the Vawn and Boon Red PVC Vortex Catsuit – and the item I'm reviewing below, the Vawn and Boon Red PVC Thorax Corset. Steel-boned and fire engine red; stern and striking. Right up my street.
Read my Vawn and Boon Red PVC Vortex Catsuit review

Although I wear my Vawn and Boon Red PVC Thorax Corset with the matching Vawn and Boon Red PVC Vortex Catsuit, you could easily mix 'n match the red and black styles as you wish. The Vortex Catsuit and Thorax Corset are both manufactured in red or black. Red and black is the absolute best combination of colours, as we all know 😉
Like the Vortex catsuit, the Vawn and Boon Red PVC Thorax Corset came packaged in a transparent plastic bag, with tissue paper in the folds to keep it pristine. Both items were delivered to me discreetly, in an opaque outer postal bag.
I was excited enough to discover the Vortex Catsuit in red, rather than the black I already owned (and love), but the addition of a corset was tipping me over the edge. I'd recently got down to a 24" corset with my 26-27″ waist – see my birthday gift corset from my partner, which is larger, heavy and different materials – so I couldn't wait to see how the Vawn and Boon Red PVC Thorax Corset would look. Especially coupled with the red-hot PVC catsuit underneath.
Of course, I wasn't disappointed. The front of the Vawn and Boon Red PVC Thorax Corset has metal hook and eye fastens, while the back is laced with long, strong red laces –both the traditional fastening for corsets. The most important thing to know about this corset is that YES, it is steel-boned. None of that flimsy, easily bent out of shape or broken plastic boning here, that is often seen in bedroom-only corset-style lingerie. This is a steel-boned corset, and therefore I felt confident it could handle my similarly industrial curves.
I need the assistance of my partner to fully and properly lace the Vawn and Boon Red PVC Thorax Corset, and I love that fact. For me, being laced into a corset is an exceptionally sexy experience. There's a bondage element of corsetry which triggers something in me psychologically, and which is far too deep to get into in a product review. I'll leave those musings for another post, on another day. Let me just say I was getting extremely hot and damp by the time I was fully laced into the corset, and it was nothing to do with the weather.
The effect once I caught sight of my reflection, wearing the Vawn and Boon Red PVC Thorax Corset over the red PVC Vortex Catsuit, was totally exhilarating. I'd thought the catsuit by itself accentuated my curves, but the addition of the Thorax corset emphasised my figure in such a dramatic way it was rather pornographic. In a fetish porn type way, of course!
Slipping my red high heel Pleaser shoes on (that makes it sound like quite an easy task –it wasn't, what with the tight-laced corset) and letting my dark hair fall down and frame my dolled-up face, complete with bright red lipstick, I could take in the complete look.
Very impressive, if I said so myself.
My partner was entirely distracted and it was difficult to fend him off/resist his enticements long enough to snap some pics. He's always loved fucking me while I'm in the attractive bondage of corset and heels.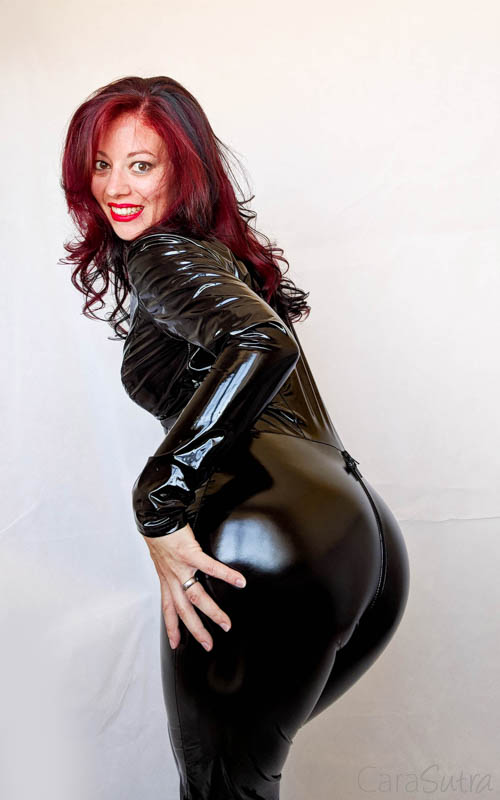 Should you consider purchasing the Vawn and Boon Red PVC Thorax Corset? YES, is the simple answer. Red might not be your colour, but there's a black option. It comes in a range of sizes. It's easy to do up at the front –make sure you loosen all the laces properly at the back first, standard procedure with corsetry- then find a willing friend to lace you up at the back. The lacing provided is generous enough so you can tie it in your preferred style.
Then there's the PVC material. I already waxed lyrical about the PVC in my Vawn and Boon Red PVC Vortex Catsuit review, but the material really is so astonishingly brilliant it's worth repeating.
The PVC that Vawn and Boon have spent time researching, developing and manufacturing to their exacting high standards was worth all their hard work and efforts. It has a 4-way stretch to ensure it fits your unique curves gorgeously, while the material itself is touchably soft. I describe it as buttery, or butter-soft, because that sums it up perfectly to me. Denying your sub the privilege of touching your Vawn and Boon catsuit or corset will be a torture in itself, even if you're not inside them at the time 😉
Although the Vawn and Boon Red PVC Thorax Corset is the perfect finishing touch to the Vawn and Boon black or red Vortex Catsuit, it can of course be worn with any other attire you wish. Or simply with thigh-high boots and a smile, if you're in an exceptionally generous mood…
Thanks so much to Vawn and Boon for reaching out and offering me more delectable additions to my kinky wardrobe from their fantastic and growing range. The Vawn and Boon Red PVC Thorax Corset was sent free of charge in exchange for this fair and honest review. I love it!
Buy your Vawn and Boon Red PVC Thorax Corset here at vawnandboon.co.uk today.
Unaffiliated & unsponsored