Cal Exotics Platinum Golden Jack Rabbit Vibrator Review
Cal Exotics Platinum Golden Jack Rabbit Vibrator review by MMPlay
Overview
I am not new to the world of sex toys for female solo play and this has been one of my favourite toys of all time. This Cal Exotics Platinum Golden Jack Rabbit Vibrator (which used to come in silver also) is large, robust, and powerful. I love the easy to access controls and the numerous speeds and patterns of vibration for the rabbit and the numerous speeds of the spinning beads in the shaft, all of which combines for a toy that always succeeds in providing me with intense orgasms. Despite its very few shortcomings, it has been this girl's best friend for many years.
Specifications
The Cal Exotics Platinum Golden Jack Rabbit Vibrator has a rotating tip, spinning beads, and a clit stimulating rabbit that stimulate almost everything you've got.
7 levels of vibration and 6 rotation speeds (Can accommodate all your vagina's moods and needs – mine can be quite moody.)
Waterproof (I have successfully used it in the shower many times – a handy O ring in the battery housing keeps the insides dry.)
Stronger than average vibrators. (Vibrations can be more intense than many others on the market).
Measures 1.75 inches across at its widest point and 10.5 inches from top to base, with 5.25 insertable inches.
Takes 4 AA batteries (which is convenient because you don't have another cord to keep track of).
It is made from TPE and with lubrication, eases inside and glides in and out. It is soft to the touch, but firm because of the beads inside the shaft. The rabbit is firm, but very flexible so the rabbit's ears vibrate very well to dazzle your clit into ecstasy.
The controls light up and are easy to reach and manipulate without looking in the middle of your solo (or couples) play to allow you to reach your ideal arousal and self-completion as you cycle up and down in levels of vibration and spinning.
I have been using this vibrator for years. Or actually, I've had four or five of these vibrators over the years. Eventually, with frequent use, all machines begin to have trouble working according to specifications and eventually need to be replaced. (My vagina killed them, but it took a LONG time.) The TPE has never lost it's smooth texture or like-new feel, but the motor inside does, after a long time, get noisy and loses it's verve a bit. Each time I have reordered this vibrator, it looks, feels and functions the same, but the latest iterations have been a little louder than the original one from about 10 years ago.
Starting about 10 years ago when I was 40, this Cal Exotics Platinum Golden Jack Rabbit Vibrator has been my go-to toy for my solo play and it has always provided me with many, easy to accomplish orgasms. I love sex toys, rabbit vibes especially, so I've tried many, many of them and I keep coming back to (or cumming on) this one. You can choose to tickle and tease your clit alone while keeping the shaft motor off to give you that full feeling, or turn on the rotating rings for your desired level of vaginal stimulation. Or vice versa.
Besides the varying speeds for spinning the beads in the shaft, in the rabbit there are three (3) vibration speeds and (4) four vibrating patterns. I'm not a big fan of the patterns because I can do that by moving the toy with my hand, but many women love the patterns, so it's great to know they are there if you need them.
I've always been multi-orgasmic and this toy kept me going and kept up very nicely. I have always wished that there was a little more G-spot stimulation, (especially now that I'm 50), but the vaginal stimulation of the spinning beads in the shaft coupled with the amazing clitoral vibration of the rabbit has definitely done the trick.
Many, many, many times.
As I get older and my body is changing in peri-menopause, my stimulation needs are changing. My clit is more fickle the ever before and is easily over-stimulated, so the easy to use controls increase and decrease speed and vibration on the go and have helped me control my arousal and stimulation and given me the ability to control my orgasm as much as possible.
It's also easy for my husband to use on (or in) me when we play together. When I need more, it's there for more.
The Cal Exotics Platinum Golden Jack Rabbit Vibrator is easy to clean. It's easy to store. It's easy to use. It's easy to keep powered up.
It's easy to stimulate and arouse you into your own powerful orgasms. Have an orgasmic good time!
– MMPlay
---
Where To Buy
Thanks to Pleasure Panel reviewer MMPlay for this contributed review of the Cal Exotics Platinum Golden Jack Rabbit Vibrator.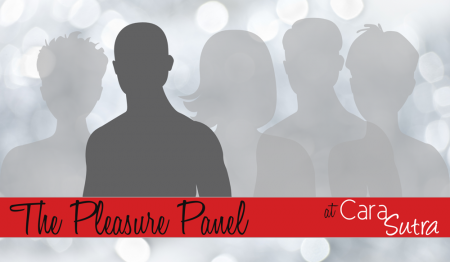 Unaffiliated