MEO Dr Sado Painwheel Hardcore SM Pinwheel Review
By Tim Cash
One of my favourite Sunday afternoon activities is to tie up and blindfold my girlfriend, and use various sensory stimulating devices on her. We have picked up quite a few over the years, including a pinwheel with a single row of spikes, and the MEO Dr Sado Painwheel Hardcore SM Pinwheel from MEO seemed like a great item to add to my collection.


Enjoy all our BDSM pinwheel reviews
The packaging that the MEO Dr Sado Painwheel Hardcore SM Pinwheel arrived in did not seem too nice. The thick plastic bag with a flyer and the product made me doubt the quality of the pinwheel. I didn't have high hopes anyway, as we spent quite a bit of time looking for a suitable single row pinwheel for our first one. Quite a few just didn't have the sharpness or durability that is necessary in such a device. The substandard packaging seemed to be a sign that we had a poor quality pinwheel.
My opinion changed, though, as soon as the cheap-looking plastic was removed. Unlike our previous pinwheel, this one has a solid plastic case. It wouldn't need to float around the toy drawer, risking damaged spikes!
Opening this protective case, the actual pinwheel looks very nice. The plastic handle is nicely ergonomically shaped, shiny and very smooth, with a bit of grip in the place that you would place a finger to control pressure. There's a slight ridge around the edges from the production process which, but it is not too noticeable.
The pins around the wheel are very fine and sharp, like tiny, thin needles. If there weren't 8 rows of them, any amount of pressure would likely break skin. Unfortunately, as they are so very fine, several were bent before we even had chance to use it. This was a bit disappointing, but it seemed like it would still do a nice job.
After blindfolding my girlfriend, and giving her a bit of a massage, I started using the MEO Dr Sado Painwheel Hardcore SM Pinwheel. I quickly found that using difference pressures allowed me to vary the sensations immensely. I started off very gently, which she enjoyed, but definitely couldn't be described as a punishment. Some sensitive areas did get a bit tickly from this gentle rolling, and she described around the shoulders as like a mini-massage.
Increasing the pressure makes the MEO Dr Sado Painwheel Hardcore SM Pinwheel into a different toy. It started leaving red trails where I rolled it, and she started squirming. The tiny little spikes dug in nicely, without breaking the skin. Changing the speed which I rolled also changed the sensation. Going faster felt sharper, hurting her more, especially if she wasn't expecting the change.
There are a lot of ways that this MEO Dr Sado Painwheel Hardcore SM Pinwheel can be used. So many options, changing pressure, speed, and area of use. She got some very interesting sensations from the more intimate areas of her anatomy! The only issue really was the squeak it makes when in use.
Conclusion
We were very happy with the MEO Dr Sado Painwheel Hardcore SM Pinwheel. Despite the bent pins from the start, and the squeak it makes in use, this toy will be regularly out of our toy drawer! I am not sure if we prefer the multi-rows of this pinwheel, or the single row of our old pinwheel. Definitely one to add to your collection if you like to experiment with sensation!
9/10
– Tim Cash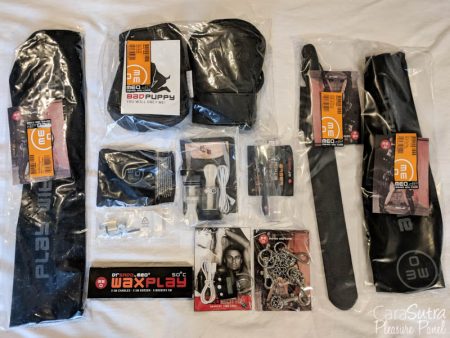 ---
Where To Buy
Thanks to our reviewer Tim Cash for this review of the MEO Dr Sado Painwheel Hardcore SM Pinwheel.


This product was sent free of charge, in exchange for a fair and honest review here at the Cara Sutra sex blog. This review contains affiliate links.