As a girl of very, very limited funds, I found the reasonable price tag on this vibrator very appealing.  I want to convince myself and everyone else out there that interesting, enjoyable, safe and bloody good vibrators exist for everyone.  Not just the supremely wealthy.  Plus it's a rabbit vibrator.  Dual stimulation!  I can't possibly resist that.  There's even attachments to this little bunny.

Whether it's soft caresses of a thumb through clothes. A quick pinch, a lick, a kiss or a hard suck with teeth being gently applied, nipple stimulation is amazing. It can be tricky to enjoy during solo play though.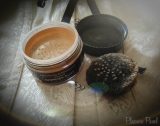 Contouring appears to be the newest makeup craze. What happened to the days of getting it all wrong? Of applying foundation that was four shades too dark in the hope you'd look like you had a sun kissed style, like you were a super cool beach babe? No? Just me?...tragic.

By Random Red Rose: Reading always thrills me. I can become so immersed in a plot with all of it's twists and turns, its characters and scenarios, that I almost forget to do anything else. Housework is neglected as I sit there eagerly turning the pages (even in digital format). When Cara wanted a Pleasure Panel volunteer to review Mothmen by Kaelan Rhywiol I jumped at the chance.

The Svakom Mini Emma Vibrator is a very small wand but with all of the features you'd expect from a larger wand.  It's made from body safe material and it's 100% waterproof.  I have to admit I wasn't sure if it was from its appearance but it's still working after a quick bath.

By Random Red Rose: ...He doesn't own any real guybrators though, I love that word. Then I saw the Fun Factory Cobra Libre 2 on the list of Pleasure Panel review items courtesy of Bondara and I couldn't resist. The chance to witness a masturbatory first, the loss of guybrator virginity, swoon.

I've been in love with a lubricant and stuck with it for ages, before realising there are better ones out there. So now I want to try them all. When Cara offered the chance to try some sample tubes of the System JO H2O Water Based Lube I happily volunteered.

By Random Red Rose: When the lovely Jade Stratton offered to send me a copy of her short story, Loving Teacher, to review for the Pleasure Panel, I was incredibly excited.

By Random Red Rose: The Mia Maxx appears to be a handheld sex machine. It has a thrusting action! *Swoons*.

By Random Red Rose: I'd like to thank AmazingO and Cara Sutra for sending the Rock Rings Wrecking Ball Vibrating Cock Ring to test in exchange for an honest review, I've seen similar items before and wondered what they'd be like.

I found the vibrations on the low and medium settings to feel nice but I found the vibrations on the high setting very powerful but numbing. Also on the high setting I thought it was very loud. The BMS Factory 3 Speed Power Bullet is a nice little toy but it's not a favourite.