Now, I've used cock rings before, but they were rings, that actually looked like rings … not this contraption. I admit I spent a good deal of time working out what went where once I opened the box.

I was sent the Adrien Lastic Mr Hook Hands Free Couples Vibrator (available from Bondara) free of charge by the lovely Cara Sutra, in exchange for a fair review, which I am more than happy to deliver

It isn't very often that I get excited for a sex product just by the look of it. I'm a functionality guy and I usually don't care what a sex toy looks like at all. But when I saw the Adrien Lastic Spartacus R Vibrating Cock Ring, I had a good feeling because just gazing upon it gave me good feelings...

The monthly Pleasure Panel soon comes around and this month I was fortunate to be selected to test and review the Adrien Lastic Gaia Rampant Rabbit Vibrator supplied by Bondara.

I was thrilled to be selected by Cara to review the Adrien Lastic Caress Multi Head Clitoral Stimulator (from Bondara) as part of the Pleasure Panel. I am a big fan of clitoral stimulation so just had to try out this quirky little device.

The Adrien Lastic Amuse Vibrating Butt Plug (available from Bondara) really caught my eye with its highly rippled shape. As both of us enjoy anal play I imagined that at least one of us would fall in love with its texture.

I was selected by Cara to review the Adrien Lastic Little Rocket Vibrating Butt Plug from Bondara on behalf of the Pleasure Panel. I was very excited to have this opportunity. My last battery-powered vibrating butt plug died recently and I was looking to invest in something better quality.

I was sent the Adrien Lastic Symphony 10 Speed Wand Vibrator to review for Pleasure Panel and I loved the look from the minute I saw it on Cara's site. The pink and black colour scheme really tickled my fancy and the unusual shape pricked my curiosity.

All that good stuff becomes insignificant when you feel the vibrations. They're are awesome! During use I tried all the patterns; I didn't have a favourite, I just loved swapping between them to mix up the sensation. I love using butt plugs when masturbating and I could still feel the vibrations from the Adrien Lastic Little Rocket Remote Control Butt Plug when also using one of my strong clitoral vibes.

As a girl of very, very limited funds, I found the reasonable price tag on this vibrator very appealing.  I want to convince myself and everyone else out there that interesting, enjoyable, safe and bloody good vibrators exist for everyone.  Not just the supremely wealthy.  Plus it's a rabbit vibrator.  Dual stimulation!  I can't possibly resist that.  There's even attachments to this little bunny.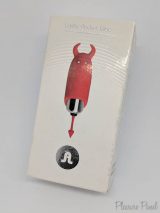 It's not a vibrator that I could use for anything other than frustrating teasing, but it could potentially be enjoyable to some. If you've never used a vibrator before and want something small and non-intimidating, this could be fun for you.

When I first saw the Adrien Lastic O Venus Vibrator, I was instantly intrigued and wanted to try it. The Adrien Lastic O Venus Vibrator is a clitoral and vaginal vibrator designed by the sex toy tester Venus O'Hara, powered by two motors for some extra vavavoom! Venus O'Hara explains in her YouTube presentation of the Adrien Lastic O Venus that she thought about creating such a toy when she realised that she was using a combination of toys and sometimes not in the way they were meant to be used.

The Adrien Lastic Ocean Storm is a rechargeable vibrating love egg. At only 8cm in length and 10cm in circumference, most people will find it a comfortable size to use internally but it also doubles up as clitoral vibrator.

When I saw the Adrien Lastic Couple Secrets Vibrator on Cara's list of available sex toys for testers, I had to jump at the opportunity to review it. I thought, a couples toy! and a remote control one! (me and my partner have a remote controlled egg which we really liked playing with). So I thought it would be great... a treat for both of us.