UberKinky Cheek Retractor Dental Mouth Gag Review
Time for this month's ever-so-slightly-unusual-item review: the UberKinky Cheek Retractor Dental Mouth Gag. You'll recognise this piece of equipment if you're into whitening your gnashers, but you probably haven't thought of it as being sexy in any way. Wrong! If something goes in your mouth chances are it can be turned sexy – or at least a little bit kinky.


Enjoy all our UberKinky reviews & BDSM gear reviews
Similar tools to this cheek retractor and types of medical gags are used by dentists. It retracts the cheeks from the teeth giving access to them – and at the same time, it handily means the unlucky victim lucky subject can't close their mouth. Now what could be sexy about that? I'm sure your imagination is answering that question for you right now.
The UberKinky Cheek Retractor Dental Mouth Gag won't stop the wearer from making sounds and even from being understood, especially if the listener is fluent in dental-chair-speak. You know what I mean, that conversation you have with the dentist when he's got three bits of metal, two cotton wads, a sucky hosepipe and two latex-covered fingers in your mouth.
This gag is a dental fetishist's wet (with drool) dream come true.
Made from a blue plastic material it would be easy to think that the UberKinky Cheek Retractor Dental Mouth Gag is a fragile piece, however it's surprisingly durable. We've used this (albeit throughout fits of giggles on both mine and my partner's parts) on plenty of occasions now and it's easy to put in, take out and generally use. Being plastic it's simple to rinse and keep hygienically clean, and there's no chance of biting down on it because the whole purpose of the thing is to keep your cheeks away from your teeth.
As well as being a perfect accessory for dental fetishists, it's also a cheap entryway into the kink for people wanting to explore without breaking the bank. The UberKinky Cheek Retractor Dental Mouth Gag costs just £12.99.
As an extra bonus, if you've a secret crush on Wallace of Wallace and Gromit fame, you can turn your lover into a lookalike in a matter of seconds with this handy small piece of mouth apparatus.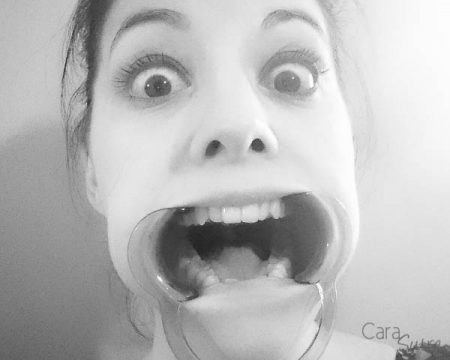 I found I was able to adequately control my drool (in general, not due to thinking about Wallace & Gromit) when wearing the UberKinky Cheek Retractor Dental Mouth Gag without any additional play factors. It's more difficult when used as part of a play-forced oral sex scene. Cheeks pulled pack and giving a blow job while wrists were restrained was a… unique… experience. Let's just say I'm glad I have some new fluid proof sheets to test next.
If you're looking for something different in terms of a sex toy/sex accessory, or a new style of mouth gag, or you're really interested in or already into dental fetish, the UberKinky Cheek Retractor Dental Mouth Gag could be the perfect next purchase for you. It probably won't stand up to being stood on so be careful where you leave it, and I've only had it a couple of weeks so the jury's out on how long it will last with regular use.
It's only £12.99 though, so in my opinion a good next add-on to your fetish gear basket of goodies.
Buy Yours
Check out the UberKinky medical gags range plus the rest of their high quality, reasonably priced BDSM gear through the button below.


This review contains affiliate links