HNRX ES Bondage Rubber Wrist Cuffs Review
By Pleasure Panel reviewer Just Jess
I'm a huge fan of BDSM and have slowly been amassing a range of bondage and impact toys since I began reviewing three years ago. Being restrained is one of my favourite ways to play and I'm always on the look out for new products for my kink cupboard (it's actually a wardrobe). Most of my restraints are leather so I was curious to try the HNRX ES Bondage Rubber Wrist Cuffs from Honour; would they smell as good, would they be as strong and durable, would they put me in the same submissive head space as my leather restraints?
HNRX isn't a brand I'd previously heard of but a quick glance over the range at the Honour website certainly piqued my interest. Spreader bars, thigh cuffs, arm binders, anal hooks… hello! My kinky little mind went into overdrive waiting for my Pleasure Panel parcel hoping I'd love the cuffs so I could look into buying some of the other goodies from Honour.
The HNRX ES Bondage Rubber Wrist Cuffs came boxed in a neat black and purple cube, the packaging is classy and minimal.
The smell of rubber hits you the minute you open the box. Whilst this doesn't elicit the same emotions as leather does for me, it did make me seriously horny! Smell really helps set a scene for me, especially if I'm blindfolded and all of my other senses are heightened.
The latex rubber of the cuffs is very strong and flexible. Unlike some of my leather cuffs there is no padding so they are little harsh to wear long term. I love the bite I feel on my wrists when I pull against the HNRX ES Bondage Rubber Wrist Cuffs.
Chrome studs, buckles and D/O-rings give the matte black cuffs and industrial look with I love, I never was much of a pink, fluffy handcuffs kind of girl. The metal work also makes the HNRX ES Bondage Rubber Wrist Cuffs extremely heavy. I playfully hit a partner with them and left a pretty red welt on his arm.
The cuffs have very heavy duty buckles which are lockable with the provided padlocks. The padlocks themselves are slightly disappointing as they're brass and don't really match the black and chrome aesthetic of the cuffs but they seem strong and haven't pulled apart when I've pulled against them.
The inescapability of the HNRX ES Bondage Rubber Wrist Cuffs when locked definitely appeals to my bratty, submissive side. I love to misbehave but wearing these means I have to be a good gir. No matter how hard I pull and strain on them, there's no way I'm getting out!
I was surprised that the cuffs aren't actually attached, you need a separate clip to hold them together or to fix them to other bondage items; Honour recommend their HNRX ES Double Trigger Hook.
The packaging also suggests you use the HNRX ES Bondage Rubber Wrist Cuffs with the other items in the HNRX Extreme Suppression System which includes thigh cuffs, a collar, ankle cuffs and lots of other delicious bondage options.
I have carabiners, rope and a hogtie system which I easily attached to the HNRX ES Bondage Rubber Wrist Cuffs but I did find it strange that a clip wasn't included when two padlocks were. In theory you could lock the cuffs together using the padlocks but you wouldn't then be able to lock the cuffs so if you do buy these you will need an alternative way to connect them.
I'm not sure why HNRX have added an O-ring to the D-rings on the cuffs. These are quite poorly soldered and don't really add anything for me, practically or aesthetically. The D-rings themselves are plenty big enough to attach clips or any other restraints I've used with the cuffs so I haven't really used the O-rings.
Designed to fit wrists from 12cm – 22cm in circumference I can just about fasten these round my ankles on the biggest setting. I like the versatility this adds to the set and that I don't have to root around looking for ankle cuffs in the middle of a scene if things get switched up.
Honour offer a 10 year punishment guarantee on the HNRX ES Bondage Rubber Wrist Cuffs. I somehow don't think I'll be needing it as the quality is fantastic.
9/10
– Just Jess
---
Where To Buy
Thanks to Pleasure Panel reviewer Just Jess for this review of the HNRX ES Bondage Rubber Wrist Cuffs.


The HNRX ES Bondage Rubber Wrist Cuffs were sent free of charge, in exchange for a fair and honest review by the Pleasure Panel, by Honour. Thank you! 🙂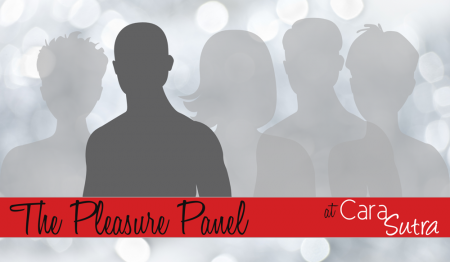 Contains affiliate links