Bondara Red Bondage Rope with Tassels Review
By Pleasure Panel reviewer Joanne's Reviews
Thank you Cara and Bondara for giving me the opportunity to review this excellent Bondara Red Bondage Rope with Tassels for you both.
The Bondara Red Bondage Rope with Tassels is a very striking red colour, it's like a pill box red and it looks fantastic and really stands out when it is run over or near black leather restraints. It's a very useful 10 metres long and that's plenty for most play ideas that you may have.
I have used the Bondara Red Bondage Rope with Tassels for restraints and have even been put into a pentagram rope harness (Google it for easy to follow instructions), it was plenty long enough for that and I am let's just say of a fuller figure.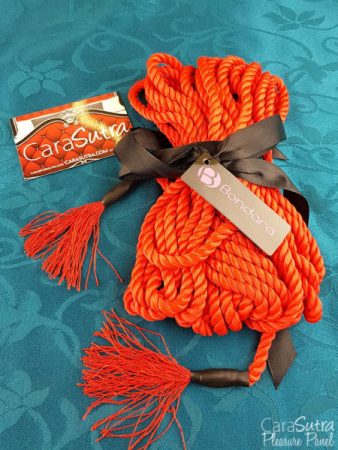 This Bondara Red Bondage Rope with Tassels was a pleasure to review and it is now in my BDSM play bag as it will be used again in the future. It's really soft to the touch which surprised me as after seeing the images on the Bondara website I thought that it would be stiffer.  In reality it's very soft and flexible and this makes it great for knot work and also for bindings.
When placed against the skin in a harness or as a restraint it is very comfortable to wear. Upon removing it you will be left with some delicious indentations and marks where it was against your skin and this 3D texture is a bonus that you get with this rope. My other ropes are smooth and silky ropes but I like the bite that this one has when being bound by it.
Its coarse texture helps it to bind against itself when you are tied up making it very hard to wriggle free and I haven't managed to escape from any bindings when using it. So I think it's an ideal rope for restraining a submissive prior to some corporal punishment or just for tie tease fun in the bedroom.
I love the way that the ends are finished leaving strands of the rope free as tassels. Heat shrink tubing has then been used to secure the ends or the rope to prevent any more from unravelling. These tassels give this rope an almost burlesque look to it and this is heightened by its striking red colour. I couldn't resist holding the ends of the rope over my nipples as if they were some form of burlesque nipple pasties.
This Bondara Red Bondage Rope with Tassels is very, very tactile and the way that it rubs against itself is mesmerising, I found myself just enjoying squeezing the rope in my hand listening to the delightful noises that it creates when it rubs against itself, it's quite a hard noise to describe but it's very pleasant.
If red is not the colour for you then Bondara also has Bondara Black Bondage Rope with Tassels and both colours are also available in 5 meter lengths as well.  If you are planning on using this rope for hand and wrist bindings then that is a great size as the 10 meter lengths are much more suitable for harnesses and tying a submissive to furniture or other dungeon equipment.
I really like the feel of this Bondara Red Bondage Rope with Tassels and it just looks so decadent. It comes with a silk tie around the bundle of rope that is actually long enough to use as a wrist restraint as well. The silk tie makes storage of the rope a very simple task as you can simply coil it and then secure it with the tie until your next play session.
All in all I think that the Bondara Red Bondage Rope with Tassels is a very nice play rope. It has bags of character and feels delightful against the skin, having two colour choices keeps your options open and I just love the way that the ends are finished. The tassels are a great feature and turn a simple length of rope into a more of a performance piece.
As I write this you can grab the Bondara Red Bondage Rope with Tassels for almost half its regular price which makes it an absolute bargain at only £6.99 for this 10m length. The 5m lengths are available right now for the bargain price of just £4.99.
Rating: 8/10
– Joanne's Reviews
---
Where To Buy
Thanks to Pleasure Panel reviewer Joanne's Reviews for this review of the Bondara Red Bondage Rope with Tassels.
Buy yours here from Bondara.
The Bondara Red Bondage Rope with Tassels (10m) was sent free of charge, in exchange for a fair and honest review by the Pleasure Panel, by Bondara. Thank you! 🙂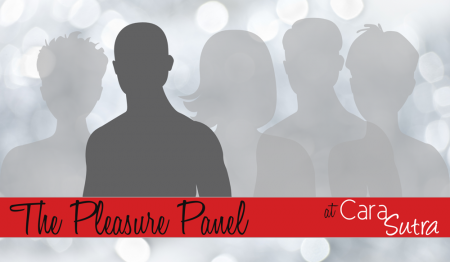 This review contains affiliate links.