Beginner's Guide To Bondage: Complete Bondage 101 & Top Tips
Beginner's guide to bondage, helpful bondage tips & complete bondage 101
Bondage is far more intense and exciting than the one-dimensional Christian Grey and quick-wilting Ana Steele would have you believe. Despite Fifty Shades of Grey helping to spotlight the joys of BDSM in the mainstream in recent years, plenty of people have been enjoying the physical, psychological and emotional liberation that the power exchange in D/s role-play offers. Due to the recent sharp rise in mainstream interest, I wanted to share my bondage top tips and advice in this beginner's guide to bondage today. Welcome to my complete bondage 101!
What Is Bondage?
Bondage is the act of being bound – that is, being restrained so that the person's movement is partially or completely restricted. In this context, bondage is enjoyed between consenting adults for the purposes of erotic and psychological fulfilment. It can be enjoyed on its own merits or as part of Dominance and submission role-play as part of a wider BDSM scenario.
Those bound put their trust in their 'scene partner' while they are in a vulnerable position and the one doing the binding enjoys this trusted role and the control over the one restricted. Together, consenting adults in BDSM can delight in exploring the heightened physical and mental sensations that bondage offers.
Why Is It Sexy?
Firstly, the control aspect of having someone bound before you, or being bound for someone in control, is extremely exhilarating. Both parties actively consent, or course, and the trust and vulnerability aspects dial the psychological sensations up to 11 –and the physical reality of being bound can feel incredibly sexy, too.
Secondly, you might enjoy sex with a minor or major element of bondage. Having sex while bound adds a delicious naughtiness, a raunchy level of kink which can otherwise be difficult to achieve. Despite the mandatory consent in play, it can be enticing and evocative to writhe against the bonds during foreplay and sex –for both your partner's visual and mental pleasure as well as your own. Moaning optional, but often encouraged.
When you're in bondage you're unable to stop the other person doing what they wish to you (aside from safing out, of course, we'll get to that) and unable to touch yourself for whatever reason, including to stimulate yourself sexually. The tease and denial elements during foreplay, sex or a non-sexual contact BDSM session all come into play, ensuring that it's a highly arousing (physically and psychologically) session for all involved.
Who Can Enjoy It?
You might identify as Dominant, submissive, Master, Mistress, slave, other – it really has no bearing on if you should or do enjoy bondage. Just as sex toys are to stimulate anatomy and aren't for specific genders or sexualities, kink activities like being bound can be enjoyed by any consenting adults, not only submissives (who are typically associated with it).
It's not just for men, or just for women, and it isn't only for hetero, cis, or those in a romantic relationship. You don't even have to include a sexual element to bondage, it can be enjoyed simply for the power exchange dynamic, or the physical sensations and heightened erotic aspects the activity itself provides.
How To Get Started
Firstly, make sure you're absolutely certain you want to get involved with bondage. All parties need to actively consent, and it should be something you both look forward to, as well as something you're appropriately prepared for.
You might be wondering what you should use to tie up your consenting and excited partner – or what you'd like to be tied up with. Here's a few of the most common bondage accessories:
Ankle and Wrist Cuffs
Bondage Tape
Spreader Bars
Under Mattress Restraints
Smaller, specific restraint tools such as hog ties, humblers, chastity devices
Bondage Rope
For an in-depth look at the above bondage accessories and more, please see my Big Guide To Bondage Sex Toys. You can also enjoy all our bondage sex toy reviews.
Rope Bondage
Rope may look soft and sensual –but it is deceptively unyielding when used to restrain a rope bondage fan, especially in the hands of an expert rigger. Rope bondage is a deep and enduring passion of mine.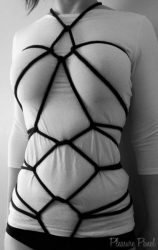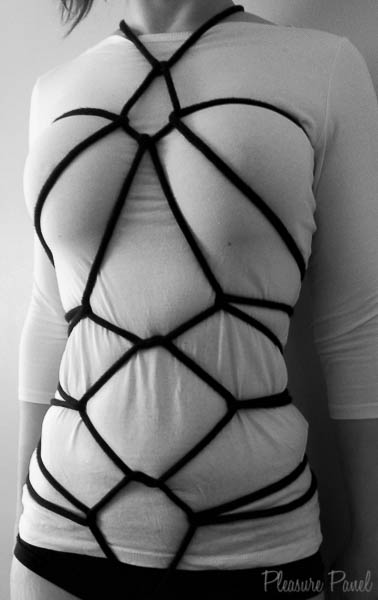 This bondage accessory is easy to store, too. You can stuff it into a drawer or wardrobe, under your bed, into a toy case or take away with you in a weekend bag. It can be wrapped up as small as possible, and there's no fear of it clanking in your travel case like bondage toys made out of metal. You don't need any other accessories in order to make it work, no clips, buckles or shackles, just preparation in terms of which knots to tie and how to remain safe at all times.
You can read about why you should specifically select rope made for bondage fun in the guide to bondage toys I linked to in the last section. Rope by itself seems to innocent until an expert rigger creates a beautiful and inescapable rope harness or other type of restraint.
The process of tying someone up with rope, or being tied up, can feel exquisitely erotic too. The time taken to patiently create this form of bondage allows for complete calm. Minds are focused on both the physical sensations of the rope being pulled over sensitive and often naked skin through loops and into knots, and the sensual mental aspects of placing someone or being placed into this unique position.
As well as being used to form inescapable bondage, rope can be used as a decorative body harness, in place of or in addition to the wearing of a collar to symbolise submission to another. Or, simply because you love the sensation of wearing rope! I've often worn a harness under clothes as a keen libido booster and for kinky thrills throughout the day. Rope can also be used to bind someone when they're clothed, as well as naked during more sexual role-play sessions.
Top Tips
My beginner's guide to bondage wouldn't be complete without some handy and practical top tips:
Don't purchase bondage accessories impulsively. Think about your budget, if you're actually going to/able to use that particular product, and if you have the space to both use and store it.
If your bondage fun will mainly be bedroom-based, seriously consider an under-mattress restraints set. Then all you need is your bed (you don't even need one with a headboard), a partner, willingness to tie up/be tied up and the time to enjoy. The tethers go underneath your mattress and have loops or cuffs at each end, used to restrain someone by their wrists and ankles. Their weight combined with the mattress keeps everything secure and inescapable. Afterwards it's easy to pack away, just tuck the ends in under the mattress!
Take it slowly. You might both be excited and enthusiastic but It's better to take your time exploring what exactly you both enjoy about bondage, and giving plenty of opportunity to communicate, rather than rushing and risking upset or worse.
Do not fear the safeword. Seriously, it's absolutely fine to safe out, it's not a 'fail' or a sign of weakness. Communicate clearly at all times – and if you can't, because of a gag or similar, make sure you have another way of saying 'amber', 'red' ('OK need to stop and discuss' or 'stop immediately').
Safety Aspects
Let's discuss the safety aspects of bondage in a little more detail.
Active consent by all participants is mandatory and non-negotiable.
Only use accessories and restraints specifically designed for erotic bondage. Don't tie anything round people's necks.
Don't feel pressured into anything you're not comfortable with, whether that's pressure from yourself, the media or anyone else. Just because they did it in 50 Shades (or whatever book, TV show or film) is not a good enough reason to feel like you should try it out, too. Also, there doesn't have to be a sexual element to bondage, or any D/s, or (obviously) any situation where you don't want that.
Always have a set safeword or agree to the use of traffic lights, or have a non-verbal method of 'safing out' if required. A safeword is a word you wouldn't usually say during sexy sessions or role-play, so 'no' or 'stop' is out. Traffic lights are the use of the words 'red', 'amber' and 'green' to mean 'stop immediately', 'I'm getting close to my limit, I need to discuss' and 'I'm good to continue'.
Have a quick-release / quick-escape mechanism at all times. This may mean having a pair of scissors within reach, particularly during rope bondage.
Be aware of and respect the importance of mental and emotional safety and comfort, as well as physical. Subspace can leave someone feeling extremely vulnerable and exposed, possibly in ways they've never felt before. Beyond communication throughout the role-play session, aftercare is the kind and respectful way to show someone you value and respect their mental and emotional state as well as physical.
In Conclusion
Bondage makes me feel valued, beautiful, vulnerable and powerful all at once. My partner and I love indulging in some kinky bondage during our D/s role-play and sexy play sessions. We particularly love the intense thrills and sensual eroticism offered by rope harnesses – I find it an extremely relaxing and therapeutic exercise which goes beyond mere physical sensation. That said, having sex while in bondage takes the sexual pleasure almost off the scale entirely…
I hope that this beginner's guide to bondage has provided you with a some helpful pointers so that you can start your erotic restraint adventures with calm confidence as well as amorous excitement.
Contains affiliate links