Sybian Sex Machine Review by Cara Sutra
Including the new G-Wave & Orb Silicone Sybian Attachments
There's no beating about the bush with this review. However, there is definitely a beating or two 😉 This is the sex toy I always imagined to be the swansong of my reviews. The famously monstrous masturbation machine. The clit basher, the cunt bucker. A beast of a pleasure giver. The original fuck box. The Sybian Sex Machine.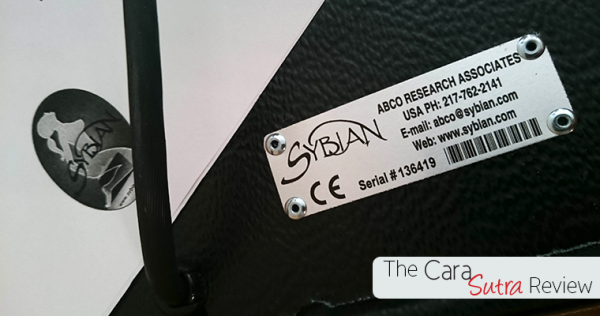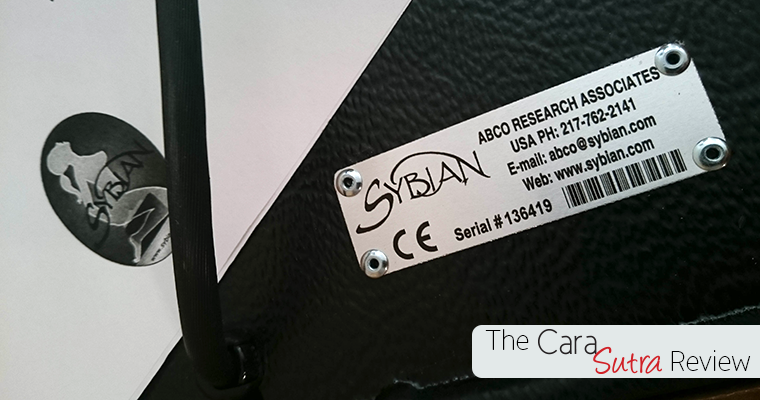 How I Came To Own A Sybian
I've been offered a ride on a Sybian several times through the years, and I don't just mean on the radio/at sex events/in a GWC's 'private photographic studio'. The Sybian Sex Machine is so famous, so powerful – but also so expensive – that several companies hire them out. Before you screech 'ew!', it's worth pointing out that trustworthy companies have a policy of sending a brand new attachment for you to use and keep with each rented Sybian. You can rent a Sybian Sex Machine from £105 (+£40 courier delivery and collection) for 3 days.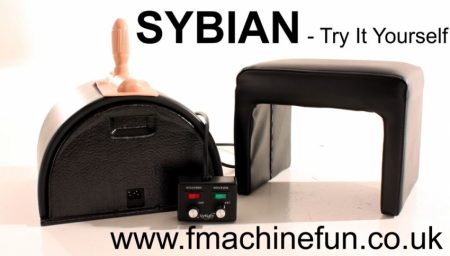 I had previously turned down the offers to review a Sybian on loan. I'm a romantic at heart and wanted my first time to be special… and an experience I could revisit whenever I wanted. After all, it sounded as though I'd fall in love. If I tried a Sybian, I wanted to keep it.
It seemed I'd never own my own Sybian Sex Machine (tiny violins). I'd shamelessly talk about how much I'd love to own one on Twitter – never believing it would actually happen.
Then earlier this year the dream finally became reality. The wonderful people at fmachinefun.co.uk offered me my very own Sybian Sex Machine. To review, yes – but also for KEEPS.
So how was it?
Sybian Delivery & Packaging
Well firstly, the box was heavy. Very heavy. You know you've got a monster of a machine even before you open the box (which had an amusing message for the delivery driver across the top).
Inside the box you get all sorts of paperwork and extras along with the star of the show.
A declaration of conformity
The Sybian Limited Warranty (5 years; Lifetime Warranty is available for an extra £195)
A comprehensive instruction manual with all the Sybian's areas and attachments labelled
A self-assessment sheet with questions to help you ponder over and easier understand your sexual preferences and desires
A helpful advice sheet about the 'red risers' (plastic attachments used under the soft Sybian attachments to raise the clit stim area as required)
A step by step 'proven plan' to Reboot Your Sex Life & to give you Gratifying Sex (downloadable for free at rebootyoursexlife.com or click here)
An exercise worksheet
https://www.instagram.com/p/BDQZ4G2ujbl/
As well as the paperwork there were a few other plastic bags with attachments etc.
The main power lead which plugs into the unit and then to the mains
A bag with the 'red risers' in
Separate bags for each of the four included white skin colour/'beige' attachments (well, 3 attachments – the 'Small Insert', a 'Medium Insert' the 'Smooth Flat Top', plus a 'RealLike' penis cover which can be used over the 'Medium Insert')
A welcome inclusion in the parcel was a box of Sliquid Satin lube sachets – although I guess for the price of the Sybian you really should get some lube included. It's good to see a top brand being used though instead of a cheaper type, and one which has such a body safe formulation. It's worth stating that all Sybian Sex Machine packages from fmachinefun.co.uk now include Sliquid lube.
A separate review of the Sliquid Satin lube sachets is coming soon, by the Pleasure Panel. I already have 5 bottles of Sliquid by the bed 😉
Finally I reached the main attraction: The Sybian Sex Machine – and the little stool it sits on to bring it to a comfortable height to straddle and use. The Sybian machine is heavy – this really is the majority of the weight in the parcel – so moving it about the place isn't an activity I'd want to do often. The stand is light enough and could be used as an innocent footstool… in another life.
Weight & Dimensions from fmachinefun.co.uk:
Weight: 22lbs
Height: 8.5" to top of padded cover, 10" overall
Width: 13.25"
Length: 12.5"
Setting Up The Sybian
The Sybian Sex Machine was actually very simple to set up. I felt a bit overwhelmed at first because of all the bits and pieces in the box, but once I'd worked out what the red risers were – and what they were for – and separated out the attachments, and filed all the paperwork (!) I was ready to go.
I just needed my choice of attachment for first use (the Smooth Flat Top for first ride out), the base stool, the Sybian itself and the power cord. I didn't use lube the first time as I wasn't inserting anything – and I did actually ride it fully clothed – just to check the power levels.
From what I'd heard about the Sybian Sex Machine I wasn't going to risk a scorched vulva, thank you very much. Can you imagine? No actually, don't.
Included Sybian Attachments
As I mentioned above, the Sybian Sex Machine came with 4 attachments, 3 of which were actually attachments to the machine and the fourth is used to adapt the Medium Insert to a realistic penis shape and look rather than the vertically ridged probe.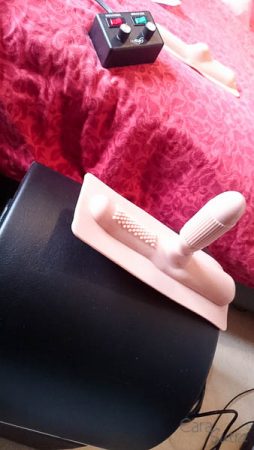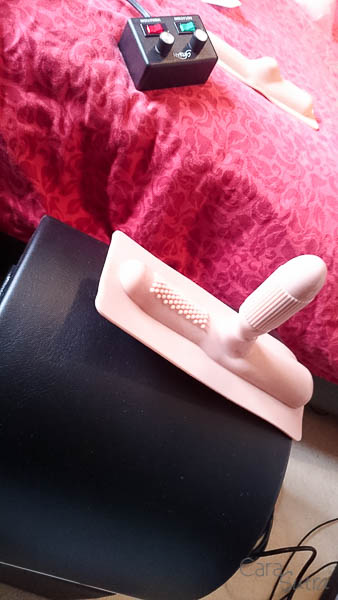 These four items are in a white skin colour. Fmachinefun.co.uk describe the colour choice of attachments as either 'beige' or 'chocolate' – and I do appreciate the non-racial labels but it's quite clearly a choice between light or dark skin. I would have preferred them in a non-skin colour myself, a non-realistic shade. Not everyone likes their sex toys in skin colours.
My other complaint about the included attachments has to be the material they're made from. I was so disappointed to discover that they're not silicone (although it's good to know they do not contain latex).
From fmachinefun:
All Sybian attachments are constructed out of C-Flex® and can be thoroughly washed in the sink after each use.
Note: C-Flex® is a family of patented thermoplastic elastomers which range in hardness from 5 shore A to 95 shore A. C-Flex® TPE's are biocompatible polymer blends which meet or exceed the current United States Pharmacopoeia Class VI test requirements. C-Flex® does not contain latex rubber, polyvinyl chloride, silicone rubber, or polyurethane.
What's with sex machines having such sub-standard attachments included? First the dodgy black TPR dong (remember the Can of Dong?) with the F-Machine Gigolo, now these white skin colour TPE attachments with the Sybian Sex Machine. People pay a lot of money for these machines and although I understand the need for trade margins it shouldn't be too much of an ask to include body safe, non-porous attachments for people to fuck themselves with.
Happily, my qualms about the attachments were totally quashed earlier this week when I received some pearlescent purple silicone Sybian attachments from fmachinefun – thank you so much. More on those later.
Included Attachments Specs
Here's the relevant measurements for the attachments – ie. the insertable length and maximum circumferences:
Smooth Flat Top – not insertable, maximum height of the 'nodule' 1.5 inches
Small Insert –  insertable length 4 inches, circumference 3.5 inches
Medium Insert  – insertable length 4.5 inches, circumference 4 inches
Medium Insert with the RealLike Penis cover attached – insertable length 6 inches, circumference 5.75 inches
First Try On The Sybian
As I've mentioned, the first time I used the Sybian I was fully clothed. Not sure just how much power to expect once I flicked the switches, I didn't want to sit on it naked from the off. A bit of over-clothes frottage to get me in the mood, please.
Before getting to the ride-on stage I made sure I understood the switches and how to raise or lower the power. One switch raises the vibration power and the other increases the circular motion (if you're using an insertable attachment). I wanted to make sure I definitely knew which switch did what once I was on top of it. I was also so curious about the power levels – I wanted to have a play as a voyeur rather than a participant.
Sybian Video Clip
https://www.instagram.com/p/BDQar-4OjdJ/
It was so much louder than I was expecting. I guess I hadn't given much thought to the noise the Sybian Sex Machine would make – I kinda got distracted thinking of all that power between my legs. On the higher levels it sounds like a jet taking off.
Getting over that surprise, it was time to give it a go – my first Sybian ride. I straddled the machine, with the Smooth Flat Top beneath me and my clothes most definitely still ON… and switched on the power.
I was a little disappointed.
Although there was a ton of power coming out of the Sybian, it didn't make me orgasm through my clothes. I was really surprised because when I first used the Hitachi Wand it was through my clothes and I'd orgasmed within a minute of unboxing it and plugging it in. The Doxy Wand? About half a minute. Through jeans. But the Sybian? It was nice, but it didn't give me that pin point accuracy that I wanted from a clit stim.
In hindsight I was wrong to be disappointed. After paying some more attention to the included paperwork, it's advised to work yourself up to Sybian love. Some women can hop on and immediately get their rocks off, others (like me) need to train themselves to love it and for it to be an effective orgasm machine. I was also so consumed with worry over the noise it was making on that first ride that I was too stressed to orgasm. My first ride being in our bedroom, and with other people and kids in the house it wasn't ideal.
There were also different attachments to try, and those red risers to make sure my clit was connected with the clitoral stim area throughout use.
I had to make an important decision about the future of my relationship with the Sybian Sex Machine.
Office Use Only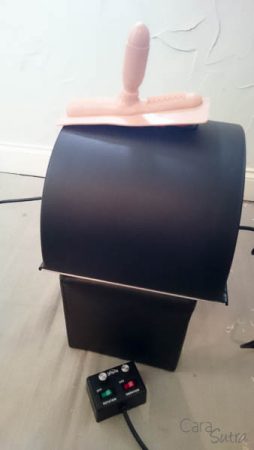 Yep, the Sybian is now for 'office use only'. I'm in the very lucky position of having a home office which is separate to our main home. There's enough room for whatever mischief I can muster of a daytime and there's a yard between the house and the office – enough space for the noise to dissipate. The mischief I was concerned with was more Sybian sexiness. It was back into the box with everything and a heave-ho over to the office with it all. Once I'd set it all up again I was ready to have a proper, worry-free ride (or three). Oh, and after playing around with the red risers it turns out I do need the highest one, underneath an attachment, to make it easier for my clit to have contact with the vibrating area during use. It made all the difference.
It took me about 8-10 uses of the Sybian before I felt like I understood how to use it best for my body, my vulva and clitoris. These uses were only effective for me as training because I wasn't worried about the noise so much during use, either.
This beast of a sex machine has been the cause of delay of its own review. Every time I've sat down to write about the Sybian, I've had to hop on it again for another ride (necessary 'training') and then there's no chance of me getting my thoughts together enough to write coherently. Or even speak coherently.
On the lower vibration levels, the Sybian gives a pleasant ride. If you want shrill, high frequency oscillations then the highest levels are for you. For me, it's at about 50-75% vibration power strength where the Sybian comes into its own with monster rumbliness. Or rather, I come all over the Sybian.
And that's just with the flat top.
With an attachment which has an insertable portion, I can enjoy the swirling, whirling motion inside me coupled with the incredible vibrating power of the Sybian. Having scan read a couple of reviews at the fmachinefun website, I hadn't believed that it was capable of doing actual damage to me. However, once I was riding the Sybian with the Medium Insert (you need to place one of the spring rods inside so the swirling motion comes up through the machine into it) I could well believe that people had become a bit sore in the past. Lube – definitely required.
Riding The Sybian Video
https://www.instagram.com/p/BDQiFkkOjcd/
I found with an attachment I had to work my way up through the power levels much slower than with the flat top attachment/non-insertable attachment only.
The Sybian Sex Machine provides power that outdoes many types of the famous power queen favourite: wand vibrators. Sybian provides up to 6000 RPM vibrations and up to 150 RPM rotations.
Silicone Sybian Attachments
One of my original main disappointments about the Sybian were the included attachments which were all white skin colour and made of a cheaply produced but porous and non-bodysafe material: TPE. Despite calling it a brand name and giving plenty of other information about the material – the fact it doesn't include latex, they can be washed, they meet some USA regulations I don't know much about – there's no getting away from the fact that they're TPE. TPE as far as I'm aware is a porous material meaning there's a chance bacteria can reside in the material even if you think you've cleaned it thoroughly. Silicone is the sex toy material of choice because it's not only non-porous but it's phthalates free, making it body-safe and comfortable to use without worry.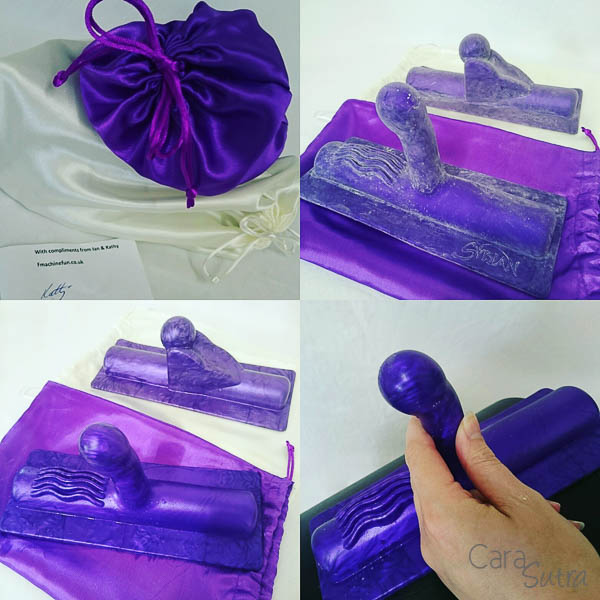 The silicone Sybian attachments come dusted in cornflour – wash before first use
I was therefore over the moon when fmachinefun sent me the two new silicone Sybian attachments in the post recently.
Silicone Sybian Attachments Video
https://www.instagram.com/p/BGCWnxSOjfO/
These attachments are available to purchase on the site separately: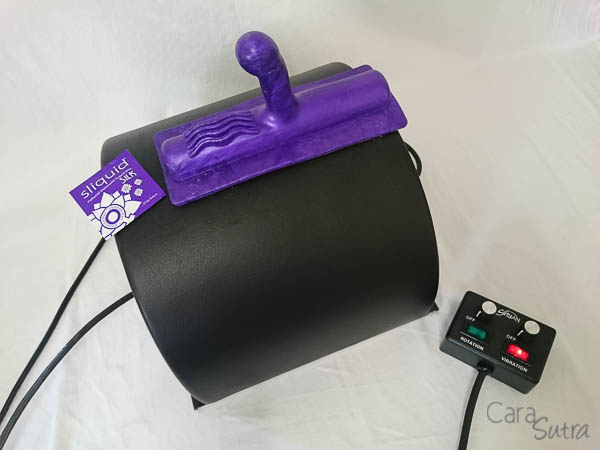 G-Wave Silicone Sybian Attachment £59.95 (3.5 inches insertable, 3.9 inches max circumference)
The Orb Silicone Sybian Attachment £59.95 (non-insertable but 2.1 inches height and the orb has a max circumference of 4.6 inches)
Both of these silicone Sybian attachments are made with a pearlescent silicone material which is gorgeous. They've really upgraded my Sybian experiences because now no longer do I have to worry about using TPE attachments even though I'd dealt with my own concerns over the noise.
I love both of these attachments in different ways – not surprising when one is for internal land G-spot stim use and the other is an orb to stimulate you externally. If I had to choose then the Orb is my personal favourite. It's comfortably round and large enough so I can nudge my clit against it during my Sybian ride. Although you can use the Orb attachment with it facing either way I do find it easier to get the clit stim I need when I'm facing the flatter area topped with the Orb rather than struggling to get my clit to reach it past the slight sloped area.
In my opinion it's worth splashing out on the silicone attachments if you purchase the Sybian – or even if you're renting. You do save a bit of cash if you purchase them both as an optional addition when buying the Sybian outright – they're a £95 additional fee if you want them both added to your Sybian package.
Sybian Sex Machine Review Summary
How do I feel about the Sybian Sex Machine?
The Sybian is seen by many as the ultimate sex toy, the best sex machine and in many ways they're right. However, the Sybian is a noisy beast which is the cost of all that power – and many people just won't have anywhere they can use the Sybian discreetly and without worry. I do love my Sybian – because I have the facilities to use it without having to fear that people who share my home, my kids and even my neighbours will be able to hear it during use.
Would I recommend the Sybian?
I would absolutely recommend the Sybian – to someone who either doesn't care about the noise of their sex toys or has an area separate to their main home where they can use the Sybian without that worry. Or who is happy to only use the Sybian when the house is empty. I'd also strongly advise purchasing the silicone Sybian attachments add-on pack for an extra £95 as I don't really rate the included TPE attachments as much (even though the shapes of them are great).
Is the Sybian worth the price?
Again, if you're someone who doesn't have any noise or discretion concerns, and who is after a beast of a sex machine for personal use, then this could be your perfect sex toy. In my opinion the Sybian is more suitable to vulva and vagina-owners rather than those with a penis; but saying that it is possible to use the Sybian for anal pleasure (so for any gender). Whether you'd want to pay over a grand for the Sybian's power in your arse is your decision – also, remember that the included attachments are TPE and therefore porous. Yes, the Sybian is worth the price tag – for the right person.
What are the pros and cons?
Pros
Very powerful with a wide range of power options from low rumbles to high oscillations
Comes with incredibly detailed and comprehensive instructions for use, from telling you what's in the box to full work-out sheets and how to train yourself to love the Sybian
Options to upgrade to silicone attachments rather than the included TPE attachments
Comes with top quality, body safe Sliquid lube
Easy to figure out how to set-up & how to use the controls
Included 5 year warranty with option to upgrade to lifetime warranty for a price
Available not only in black but also in pink, brown, blue, red or purple
Cons
Extremely loud and not in any way discreet
Heavy to move about in your home
Large and not very portable
It did take me a while to learn to love the Sybian, it wasn't instant, head-over-heels orgasmic love
Greedy? Perhaps
What improvements could be made?
I'd like to see the included TPE attachments completely replaced by the silicone attachments, even if people have to pay a little more for overall cost. It would be worth it for the body safety aspects. I would also love for the Sybian to be a lot quieter and a lot lighter but I don't think that's at all realistic! For the power output a certain type of internal motor and therefore a certain minimum level of noise is to be expected, unfortunately.
Where can people buy their Sybian?
You can buy your Sybian Sex Machine here at fmachinefun.co.uk where it's on sale for £1395 (RRP £1595).
If you're not sure whether the Sybian is for you, I strongly advise you to rent the Sybian for a short time first – you can get one on loan with a brand new attachment that's yours to keep from £105 +£40 delivery/collection costs for 3 days (UK).
If you do decide to splash out and buy the Sybian, I believe it's worth considering saving up an extra £95 so you can add the G-Wave and Orb silicone Sybian attachments to your package for a deluxe and body-safe experience right from the start.
A massive thanks to fmachinefun.co.uk for sending me the Sybian Sex Machine to review. They sell a range of sex machines and attachments so please do visit their website and enjoy shopping for your new orgasm machine.



This review does not contain any affiliate links and is not paid for or sponsored in any way. The Sybian Sex Machine was provided free of charge by F Machine Fun in exchange for this fair and honest review.