Hismith Pro Traveler Portable Sex Machine Review
Plus: Lovers Kit & Luxury Kit For Her Attachment Sets
Enjoy Tigerlily's review of the Hismith Pro Traveler Portable Sex Machine with Lovers Kit & Luxury Kit For her attachment sets
What's a girl (or guy) to do if buzzy vibrators just don't do the job? Well, you might want to look at sex machines: mechanical beasts that thrust relentlessly on command and keep hammering away until you say stop. The robot revolution is here, and I for one welcome my new orgasmic machine overlords.
That kind of tech sounds expensive though, right? Not really. HiSmith are known for making budget-friendly mechanical fucking machines, but their latest offering is so discreet and lightweight you can even take it on holiday. Meet the Hismith Pro Traveler Portable Sex Machine; available direct from HiSmith for an entirely reasonable £199.99.
Thanks to HiSmith and Cara for sending this over to us for review. We were also sent some different accessory packages: the Luxury Lovers Kit for couples, and the Luxury Kit For Her.
HiSmith Traveler Pro: Initial Impressions
Out of the box, the HiSmith Traveller Pro arrives beautifully presented in a well-made fabric carry case, with expanded foam interior. The whole thing would fit neatly into a standard size carry-on, and features separate compartments for all the components, plus a pocket on the top side for the manual.
Some sex machines can look decidedly intimidating, with all manner of gears and motors and whizzy whirly things visible. The Traveller Pro eschews all of that, with everything contained within the sleek ABS plastic case.
Remove the cap and you'll only the slightest hint of what this actually is: a rubber accordion that covers the shaft, where it thrusts in and out.
Looking elsewhere in the box, you'll find a mains power supply with 3m extension cable, a suction mount, and dildo to get started with.
The included dildo should be shrink-wrapped, as ours was, so be wary if you bought from a third party and yours isn't.
You will need to do a little set up of the machine before it can be used each time, but this takes no more than 30 seconds. Find somewhere suitable for mounting (harder than it sounds actually, but more on that later), and remove the large black disc mounting plate from the package. This black disc features a sticky pad, and suction element. In the top of the Traveller Pro box you'll also find a set of spare plastic sheets to keep the black pad's adhesive clean and free from dust. Always store with the plastic sheet put back.
Hismith Pro Traveler Portable Sex Machine: Specifications
5cm / 1.8″ fixed thrust distance
24-watt motor
11 thrust modes
240vAC to 12v2A power adaptor
KlicLok attachment system
Bluetooth
The KlicLok system allows attachments to be changed quickly and effortlessly. To attach, just push them in and the KlicLok will clamp down on them securely. To remove, pull the KlicLok connector back to unlock, then laugh as the dildo goes flying out and you attempt to catch it.  A 6.8″ KlicLok purple silicone dildo is included in the package, or you can buy a variety of attachments from HiSmith. If you're buying the Pro Traveller as a replacement for a previous HiSmith machine and already own some attachments, a QuickAir adaptor is also available, allowing them to be used in the smaller KlicLok connector.
The Included Dildo
The included dildo attachment is a good size and girth, with 6.3″ insertable and 1.38″ diameter. Most importantly: it's made of silicone. This is rare to find with budget sex machines, which often ship with PVC insertables, so I applaud HiSmith for including something satisfying and body-safe. It's always good to see manufacturers paying attention to material safety.
But what if you want to attach a dildo that isn't KlicLok equipped? Not to worry, you can get all manner of adaptors! Which brings us neatly onto…
Accessory Packages
As an optional extra purchase to the Hismith Pro Traveler Portable Sex Machine, you'll find accessory kits that bundle up the most popular connectors and other bits to enhance your experience.
There are three sets available, and we were sent both the Lover's and For Ms kits. The kits vary only in one or two accessories, so there's no need to be a completionist and buy all three, just the one suited to you!
Luxury Lover's Kit
Inside the Luxury Lover's Kit (£169.20), you'll find:
Vac-u-lock dildo adaptor (£30)
Suction cup dildo adaptor (£35)
"G-spot" clamp adaptor (£25)
30cm extension rod (?)
10cm spring connector/extension (?)
Penis masturbator bandage (£40)
That's a huge range of accessories that essentially enable you to use your machine with any kind of dildo, or even a masturbator sleeve. The HiSmith Traveller Pro uses a custom KlicLok attachment system, for which a range of direct attachment toys are available, but if you already have a favourite selection of toys then this ultimate Lover's bundle is the one for you.
It's worth noting that most of the accessories can also be purchased separately if desired. I've listed the price next to each item so you can see if it's worth it for you. I couldn't find listings for the extension rod or spring connector, but they may just be out of stock at the moment.
The vac-u-lock connector is exactly what it sounds like, so you can attach your favourite vac-u-lock equipped toy. The only vac-u-lock dildo I own at the moment is the monstrous (but gorgeous) Hankey's Toys Dragon Dildo. The Hismith Pro Traveler Portable Sex Machine surprisingly didn't buckle under the weight, but I'm afraid I wasn't prepared to destroy my holes in the name of thrusting Dragon dildo science experiments.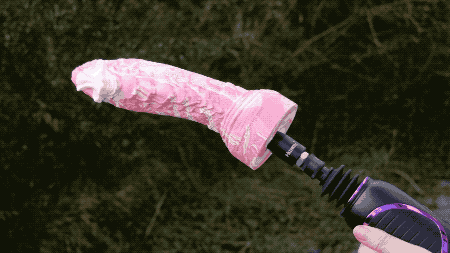 The suction cup dildo adaptor offers a smooth metal surface, but there's a lip around the edge, which limits the diameter to 9cm. This should be more than enough for most, though do check beforehand if you have a favourite dildo in mind. As long as your suction cup equipped dildo has good suction, it'll work well with this. We tried with a few suitably equipped dildos of various sizes and they all stuck great. You shouldn't need any extra tape to keep it attached.
The "G-spot" clamp adaptor is a curious name, but it's designed to clamp around a vibrator for some added stimulation. There are some rubber pads on either side of the clamp to prevent surface damage, but be careful not to over-tighten the screw. It fit around the Satisfyer Pro G-Spot Rabbit just fine.
For him, the masturbator bandage is a block of plastic with velcro band running through the middle. In theory, it should allow you to securely strap in any male masturbator sleeve. In practice, the velcro band is a little too small for larger masturbators like a Flashlight, but those would probably be too heavy anyway. It does hold smaller sleeves easily enough, but in use, we had an angle problem. If the penis wielder is standing up, or on their knees, it works fine. If they're lying down, there's really no easy way to mount the HiSmith machine that would provide the appropriate angle of thrusting from the top down.
Also in the package, you'll find a spring and extension rod. These can, of course, be combined with other adaptors, or with each other. The extension rod should be self-explanatory, and the spring just allows a little more flexibility. We found ourselves using the spring nearly every time for added comfort.
The Lover's Kit is certainly packed full of everything you need to extend and connect … well, anything in your collection for some automated thrusting fun.
For Her: Luxury Kit Ms
The Luxury Ms Kit is identical to the Luxury Lover's Kit, but doesn't include the penis masturbator sleeve adaptor, saving you £10 off the bundle price.
Otherwise, it still includes:
Vac-u-lock adaptor
Suction cup adaptor
"G-spot" clamp adaptor
30cm extension rod
10cm spring connector/extension
Alternatively, if you're a guy and not interested in the suction cup adaptor, you might be better served with the Luxury Kit for Mr. It's the same as the Lover's Kit, but instead of a suction cup adaptor, you get a masturbator sleeve instead.
The only problem with the accessory kits is that there's no room in the Traveller Pro case to store them, so you may find yourself tearing out a new hole (in the foam case that is, not by overambitious use of a Dragon dildo).
Mounting the Traveller Pro
When dealing with a portable fucking machine, you can't be carrying around enormous metal frames, which are bulky and heavy. Instead, the Traveller Pro screws onto a unique yet strong suction cup system. It can be angled through around 100 degrees, and combined with an extension rod should theoretically allow it to be mounted anywhere.
First, the good news: as long as your surface is smooth and clean, the suction cup will stick down as solid as you could possibly hope. If anything, you'll have trouble removing it, it's so sticky.  Remove the plastic backing and stick the mounting plate down. Next, push down the suction clip. This takes a bit of effort, but the end result is an absolutely rock-solid connection.
Next, screw on the main body of the Traveller Pro, then use the angle adjustment to point it as desired. If you find it's too hard to position, you may need to invest in the extended rod or spring adaptor included in the extension kits.
Lastly, take off the cap to reveal the KlicLok connector. You can now push in the included dildo, or other attachments if you've purchased them.
To remove and break down the Hismith Pro Traveler Portable Sex Machine for storage, simply unlock the dildo by pulling down the KlicLok connector, unscrew the HiSmith from the base, pull up the suction cup mount, and replace the plastic backing for the sticky pad. That sounds like more effort than it really is: once you're used to it, this should take no more than 30 seconds total.
Unfortunately, this unique mounting system is also the biggest frustration about Traveller Pro. You can mount it anywhere! But where exactly?
The manual has a few suggestions, such as seated in a chair, or the side of your bed, with the machine on the floor. It would need to a bathroom or kitchen floor, with smooth tiles. I don't know about you, but penetration from below in a chair on cold kitchen tiles is not our idea of comfortable. It's just not designed for carpets or lying in bed.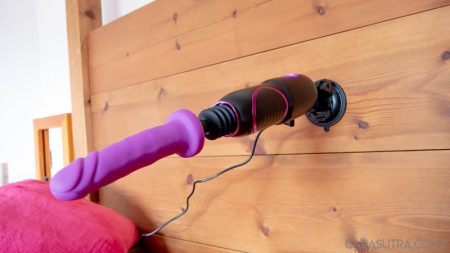 We tried it on a smooth wooden headboard, and tugging on the Traveller Pro moved the whole bed. It was definitely secure. Unfortunately, it was so secure it actually left a mark on the varnish, so I don't suggest doing this in a fancy hotel room! The suction clip mechanism is also quite stiff, and even after testing on various surfaces the sticky pad is still sticky, though I do wonder about the longevity of that. Then we tried on a less smooth wooden chest of drawers, with my legs straddling either side. It didn't quite stick as the surface was a little too rough, which quite killed the mood.
Perhaps your hotel bathroom will have underfloor heating. In which case, great. Stick a towel down and go to town.
In the end, the best solution we could come up with was a large sheet of perspex I found in the garage.
Of course, you also just hold it in place, but where's the fun in that?
Remote Control and Thrusting Modes
Mechanical limitations mean most sex machines offer only basic speed adjustments, but the Hismith Pro Traveler Portable Sex Machine has a variety of thrusting patterns with dynamic speeds. That's an impressive feat, considering the price. This does, however, come with the compromise of a fixed 5cm thrusting distance; no more, no less. You can't have long deep thrusts or quick tiny ones, but you can have a delightful mix of fast and slow 5cm thrusts.
You can control the Traveller in one of three ways. Firstly, the power button on the device itself also acts as a mode selector. Press it to change modes after powering on the machine. The big button on the remote control does the same. As well as three standard speeds, you'll find eight more pre-programmed thrusting modes.
The remote has a few extra buttons too, two of which allow you to change the speed up or down as desired without needing to cycle through different modes, and another smaller button that pauses the action and moves the head a single step forward or backward. Given the relatively short thrusting distance, this lets you position yourself with the Traveller Pro either fully extended or fully retracted.
Finally, you can download the app and connect over Bluetooth. You'd be forgiven for not knowing the HiSmith Traveller Pro even has Bluetooth. If you're looking at other reviews, you'll find they don't mention it, but they should because it's a killer feature. Even if you're the careful type who never loses a remote, more connectivity is always welcome.
Just download the app and click the Bluetooth icon in the top right to perform the initial pairing. After that, it'll connect automatically. The HiSmith app features a visual representation of patterns, with bigger line sections relating to higher speeds. Click the desired pattern to begin playing, or hit the large play button on the bottom of the app for more options.
From there you'll find Play Alone, which jumps into a touchscreen interface giving you live remote control of the speed. Dragging your finger upwards increases the speed. I did find myself wishing for a way to control the position of the dildo–such that pushing upward would penetrate further–but you can't do that, because of the fixed stroke length. The only variable you can control is speed. But that still makes for some incredibly varied experiences.
On the next icon is Play On Line. This is a really simple way to give your partner control of your machine. Or random internet strangers, whatever, I'm not judging. You can copy the link and paste it anywhere, and this will take them to a web interface. They don't need the app, just a web browser (preferably on a smartphone). It worked seamlessly in our testing, with no perceptible delay.
The third icon is Play Mode, which is where you can create and save your own patterns. This is done by specifying start and end speeds, plus a step duration. You can also cycle steps to create loops. It's quite an ingenious system compared to some toys that have you tapping out a rhythm or using a primitive beat table.
The HiSmith app takes the Traveller Pro to the next level, and you should absolutely download it if you invest in this toy.
HiSmith Fucking Machine Video Review
Do You Need a Portable Fucking Machine?
The Hismith Pro Traveler Portable Sex Machine isn't the most powerful sex machine you can buy, but it is budget-friendly, portable, and more than capable of giving you raging mechanical pleasures you never thought possible. No mere mortal can keep up with this machine.
The range of body-safe KlicLok compatible attachments is also impressive, and the accessory kits allow you to BYOD (bring your own dildo). If you have a large selection of existing toys, it's well worth investing in either the Lovers or For Her kits, compared to buying individual accessories.
For anal penetration, the HiSmith Traveller Pro will work as long as you're not trying to use monstrously large dildos, or putting up too much of a fight. Warm-up beforehand to avoid resistance.
The only real limitation of the Traveller Pro is the fixed 5cm stroke length. It did the job and gave us plenty of explosive orgasms–both vaginal and anal–but we found ourselves wanting for just a little deeper penetration.
Is it noisy? Well, yes. It's obviously going to be louder than a simple vibrator, given the mechanical nature. It's not at the level of a power tool, mind. If used in a hotel room, it isn't loud enough to warrant complaints. If used at home, then the people in the room next door would hear something.
If you're not interested in the travel aspect of the machine, do look elsewhere in the HiSmith range, as they have models to suit every budget that are more powerful and less awkward to mount.
We score the Hismith Pro Traveler Portable Sex Machine a mechanically sound 8/10. Bring on the robotic sex revolution, please!
– Tigerlily
Buy yours today
Thanks so much to Tigerlily for this sex toy review.
You can buy your Hismith Pro Traveler Portable Sex Machine (with or without the attachment kits) through the big green buttons below.
You can also click to buy from Germany and France
Contains affiliate links