Titus Silicone Series Medium Puppy Tail Butt Plug Review
By Pleasure Panel reviewer Tigerlily
This month, I got to indulge in a little puppy play, thanks to Clonezone. This is the Titus Silicone Series Medium Puppy Tail Butt Plug, available now for £39.99.
Let's take a closer woof and see if this is the tail plug you need in your life.
Material and Safety
The Titus Silicone Puppy Tails (as the name might suggest) are made from a lovely smooth black silicone, which you can feel even before opening the pack, since the tail hangs out. This is especially welcome in a market flooded with horrible toxic PVC plugs. Check out this Amazon review for an example of what PVC plugs can do when simply left alone for a while. That congealed mess is really not something you ever want near your internals.
As well as being non-toxic, silicone is a non-porous material, so it won't harbour nasty bacteria in microscopic holes on the surface. Even so, since there are no electronics in this, you should be able to boil it clean if you want to every so often. A little soap and water after each play should be sufficient unless it's really messy. Odours can hang around, but boiling with a drop of bleach should get rid of that.
Out of the box, the Titus Silicone Series Medium Puppy Tail Butt Plug doesn't smell, nor does it have an oily coating (which will often indicate a PVC or jelly-like material has been used instead).
Full marks on the material side, then.
Size and Shape
Also available in small and large, the widest diameter on the Titus Silicone Series Medium Puppy Tail Butt Plug is 1.84 inches (4.7cm), or a circumference of 5.8 inches (14.7cm). That's on a insertable length of 4.1 inches (10.4cm). Three small ridges sit on the neck for added stimulation.
The slimline flared base of the plug is ergonomically designed to fit between your butt checks while ensuring it doesn't get sucked in. It's solid, comfortable, and doesn't dig into your cheeks. I've played with cheaper rubber toys before, and despite having a flared base, they were far too flexible and ended up just getting sucked up. This won't happen with the Titus Silicone Series Medium Puppy Tail Butt Plug.
After the flare, there's 7 inches (17.8cm) of springy, textured tail to delight and please your pet as you grab and tap it. This part of the toy is very flexible, so it can wag with the slightest of butt wiggling. The plug is bulbous, but quite rounded and unlike the more traditional butt plug "bullet" shape. More on this later.
The tail adds a good bit of heft to the solid plug, too, and the whole thing weighs in at a barking mad 234g.
My Experience with the Titus Puppy Tail
Despite being quite experienced with ass play, it took a bit of work to get the Titus Silicone Series Medium Puppy Tail Butt Plug in from a cold start. I can confidently say this is not for beginners. Even then, it wouldn't actually stay in.
The issues for me are threefold: the bulb is too pronounced where it shouldn't be, not pronounced enough where it should be, and the neck is just too wide.
At the head of the device, you go from zero to maximum circumference in very little time. Most butt plugs are much more tapered, so they slowly stretch you.
From bulb to the neck of the plug it's basically the same gradient, and just isn't up to the task of keeping the thing in, at least when on all fours. This is exacerbated by the fact that the neck itself is quite wide anyway.
This base is the point at which a butt plug should taper faster, so your sphincter muscles contract back again quickly around the plug neck, and won't open naturally unless forced.
The point is best illustrated by showing the Titus Silicone Series Medium Puppy Tail Butt Plug next to a large Lovense Hush (please excuse the drawer fluff on the Lush, silicone toys have a tendency to attract fluff and should always be washed prior to use!).
Despite the circumference being only slightly smaller on the Lush, the neck is about 2/3rds the size; it features a smoother gradient for insertion; and the widest point is closer to the base.
When kneeling on all fours, I just couldn't keep the Titus plug in there without clenching. That was without any warmup, and not something I've found with any other plugs. A butt plug harness would have been useful to lock it in place, though not many include a hole for a tail to stick out.
That said, even without a harness, we made play time work. After all, being a good puppy means keeping your tail properly inserted. If it falls out, you'll be caged and punished.
Despite my reservations about the shape, it does give a nice full feeling without being in the slightest bit "pokey", as some longer, more tapered plugs can be.
In the name of science, I've tried the Titus Silicone Series Medium Puppy Tail Butt Plug quite a few more times in the following days, attempting to replicate my results. I found that when standing up, I had no issue keeping the plug in: your bum is naturally inclined to clench together, which keeps the flared base secure. On all fours again, having to think about holding it in mostly felt like a distraction.
Who's a Good Doggo? You Are!
Even if you're not particularly into puppy play, having a tail attached to a butt plug adds a lovely bit of visual interest on your sub, and gives you yet another point of interaction. Watch them squirm as you pull and slap their tail, intimately connected inside their ass. Order them to shake that ass and wag their tail.
On the other hand, if you're looking for something for more long term wear, or out and about: this isn't it. It's obviously uncomfortable to sit on a tail plug, and can be difficult to hide under loose clothing, especially a skirt.
The plug shape didn't quite work for me, but that's not to say it won't for you either. Or alternatively, trying to keep it in can be a part of the playtime: a task for puppy concentrate on, or a punishment. You can always buy a special puppy plug harness to ensure it doesn't go anywhere.
Above all, it's a solid, good-sized, and well-made butt plug in body-safe silicone.
9/10
– Tigerlily
---
Where To Buy
Thanks to Pleasure Panel reviewer Tigerlily for this review of the Titus Silicone Series Medium Puppy Tail Butt Plug.


The Titus Silicone Series Medium Puppy Tail Butt Plug was sent free of charge, in exchange for a fair and honest review by the Pleasure Panel, by Clonezone Sex Toys. Thank you! 🙂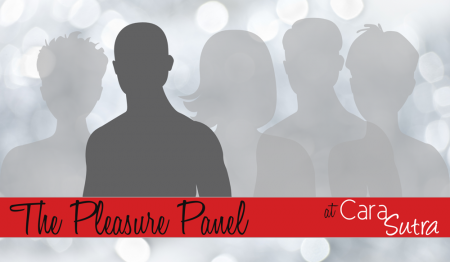 Contains affiliate links