Titus Basics Beaded Cock Rings 3 Pack Review
By Pleasure Panel reviewer Bondage god1
I received the Titus Basics Beaded Cock Rings 3 Pack from Cara Sutra via Clonezone Direct to test for The Pleasure Panel in exchange for an honest review. So thank you for the opportunity.
Packaging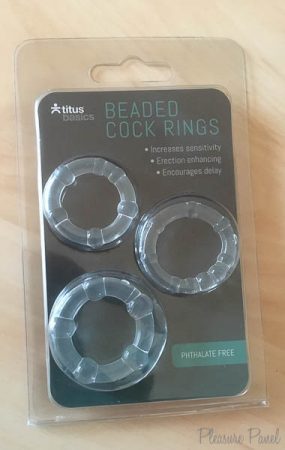 The packaging for the Titus Basics Beaded Cock Rings is simple but effective for storage between uses. The rings come in a clear hard plastic packet that you simply pull apart to open. Where the rings are placed inside their own moulded shapes, there is a card insert which has product information printed on.
Material & Size
The 3 clear cock rings are made of a soft stretchy silicone each one is a different size and beads design for a variation of sensations. The sizes are: Small 0.6 inch, Medium 0.7 inch, Large 1 inch. As the rings will be suitable to suit most men.
During Use
The Titus Basics Beaded Cock Rings can be used individually or be used all together for a threesome your cock won't be forgetting in a hurry. I'm no stranger to using a cock rings but have only used a single ring at one time. I was intrigued to see how the trio of rings would perform. As I placed the two largest rings on my shaft (one behind my balls and one in front) I wasn't disappointed with the results as they fitted around me nicely. I slipped the small ring around my balls that allowed me to feel a gentle pull on my balls. While semi-erect I slipped all the rings on and there wasn't any need to use lube. If you do require lube then a water based lube is recommended.
I have worn the Titus Basics Beaded Cock Rings during play with a masturbator. When I started to play the rings soon got to work as I got harder I could feel the tightness around my shaft as the blood flow was reduced, with the two rings on my shaft I were looking incredibly chunky as I were enjoying the tightness of the medium ring as the beads were pressing into my skin for an extra sensitively. While the two other rings I didn't notice the beads as much but the rings did still feel tight around myself. As not only do the rings prolong ejection so I can enjoy a longer session, ultimately when I did find my release I felt my climax were heightened because of the rings and this allowed me to enjoy more pleasure during my male solo play.
Clean Up
Cleaning the Titus Basics Beaded Cock Rings is relatively quick as they only need to be washed in warm water and given a spray of sex toy cleaner. Simply dry and store away until their next use.
Summary
Overall the quality of the Titus Basics Beaded Cock Rings is excellent. They are strong set of rings that will allow for multiple uses. They are pleasurable to wear in a session whether it is for masturbation or sex. I do love the tightness that the rings bring to me, while the beads on my shaft is pleasing, as the rings do enhance my sessions during wear. Therefore I feel the Titus Basics Beaded Cock Rings are a good addition to my collection of cock rings as they do look and feel great to wear. At a sale price of £4.99 they represent very good value for money.
I would give the Titus Basics Beaded Cock Rings 8/10 only because of not being able to feel the beads when not directly worn on your shaft.
– Bondage god1
---
Where To Buy
Thanks to Pleasure Panel reviewer Bondage god1 for this review of the Titus Basics Beaded Cock Rings 3 Pack. They cost £4.99 from Clonezone.
This product was sent free of charge, in exchange for a fair and honest review by the Pleasure Panel, by Clonezone. Thank you! 🙂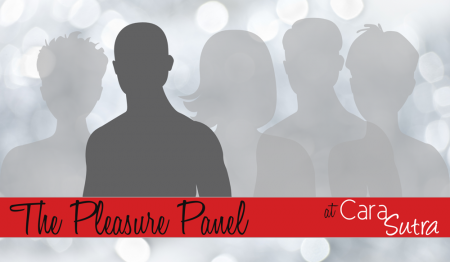 Contains affiliate links.