Aneros Sessions Water Based Lubricant Review
By Nat and Tom
I received the Aneros Sessions Water Based Lubricant to review alongside the Aneros Antibacterial Sex Toy and Body Wipes this month as part of the Pleasure Panel. Thank you!
Presentation
The presentation of the Aneros Sessions Water Based Lubricant bottle is nice. Simple red and black colour scheme with product information and ingredients list on the back. It comes with a hygiene seal, which is reassuring for people like me who like peace of mind knowing that a product hasn't been tampered with.
Once the seal has been removed, screw the cap back on, flip the lid up and squeeze the bottle to release the lube. I decided to do a quick patch test on my partner and I before using it on our intimate areas as we both have sensitive skin. This lube doesn't contain any Parabens, Proplyene Glycol or Glycerin and the ingredients listed are all natural so I wasn't expecting a reaction and neither of us had one.
During Use
I was pleased with my initial encounters with the Aneros Sessions Water Based Lubricant. It had no odour/taste, which was great following our experience with another product we tested this month (Swiss Navy Premium Silicone Anal Lubricant). The lube is hypoallergenic, latex/plastic/rubber friendly and compatible with all sex toys. It's clear in colour and comes out of the bottle quite thick. Also, it's not gloopy or stringy and I'd describe it as gel-like. It has no greasy/sticky/tacky feel upon application and it continues to feel pleasant on the skin during and after use.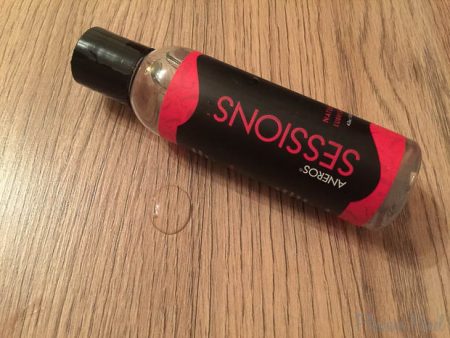 It seems to mimic natural lubrication, in that it doesn't feel artificial. This is something that I've encountered with other top brands like Pjur and Sliquid, which puts them above other brands for me. The Aneros Sessions Water Based Lubricant eases up any signs of friction or discomfort and makes it easier for me to accommodate my partner or toys that have more girth to them. I've used it during masturbation and penetrative vaginal sex and have loved it for both. I usually prefer to use a lubricant for one or the other, but this works well for both.
Longevity
In regards to how long the Aneros Sessions Water Based Lubricant lasts, I was really impressed. I usually have to top up water-based lubricants every fifteen minutes or so, but I found the Aneros Sessions Water Based Lubricant lasted around half an hour. That's more than enough time for me to masturbate and is approaching the time frame that my partner and I usually have penetrative sex for. I can live with one top-up if needed, but three or four in the space of 40 minutes gets frustrating.
Summary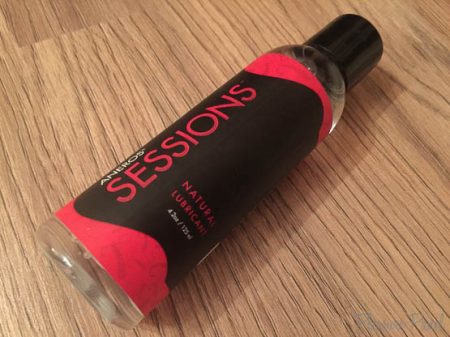 In conclusion, I would happily use the Aneros Sessions Water Based Lubricant again. I love that there are no nasties in this and the ingredients are natural. It's been great for sensitive skin and the thickness of it is just wonderful. It provides some much-needed comfort during times of friction and enhances plenty of other sexual experiences between my partner and I. I'm struggling to find any bad points relating to this lubricant because I don't think it has any. If I'm being fussy, then I'd prefer a pump dispensing method but outside of that, the Aneros Sessions Water Based Lubricant is a fantastic lube.
8/10
– Nat and Tom
---
Thanks to Pleasure Panel reviewer Nat and Tom for this review of the Aneros Sessions Water Based Lubricant.
This product was sent free of charge, in exchange for a fair and honest review by the Cara Sutra team.
This review contains affiliate links