Perfect Fit Play Zone Cock Ring Set Review
By Tangled Lover
I love using cock rings, but usually go for metal rings as I have found that a lot of the silicone ones I have tried were either too tight or too loose.  When choosing a metal cock ring I have spent ages before ordering measuring and re-measuring trying to decide which size would fit.  I was excited to be chosen to review the Perfect Fit Play Zone Cock Ring Set as I could see that this had the possibility to solve all my sizing worries.
Enjoy all our Perfect Fit reviews
The Perfect Fit Play Zone Cock Ring Set comes in a plastic blister pack and has been very well designed.  There is a lot of information explaining the product and some useful size guides (no cringe-worthy pictures to worry about!) The blister pack is held together by a cable tie and attached to the cable tie is an extra size 14 cock ring this is a great idea as it lets you feel the silicone before opening the pack.
The Perfect Fit Play Zone Cock Ring Set consists of 9 different size silicone cock rings on a stand. I wasn't sure what to make of the stand at first as it is designed to look like a traffic cone, which doesn't immediately make me think of a sex toy (until I googled it!).  The stand is made from ABS plastic and is actually an excellent idea, making it really easy to store the silicone cock rings tidily and in order.  The cock rings are made of black silicone and each ring has "PERFECT FIT BRAND" and a size 11 to 19 printed on it.  They have a lovely smooth feel to them with no joins or imperfections, they have a good stretch to them making them easy to put on or take off.
I initially decided to try them out for a solo play time and I was very impressed with the number of different sizes. On the packaging it suggests the rings that could be used for Shaft rings, Ball rings and cock and ball rings.  The ring sizes start at 1.1" and then go up in 0.1" increments to 1.9", most cock rings that I have tried are 0.25" between sizes, so it is very easy with the Perfect Fit Play Zone Cock Ring Set to find the best fit for you. The cock rings are very comfortable and I found that the silicone did not catch on hairs whilst putting on or taking off. It is easy to find the size that fits you best and this makes the cock rings look amazing and give you a really firm erection. I had a lot of fun trying different rings around the shaft, balls and both at the same time and enjoyed the different sensations that each gave.  I find that cock rings delay my climax and when I do get there it is very intense.
The next test was during sex with my wife. I suggested we try the Perfect Fit Play Zone Cock Ring Set and having emptied the rings off the cone we started an impromptu game of hoopla. When we finally stopped giggling and proving my wife has a more accurate throw than I do, we got down to proper testing. Having previously tested them I knew which size was best for me so it didn't take long to put the rings on so we could get started.  My wife loved the look of the cock rings and that they really enhance my erection.  I find that wearing the cock rings makes my balls and shaft much more sensitive to touch and increases the pleasure.  Although the rings increase the sensitivity, the pressure that they apply delayed my ejaculation and led to an intense long sex session with an explosive end!  Afterwards the rings hold the blood there so I stayed hard even after climaxing, which felt great.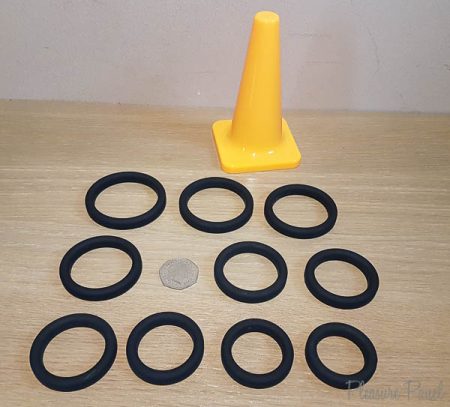 I was very impressed with the Perfect Fit Play Zone Cock Ring Set, the cock rings and the cone are well made and take the guess work out of finding the right size for you. I have struggled with silicone cock rings in the past, mainly due to sizing issues but I must say that the Perfect Fit Play Zone Cock Ring Set has converted me and my metal rings won't be getting as much play time in the future.
One possible enhancement to this product could be to have some size markings on the cone itself to make it easy to identify the size of each ring if you have thrown away the packaging.
I would highly recommend it to both first time users and people with more experience.  They are especially good if you are new to cock rings and don't know what size you are because it saves messing around with a tape measure trying to figure your size before ordering.  I give the Perfect Fit Play Zone Cock Ring Set a 10 out of 10.
– Tangled Lover
---
Thanks to Pleasure Panel reviewer Tangled Lover for this review of the Perfect Fit Play Zone Cock Ring Set. 
This product was sent free of charge, in exchange for a fair and honest review by the Cara Sutra team.
This review contains affiliate links