Perfect Fit

I've tried my fair share of cock rings over the years, loose ones, tight ones, vibrating ones, thick, thin, you name it, I've tried all there is to try… Or so I thought.  A very innovative idea from Perfect Fit comes in the shape of the Perfect Fit Speed Shift Adjustable Cock Ring.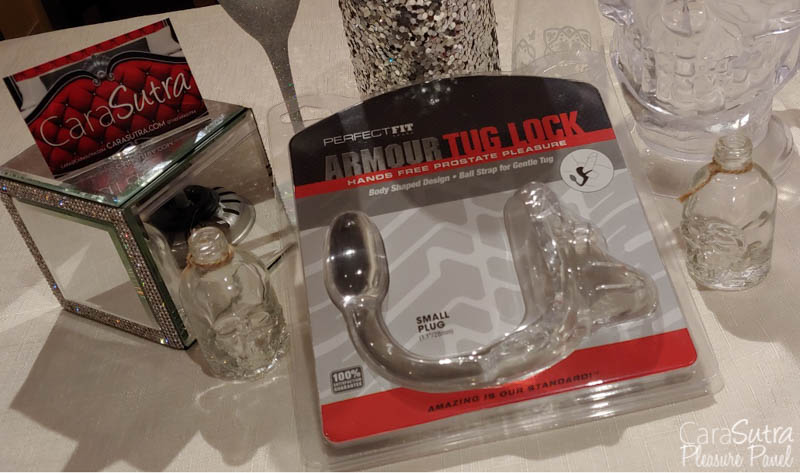 It's always nice to try out a new toy that has a lot of promise. The Perfect Fit Armour Tug Lock Plug Transparent is an amalgamation of two/three toys, merging them together to offer something a little bit different from your ordinary toy.  Mixed up in this see through beauty is a hands free prostate pleasing plug, a cock ring and a ball stretcher.

...when the Perfect Fit Fat Boy Penis Extender 7.5 Inch came up for review and I saw that the sex shop website described it as "insanely stretchy" I just knew if it was going to be any extender, I had to give the Perfect Fit Fat Boy Stretchy Cock Extender a try!

I decided to test the Perfect Fit The Bumper Thrust Buffer Cock Ring as I have difficulty having PIV sex in certain positions, my hubby is a bit on the big side and my cervix is quite sensitive and doesn't like being bashed around too much. I'd heard of thrust buffers before but I've never tried one out, until now!

I have always been interested in the "ball stretching" devices, but have been wary of any of the rigid designs for fear of getting stuck! When the Perfect Fit Silaskin Cock Ring and Ball Stretcher was available for review through the Cara Sutra Pleasure Panel I really wanted to give it a go (hopefully without the risk of getting stuck!)

I was very impressed with the Perfect Fit Play Zone Cock Ring Set, the cock rings and the cone are well made and take the guess work out of finding the right size for you. I have struggled with silicone cock rings in the past, mainly due to sizing issues but I must say that the Perfect Fit Play Zone Cock Ring Set has converted me and my metal rings won't be getting as much play time in the future.

In summary, this is a wonderful idea and I know a lot of men (and women) out there are going to adore the humpable butt plug from the Perfect Fit range. For me, it's on the back burner, excuse the pun. I need a good warm up (and stretch out) session first to even get a few inches inside; but he absolutely loves the idea, the feel, the kinky aspects and, to be honest, the fact it hurts me a little bit. Sadist.

This wonderfully designed Perfect Fit cock ring is very stretchy and would easily fit any size penis. When unstretched, the size is small enough so this cock ring has the ability to provide support even to the smallest penis.

His testicles, held by a wider band than on a standard dual cock ring, were held taut and stretched which made for excellent sensation play with fingernails and tongue over the surface of the sensitive skin there. Meanwhile, his erection was stronger than ever and I imagine that this ring would keep any man harder for longer, so it's particularly appealing to a man who suffers any erectile dysfunction problems.