Iron Maiden 2.0 Spiked Metal Cock Ring And Ball Stretcher Review
By Miss Anna
I have been given the opportunity to review the Iron Maiden 2.0 Spiked Metal Cock Ring And Ball Stretcher from MEO via Cara Sutra. This product looked like great fun and as I am a huge fan of CBT I couldn't wait to try it out.


Enjoy all our kinky CBT toy reviews
Packaging & First Impressions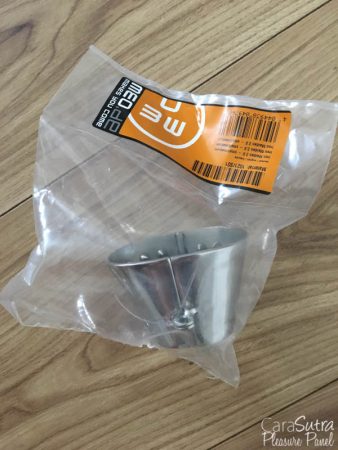 This spiked CBT ball stretcher came to me packaged in a simple plastic bag with the top edge sealed and a branding/marketing sticker placed at the top, although the packaging was incredibly simple it was suitable for the item and nothing had been damaged in transit. I actually prefer basic packaging as there is less waste involved, so this was a good start for me.
Upon opening this product I was disappointed to see there was no insert or safety guidance printed anywhere on packaging. The only information given was the name of the product, company brand and the size; small to medium (this item also comes in a medium to large option). I am fairly experienced in CBT and had also taken the time to read up on this product online before offering to review so could be sure that I was well aware of any precautions needed and knew exactly what the Iron Maiden 2.0 was intended to do, I was also a little disappointed to see that there was no padlock included as the website had stated this product would come with one.
Taking the spiked CBT ball stretcher from the packaging I was impressed with the apparent quality of this item, the stainless steel looked substantial and the thorns encased on the inside looked delightfully painful!
Look and Feel
The Iron Maiden 2.0 Spiked Metal Cock Ring And Ball Stretcher resembles a squashed cone with the top cut off, perfectly sculpted to encase and cause maximum discomfort to any set of balls. The outer of the steel prison is polished to a mirror finish, super shiny with a small branding holographic sticker placed neatly on the back. The closure consists of the joining and lining up of two small holes that sit on top of each other – the idea being a padlock is threaded through to keep the device closed and offering no option of escape.
The inside of the prison is of a matte finish with 30 sharp cone shaped spikes covering all of the internal surface. The hinge placed at the back of the device houses no spaces big enough to pinch skin or cause and discomfort.
Overall the spiked CBT ball stretcher looks incredibly torturous yet totally mouthwatering at the same time! It is made from stainless steel, meaning the device is suitable for long term wear (ouch!) and will not rust or tarnish with time. The hardwearing properties of the material this device is made from also means that it is suitable to sterilise in most appropriate cleaning solutions. The prison looks to be well made with no sharp edges, just thorns… and is of a substantial weight making it suitable also for ball stretching as well as torture.
During Use
Coming to use the Iron Maiden 2.0 Spiked Metal Cock Ring And Ball Stretcher on one of my submissive subjects I found it incredibly easy to install and oh so effective in delivering a good dose of utter discomfort.
To install I simply opened up the prison which is hinged at the back so opens completely up, and having a padlock at hand encased my subs balls neatly into the device which was actually much easier than I initially thought it would be. The taper of the device means that the top of the prison sits above the testicles with enough space inside for them to sit relatively comfortably; if you have particularly tight or uneven balls it may be worth securing them together first with a band to prevent them slipping though the top of the device one at a time causing the prison to fall off.
I found that a standard size small padlock fitted through the closure of the device perfectly.
Once in place the spiked CBT ball stretcher causes a whirlwind of discomfort from the sharp thorns that dig into the skin especially when moving or applying pressure to specific parts.
I have to mention that the spikes on this device are by far the best that I have ever come across; initially I was a little concerned that they may pierce the skin but after some trialling was comfortable that this would not be the case through moderate use. Previously I have used devices with tiny pin pricks which not only damage the skin (all be it superficially) but are unbelievably unhygienic with no hope of ever getting blood etc completely out of the device.
My go to favourite before this device came along was a stainless ring with spikes made by Fetters which although looked fantastic, always came up a little short as the spikes are rounded off. The Iron Maiden 2.0 Spiked Metal Cock Ring And Ball Stretcher is without a doubt the most effective device of its kind that I have so far come across.
Conclusion
I would 100% recommend the Iron Maiden 2.0 Spiked Metal Cock Ring And Ball Stretcher to anyone who is into the heavier side of CBT. It is effective and incredibly well made; it also demonstrates a concept that is not so often seen in CBT/ball stretching toys in the fact it actually covers the testicles instead of just stretching them down or torturing the skin above them.
This spiked CBT ball stretcher has a relatively high price tag, however, considering the amount of metal you are getting and the craftsmanship that has gone into making this device, I actually found it to be very reasonable. I would however have liked to see a little more in the way of guidance and safety precautions included with this item.
9/10
– Miss Anna
---
Where To Buy
Thanks to our reviewer Miss Anna for this review of the Iron Maiden 2.0 Spiked Metal Cock Ring And Ball Stretcher.


This product was sent free of charge, in exchange for a fair and honest review here at the Cara Sutra sex blog. This review contains affiliate links.