Last week saw the celebration of YES Organic Intimacy Week, highlighted in my recent feature. As part of the awareness campaign, YES sent me a very generous gift hamper full of fun merch, information and the main organic essentials from their well-researched and effective range. As promised, I'm writing up my review of the YES Organic Lubricants and Intimate Moisturisers included in the gift hamper, now I've had a chance to properly use and enjoy them.

A rising trend in the sex toy industry is the use of CBD in products. For those unfamiliar with CBD, CBD or cannabidiol is the non-psychoactive component of marijuana. CBD has been on the rise to help combat the big pharmaceutical boom. It seems these days there is a pill or a cocktail of pills that will solve your every problem, but at what cost? The CBD industry seeks to break down all these barriers both financial and chemical making pleasure or pain relief more accessible.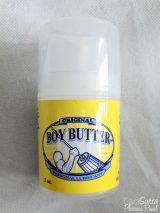 It had been quite a while since I had last reviewed a lubricant for Cara, so when I saw in her Pleasure Panel list for August a new lubricant called Boy Butter (that I had never heard of) I thought to myself that I would really like to give that a go. 

This oil is strawberry flavoured and is designed as an edible massage to ensure an erotic and romantic massage. The bottle of Earthly Body Strawberry Edible Massage Oil is 2oz so a decent size for if your planning a night away with some goodies and has an easy unscrew lid to allow access to tip easily onto your partners back or where else you might fancy…

I chose to test the YES OB Plant Oil Based Lube with my newest glass dildo which features a very large bulbous head. Normally I would only use a tint drop of water based lube on a glass toy but the sheer size of the head on this made me want to try something more substantial that was going to last.

The YES OB Organic Plant Oil Based Lubricant isn't the thickest lube I must admit, and over time, perhaps with the oils heating up and being squeezed a few times, this lube seems to have gotten runnier and has thinned out slightly from the first time I used it. I don't really think it's thick enough for use anally. The texture does mean, however, that you could use it also as a massage oil in a pinch, a use which the product itself claims you can do.

The always lovely Cara Sutra sent me the DONA Chocolate Mousse Kissable Massage Oil to try out from the DONA by JO collection. Massage oil isn't something I usually play around with so it's been interesting testing this one out.

I was very pleased to have been given the opportunity to review this product (thanks Cara!). I like both massages and strawberries, so this seemed like the perfect combination! DONA by JO is a collection designed by System JO and aimed towards women...

From the first moment I picked up The Butters Oil Based Natural Lubricant, I knew I was going to love it. It wasn't in a shiny, cheap, tube for starters. On first glance, it looks like the most natural luxury organic lube I've ever seen. The packaging is so simple, with a clear lid and black tub. Labelled very clearly, it lists all ingredients and benefits. It is truly perfect to behold.

I was quite surprised when I opened my package, and a small, oval, black pot tumbled out. It looked similar to something Lush would make, so naturally The Butters Oil Based Natural Lube won me over with its simple, neat pot and white label.

I have to say I adore this lube, I loved inserting it into Mrs Kink and getting her messy, the lube got everywhere.  Our anal lube of choice is normally ID Backslide, however the Crisco Ass Fisting Lube now sits alongside this, for its ease of use and insertion and the fact that it didn't dry out and made the experience very enjoyable for the both of us.

I'm a long-time lover of Jimmyjane Afterglow Massage Candles. My experiences with these massage candles were back in the sex toy office days, being treated to samples from the warehouse or allowed to take home what was left of a candle or two used for demonstrations by reps.