YES Lubricants

Last week saw the celebration of YES Organic Intimacy Week, highlighted in my recent feature. As part of the awareness campaign, YES sent me a very generous gift hamper full of fun merch, information and the main organic essentials from their well-researched and effective range. As promised, I'm writing up my review of the YES Organic Lubricants and Intimate Moisturisers included in the gift hamper, now I've had a chance to properly use and enjoy them.

The YES WB Organic Water Based Lube is described on the website as "silky, smooth and non-tacky" and you know what I fully have to agree with each of those points!

I chose to test the YES OB Plant Oil Based Lube with my newest glass dildo which features a very large bulbous head. Normally I would only use a tint drop of water based lube on a glass toy but the sheer size of the head on this made me want to try something more substantial that was going to last.

Texture wise YES BUT Water Based Anal Lube is super thick, it's silky to the touch which surprised me, I've only found that sort of texture before in glycerine containing water based lubes which I actively avoid.

The YES OB Organic Plant Oil Based Lubricant isn't the thickest lube I must admit, and over time, perhaps with the oils heating up and being squeezed a few times, this lube seems to have gotten runnier and has thinned out slightly from the first time I used it. I don't really think it's thick enough for use anally. The texture does mean, however, that you could use it also as a massage oil in a pinch, a use which the product itself claims you can do.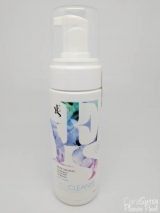 The YES Cleanse Organic Cleanser Unscented packaging simple and clean as well as recyclable. The white pump action bottle with blue, green and pink text looks perfectly inconspicuous in my shower with my other cleansers and shampoo etc.

The YES WB Organic Water Based Lubricant comes in a little tube packed in a box. The tube itself is relatively small and stands on its end. The lid pops up quite easily so you're not fumbling with the tube while you are in the middle of play. The only criticism of the tube I have is that the opening itself was quite large.

The delicate and gentle infusion is harmonious to an intimate session, adding a fragrant air rather than a layer which tries to supersede the natural senses. It does not interfere with your arousal; instead you're able to lay back and enjoy your sexual activity whether alone or with your partner, reassured by the knowledge that this lubricant contains only natural ingredients.

The YES Organic Water Based Lubricant itself is crystal clear and not too runny. It flows from the bottle but not so quickly that you'll spill it everywhere and emit a few choice words of your own. Wet patches before the main event are unwelcome, to say the least.

Despite the unusual look of the YES Organic Oil Based Sex Lubricant, compared to the standard transparent liquids of other lubes, this is a high quality lubricant that feels natural and warm on the skin. For vaginal masturbation it is a particular joy. The thicker consistency while in the bottle means less chance of unfortunate spills, too.

I can't fault the quality of the lubricants in the YES Organic Sexual Lubricants Selection Box at all. Whether from the bottles, the sachets or the applicators. You can tell this is a quality lubricant and capital has been invested wisely into extremely safe lubes that I challenge anyone to have a problem with.