How To Spring Clean Your Sex Toy Collection
How many sex toys have you got? Where do you store them? Do you just have a couple of vibrators in the bedside drawer, or masses of dildos shoved under the bed? No matter if your orgasm kit is big or small, setting time aside to spring clean your sex toy collection is a great idea.
If you love using sex toys, chances are you have amassed quite a few over the years. Trying out alluringly different styles, buying bargains in the sale, being unable to part with your top favourites no matter how old/broken/dodgy they might be… Before you know it, you've got a fairly scary conglomeration of vibrators, dildos and butt plugs which is well overdue a sort-out. What's the best way to clear the trash, keep what you need and organise your sex toys in the future?
What's covered in my sex toy spring cleaning guide:
Deciding which toys to get rid of
How to bin, recycle or sell unwanted sex toys
Choosing & buying effective & safe sex toys you'll actually use
How to better organise & store your pleasure collection
How to make safe & mindful sexual pleasure a life priority
Decide What You're Throwing Away
The first step, when you come to spring clean your sex toy collection, is deciding what you're going to get rid of. Don't get nervous if you end up throwing a large amount (or even the majority) of things away, you can always buy more later. Later in this guide I'll explain how to buy products which are safe and effective; stuff you'll actually use.
Here's a brief overview of what should end up in your 'discard' pile:
Anything you don't want
Anything which is dangerous
Anything which is broken
Let's have a look at these three groups in more detail.
Stuff you don't want or need
If you haven't used it in months or even years, or if you always choose another sex toy instead, then it must go. There's no room for clutter in a well-organised sex toy collection.
Dangerous items
What are your sex toys made of? Did you know that some materials are porous, leading to a build-up of possibly harmful bacteria -while others are actively toxic? Jelly, PVC, TPE and TPR are the common culprits. Get more information in my comprehensive Guide To Sex Toy Materials.
If you have actual or potentially harmful sex toys in your collection, they need to go.
Broken items
Believe me, I know how easy it is to form an attachment to a sex toy which previously provided years of faithful orgasmic service -but if it's broken, it's time to bid a fond farewell.
Are there rips or tears to the surface of your dildo? Perhaps you have a vibrator which isn't working any more. It either doesn't switch on, it sounds 'wrong' if it does turn on, it doesn't charge up or the battery compartment is damaged. Wires or internal mechanisms may be exposed, taking you into extremely dangerous territory.
Put all defective sex toys in the trash pile. Wondering if anything can be recycled instead of just adding to landfill? Check out How To Recycle Your Old Sex Toys.
Bin Any Old Lubricants
Great sex & masturbation often includes lube, so it's likely you'll have a few tubes and bottles in your playtime collection as well as toys. When you spring clean your sex toy collection you should incorporate sorting and replenishing your lubes, too.
Lube and other sexual enhancement liquids don't last forever, and in fact may have a shorter shelf life than you realise. You could be reaching for a splash of lubricant in the heat of passion, in the dark, which is dangerously out of date. Check all bottles and tubes carefully, and throw away any which have expired (hint: if the date has rubbed off or faded from the label, it's probably out of date).
Have any of your lubes set solid into the container? Or changed colour, or consistency? Time to bin those in favour of good quality, body-safe new ones. This goes for any sex-related liquids and enhancers, not just lubes: orgasm gel and balms, delay sprays, vulva moisturiser, post-shave sprays and balms, erection enhancers etc.
Do You Really Want What You've Got Left?
Now you've sorted your sex toys, lubes and liquids, take a really good look at what you have left. Will you ever use them? Is there anything you absolutely never use, always favouring something else? It's time for those things to find new homes as well. This includes any lubes, liquids and potions which are in date and seem fine but which don't work for you personally.
Set aside the sex toys and lubes which you'll never use, and which never 'spark joy', never mind an orgasm. Get rid or whatever isn't fit for purpose – the purpose of giving you sexual pleasure and orgasms, shared or solo. Think about what sort of stimulation you enjoy. Do the products you have left fit the bill?
Make firm decisions, no matter how difficult or heart-wrenching. Eventually you will have whittled down your collection to what you're actually keeping.
Selling Second-Hand Sex Toys
What do you do with sex toys which aren't broken or dangerous but that you just don't want any more? You might be understandably reluctant to just toss them in the trash or put them into recycling.
Did you know that you can sell second-hand sex toys? Squeaky Clean Toys is a well-designed, easy to navigate one-stop-shop for second-hand sex toy sales and purchases. As you can imagine with such a sensitive topic, there are strict rules about what can be sold at this ingenious portal, with every listing being manually approved by the team after stringent compliance checks.
Which sex toys are eligible to be sold second-hand at Squeaky Clean Toys? They must be phthalate-free and non-toxic (eg. not made with a toxic material such as jelly or PVC). Easily chipped surfaces such as thin metal coatings aren't acceptable either. One-piece porous sex toys are not allowed, due to safety and hygiene issues. Any sex toy which has ever been inserted must be sterilizable, and must be fully sterilized (boil/bleach/UV methods) before sale.
As Squeaky Clean Toys state:
"Essentially, what we all want is for a toy to be as functionally, chemically, and hygienically safe as possible. So we will not list items that we feel are a known toxic danger…"
Second-hand sex toys sold at Squeaky Clean Toys must be listed at least 25% cheaper than the cheapest 'new' price online, and the company takes a 20% commission from every successful sale.
Find out more and sell your second-hand sex toys at squeakycleantoys.com.
(Unsponsored & I'm not an affiliate, I just think it's a great idea!)
Buying Effective Sex Toys You'll Actually Use
After a thorough spring clean of your sex toy collection, it's possible you have very few or maybe even zero sex toys left which you'll actually use. Time to hit the shops!
Wait just a moment, though. Before splashing the cash on sex toys and price tags which immediately catch your eye, you need to know exactly what sort of sex toys and products will work for you. No point wasting your hard-earned cash on what will essentially become expensive, pretty clutter.
Sex toy reviews are a great way to get real-person points of view about various vibrators, dildos, anal toys and more. Unlike the marketing spiel of shop listings, good sex toy reviews are honest, unbiased accounts of real user experiences, often accompanied by real-world photos of the product from all angles.
Hit the search box here at the Cara Sutra sex blog if you're looking for reviews of a particular sex toy, or look through my main menu to browse a wide variety of categorised reviews.
Once you have a better idea of what you're really looking for, head to my recommended sex toy shops. Don't miss the current and exclusive discount codes so you can save cash on your sexy shopping.
You can make it easy for your partner to gift you the exact sex toys, BDSM gear and sexy lingerie you really want by creating a list that you can then email to them. Lovehoney offer a 'Saved Items List' function when you sign up for a free account on their websites (Lovehoney.com / Lovehoney.co.uk). Alternatively you could create a private wishlist on Amazon, then use the Amazon Assistant browser extension to add non-Amazon items to this list, which is then shareable via email with your partner.
Another top tip is to stock your nightstand or bedside drawer with hassle-free and hygienic sexual pleasure in mind. Bottled water to rehydrate, a pack of anti-bacterial wipes for quick cleans and a Cumpanion sex towel to avoid wet patches will definitely come in handy.
How To Store Your Sex Toys
When you spring clean your sex toy collection, you may realise that you need to reassess how you store your sex toys going forwards. One or two in your bedside drawer may not seem an issue, but if your collection grows you might find yourself chucking them under the bed where they gather dust and fluff, are more prone to damage and can be hard to find or sort in future.
I've written a dedicated Sex Toy Storage Guide, so check out that helpful article for all my tips and product recommendations.
Organising Your Charging Leads
If you're like me, it isn't only the vibrators, dildos and butt plugs you find difficult to keep track of – it's all the charging leads and docks! Although a lot of sex toys now come complete with a storage bag, I'm terrible for not bothering to store the toy and its wire in the bag between uses. In any case, when you have a lot of sex toys it isn't ideal having to open a multitude of opaque black drawstring pouches when you fancy a wank, because you can't remember exactly what's in each one.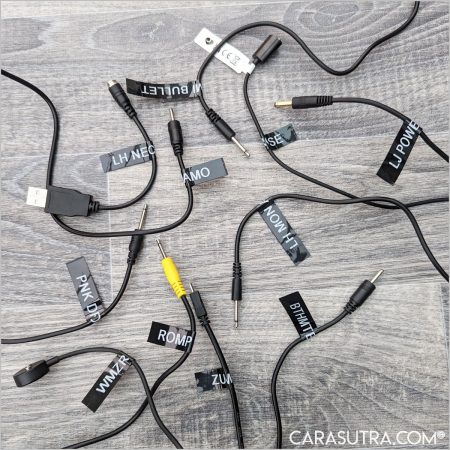 With regards charging leads: if they don't arrive already labelled with which vibrator it's for (very few companies do this, unfortunately) then add your own label as soon as you get it out of the box. Your future horny self will thank you when you desperately need to recharge a favourite vibe. No need for anything fancy; write on a sticky label and fold it so it adheres to itself around the wire. Or use the DYMO labeller available from Amazon (buy from Amazon.com / Amazon.co.uk) – it's so easy to use and I label all my wires with it these days – see the photo above.
Docks are a little easier to distinguish as it is fairly obvious what sex toy they're designed to hold and charge, eg. the Loving Joy Power Bullet and Zumio Clitoral Stimulator docks are uniquely for those vibrators.
While we're on the subject of rechargeable sex toys, it's a great idea to have a dedicated area to charge your vibrators if you can. This will usually be in the bedroom -or possibly a home office if it's private enough, and you're lucky enough to have one. As most modern rechargeable sex toys are USB rechargeable rather than mains socket, I find a multi-USB plug invaluable for keeping my favourite vibrators charged up.
Invest in a multi-USB plug from Amazon.com, Amazon.co.uk or your usual electrical retailer. Keeping your top favourite vibrators fully charged has never been so easy.
Storing Lubricants & Liquids
Bedside drawers or a box in the bedroom isn't ideal for storing sex lubes and other liquids, as there's a risk of spills and damage to either the drawer or other products kept there.
A bathroom cabinet with shelves is ideal if you have the privacy and luxury of an en-suite. If you need to store your lubes and pleasure potions in a drawer or a box under the bed, there are steps you can take to minimise the risk of spills and damage to other items.
If storing lubes in a box under the bed, opt for a plastic rather than cardboard box which can be thoroughly cleaned and will stand the test of time. We love the sturdy & durable Really Useful Boxes, available on Amazon.com / Amazon.co.uk. They have handles and are clip-lidded, which keeps the dust out and makes the box easily portable.
When keeping bottles of lubes and other liquids in a bedside drawer, put a waterproof liner down first. Something simple and cheap like a metal or silicone baking tray works brilliantly to guard against the mess and damage from spills. A tray is also easy to remove and clean in hot soapy water whenever needed or just as a freshen up.
Which Sex Lube Should You Use?
This seems a good juncture to talk about sex lubes. Are they all the same sort of thing? Not in the slightest. So which one should you use? That depends on what you're using it for (toys, vaginal, anal) and your particular body sensitivities.
Get the low-down on lubes in my Big Guide To Sexual Lubricants.
Here are the main takeaways:
Some people have vulva/vaginal sensitivity to glycerine-containing lubricants
Silicone lube can absolutely be used with genuine silicone sex toys
You can also use silicone lube with condoms – silicone and latex do not negatively interact
Do not use oil-based lube with latex condoms
The specific lubricant – type and formulation within that type – matters. If you've suffered vulval/vaginal irritation after using lube it may be because it contains glycerine. Look for a guaranteed vagina-friendly lubricant such as Sliquid or YES Organics.
Make Your Sexual Pleasure A Priority
Now we've discussed how to spring clean your sex toy collection, plus some other bedroom product pointers along the way, I hope you agree that mindful sexual pleasure is a life priority. You deserve the reassurance and security that comes with having a safe and effective sex toy and lubes collection which is effectively stored.
Whether you enjoy a sex life with a partner or solo (or both), your body deserves respect. Use the best quality sex toys and lubricants you can find, after careful research, and invest in styles which genuinely work for you personally.
It isn't worth risking disappointment or even physical damage by cutting corners with cheap, porous and potentially toxic sex toys. Some extremely cheap sex toys have dodgy wire connections, or require small cell batteries which can literally explode if left inside the battery casing or in direct sunlight for too long (I've personally witnessed this happening on several occasions).
Please don't continue to slather on lube from that container which has been under the bed for many months or years. And please don't settle for simply any cheap lube with a mystery formulation, which could seriously upset your delicate vaginal pH and cause irritation or pain. You deserve better!
Enjoy having a thorough clear-out of your sex toys and lubes and the resulting contentment that comes from having a properly organised assortment of products you genuinely (and frequently) love.
While you're here, why not check out my tips for spring cleaning your sex life?
Contains affiliate links