Cumpanion Towel by Anna Rae Review
By Pleasure Panel reviewer Poison Hyvee
A few months ago, I was reading Emmeline Peaches' blog and I found the Cumpanion Towel review and giveaway. Being the gigantic sex nerd that I am, I had to know what the fuss was about (the review was very positive), so I entered and largely forgot about it until I got that wonderful email telling me I had won!
Of course, it isn't terribly fair for me to hog my experiences with this towel, so here I am sharing it with you, so that you can decide for yourself if this is a silly frivolity or the next step in an oft-neglected cleanup part of sex (I personally think the latter).
Appearance
The Cumpanion Towel is the pun-tastic first product from the female-founded company AnnaRae. It is designed to be an upgraded version of the gross towel/shirt/whatever is nearest the bed to wipe yourself off post sex or masturbation.
It is an ellipse shape (24" by 15") which the company says is better to fit between the legs without pesky corners getting in the way. The towel has a pocket on one side to store lube, condoms, or small toys like a bullet vibe or a cock ring. The pocket is fairly deep, but not deep enough to house more than one of those items. The pocket also lets you know which end of the Cumpanion Towel is which if you want to make sure you're using the clean side when you wipe yourself- which is certainly a good thing!
Products shown: Sliquid (USA) & Womanizer Sex Toy (USA)
It currently comes in a lovely sky blue (I am SO GLAD it's not pink) material that's like the happy medium between microfiber and shag with satin trim. The company will be adding more colors as it expands, starting with grey and hopefully more. They seem to be able to make a nice vibrant yet unoffensive blue, so I'm looking forward to seeing the colors they make next!
Doesn't That Seem A Little Ridiculous?
I didn't think I would really fall in love with this Cumpanion Towel or anything because it seems so frivolous, like something I'd silently judge someone for having. But after experiencing the convenience as well as the pure softness of this towel, I just can't deny its usefulness!
It's unobtrusive enough to tuck next to my bedside table where I always have it when I need it, and boy, do I need it. I used to just go to the bathroom and wipe with toilet paper, but that was never as effective as I wanted it to be, and tiny bits of tissue would get stuck in my bits. Now, I can wipe before I go to the bathroom, which, although it sounds needlessly sensitive, is so much more comfortable than having to walk down the hall with vag juice all over my labia and thighs.
The Cumpanion Towel is also there in the morning after a sexy dream, or after I take a butt plug out (although I would not recommend doing that multiple times without washing in between for sanitary reasons. It's convenient and useful and so, so much softer than a regular towel, which can be very rough on sensitive skin.
During Use
In terms of soakage, this thing does its job! As a squirter, i tend to produce a decent amount of liquid which needs to be cleaned up and this works well to do that, as well as the usual vag gunk from non-squirting times. The Cumpanion Towel is not a waterproof towel, however, so it doesn't work like a Liberator Throe or Sheets of San Francisco, but it can clean up in conjunction with one.
Dried fluids do leave crusty residue on the Cumpanion Towel, but it's not highly visible unless you really examine it, so if you're careful about using a new spot each time, this towel can last many sessions before washing. Once washed, the towel looks as good as new, soft, clean, and still vibrantly colored!
Overall
9/10
Overall, I really like this thing! It's soft, cute, and very useful. And at a fairly affordable price of $16.50 USD (a bargain for its quality materials and construction in my opinion), it's a great deal! I would recommend this to people who dislike feeling sticky after sex and want the convenience of getting fully dry without toilet paper bits in your junk, right from your very own bed!
You can buy the Cumpanion Towel from Anna Rae.
– Poison Hyvee
---
Where To Buy
Thanks to Pleasure Panel reviewer Poison Hyvee for this contributed review of the Cumpanion Towel by Anna Rae. You can buy yours here for $16.50. 
Now, why not buy some sex toys to use with that super soft sex clean up towel?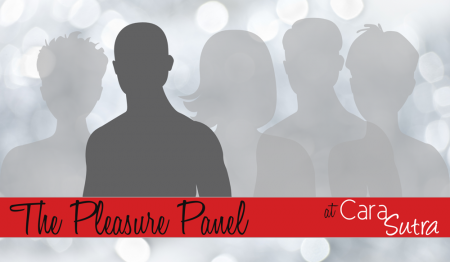 Contains affiliate links