Loving Joy 20 Function Power Bullet Vibrator Review
Loving Joy 20 Function Power Bullet Vibrator review by Just Jess
I like to think I'm a bit of a bullet aficionado. Very rarely will any play session, solo or partnered, not involve one of my many bullets. I love the pin point stimulation a great bullet offers over the wide and bone shaking vibrations of my Doxy Wand. My absolute favourites are the Lovehoney Desire and the We-Vibe Tango, both of which offer strong, rumbly vibrations (plus lots of patterns – but patterns just don't float my boat), are waterproof, body safe, rechargeable and generally awesome.
I read Cara's review of the Loving Joy 20 Function Power Bullet Vibrator last November and was amazed that a power queen like Cara raved about it so much.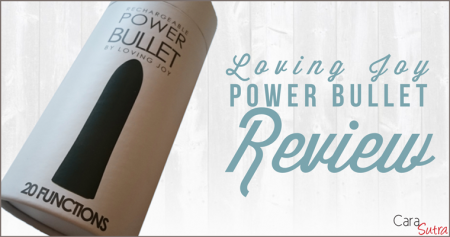 I added it to my wish list but given the number of bullets I already own I never got around to trying one. However, as soon as I saw the review list on October's Pleasure Panel I knew I had to ask if I could try it. Thank you to Cara and Loving Joy for the opportunity to test the Loving Joy 20 Function Power Bullet Vibrator in exchange for my open and honest review.
As I now own three of the most highly rated bullets on the market I thought it made sense to compare the three in this review.
Aesthetics & Materials
All three bullets are a similar size and shape. The Desire is a smidge girthier, the Loving Joy 20 Function Power Bullet Vibrator is a tiny bit longer – there's really nothing in it for me visually; all three are high quality looking bullets with well finished edging and quality materials are used by the three manufacturers.
The Desire bullet and the Loving Joy 20 Function Power Bullet Vibrator both have a central point on the tip offering pin point precision whereas the We Vibe Tango has a slanted, lipstick design again offering direct stimulation but in a softer way. In use, I prefer the sloping tip of the We Vibe Tango as this touches slightly more surface area of my clit and hood which I find helps the vibrations penetrate deeper.
We-Vibe's Tango is made of hard plastic compared to the soft silicone outers of both the Desire bullet and the Loving Joy 20 Function Power Bullet Vibrator. The materials of all 3 are completely body safe and contain no pthalates.
All three are also fully waterproof so can be used in the bath or shower. This also makes cleaning them really easy. Water-based lube is recommended for each of the bullets. I don't find I need much for clitoral play but a tiny drop does help it glide better over my labia and clit.
Rank
1st – We-Vibe Tango
2nd & 3rd – Lovehoney Desire and Loving Joy 20 Function Power Bullet Vibrator
Packaging & Extras
The Loving Joy 20 Function Power Bullet Vibrator is supplied in a cardboard tube along with the charger and instruction leaflet. There is no storage pouch etc included but you could keep everything in the tube if you wanted. For me the packaging is too bulky to keep. I have a lot of toys and packaging just takes up far too much room so the tube went straight in the bin after I'd taken my photos.
We-Vibe include a white satin storage pouch with the Tango. This to me, is cheap and nasty. The same style pouch is supplied with most of their toys and I honestly don't think they are in keeping with We-Vibe's high end image. I don't use the storage pouch for any of my We-Vibe toys and I have quite a few. Again the packaging is far too bulky for me to keep and went in the bin not long after purchase so unfortunately I have been unable to take any pictures of this for my review.
Desire is Lovehoney's own brand luxury range. The bullet actually comes in a reasonably small box and should you want to keep it, storage shouldn't be too much of an issue. There is also a small zippable case included, this is only large enough for the Desire bullet and the charging wire which is a little disappointing. It's definitely the best long term storage option supplied with any of the three bullets but I would like to be able to keep a small sachet of lube and a couple of condoms in with the bullet if I was taking it away anywhere overnight. Therefore for me it's just a bit too small to be practical.
Rank
1st – Lovehoney Desire
2nd & 3rd – We-Vibe Tango & Loving Joy 20 Function Power Bullet Vibrator
Charging
The Loving Joy charger is so much better than either the Lovehoney Desire or We-Vibe Tango. Yes, it's still magnetic; but the bullet stands upright in the stand and it's virtually impossible to disconnect once the connectors are lined up. It actually took me a few minutes to get them into a position where the Loving Joy 20 Function Power Bullet Vibrator wasn't charging in order to take the pictures. If you do manage this the light flashes red but switches to green as soon as the bullet is in position.
The cradle is a stroke of genius here, sex toy designers please replicate this on other magnetic charging vibes! The charging cradle itself is a little cheap looking but given how well it works I'm absolutely willing to overlook this.
In comparison, the Lovehoney Desire and We-Vibe Tango both charge magnetically with small charging ports you attach to the ports on the bullets themselves. The We-Vibe charger is dire, literally rubbish, I hate it. It disconnects constantly if nudged, looked at, breathed on. Another blogger mentioned hanging the We Vibe Tango upside down to charge and surprisingly this does work quite well – but the charger is definitely the worst of the three.
Lovehoney's Desire bullet has much stronger magnets than the We Vibe Tango charger so disconnection isn't as frequent but it's still, quite frankly, a pain in the ass.
Loving Joy wins hands down in this category, other toy manufacturers need to adopt similar technology, pretty please!
Rank
1st – Loving Joy 20 Function Power Bullet Vibrator
2nd – Lovehoney Desire
3rd – We-Vibe Tango
Vibrations
All three bullets offer 3 to 4 constant speeds of increasing intensity followed by a range of patterns. I'm not a pattern fan, they just do nothing for me, I don't find them teasing or great for edging as I've read in other reviews. I just find them frustrating and annoying and struggle to build to climax on anything but a constant speed.
In the interests of thorough testing I have tried every pattern on all three bullets several times (it's so hard being a reviewer!) but none of them have managed to make me cum.
Vibration strength is very similar across each of the three bullets I tested. All are seriously powerful but I do find the Desire and Loving Joy offerings slightly buzzy on the higher settings. This is no where near as noticeable or annoying as some of the cheaper bullets I've tried in the past but compared to the We Vibe Tango (which is seriously rumbly) they are buzzy.
Rank
1st – We-Vibe Tango
2nd & 3rd – Lovehoney Desire & Loving Joy 20 Function Power Bullet Vibrator
Price
Loving Joy 20 Function Power Bullet Vibrator £38.95 – Loving Joy
We-Vibe Tango Lipstick USB Rechargeable Bullet Vibrator £54.99
Lovehoney Desire Luxury USB Rechargeable Bullet Vibrator £49.99
Orgasm Strength & Final Thoughts
I love each of these bullets. I hate to make promises I can't keep – but I have never failed to orgasm with any of these (unless I've purposely and highly frustratingly been denied by a partner). I can cum in under 2 minutes on the top setting of each or be deliciously teased and edged for much longer on the lower settings.
For me the intensity of my orgasms is the same using all three. There are all amazing bullets.
However, rumbly vibrations are definitely where it's at for me so the We Vibe Tango will always win out but the Desire bullet and Loving Joy 20 Function Power Bullet Vibrator are both fantastic at making me cum even if they buzzier.
For me the differences really only come down to price and personal preference.
Scores
We Vibe Tango 9.5/10: I hate the charger but love the bullet so much, the slightly higher price is justifiable to me just for those delicious rumbles.
Loving Joy 20 Function Power Bullet Vibrator 9/10: This loses a point for the slightly buzzy vibrations and the lack of any extras though really for the price this is expected. It's definitely a fantastic bullet and well worth the price tag if you're looking to upgrade from battery operated bullets to something much stronger.
Lovehoney Desire 8.5/10: Again, slightly buzzy and a further half a point off as its £11 more expensive than the Loving Joy 20 Function Power Bullet Vibrator.
– Just Jess
---
Where To Buy
Many thanks to Pleasure Panel reviewer Just Jess for this review of the Loving Joy 20 Function Power Bullet Vibrator.


This bullet vibrator was sent free of charge, in exchange for a fair and honest review by the Pleasure Panel.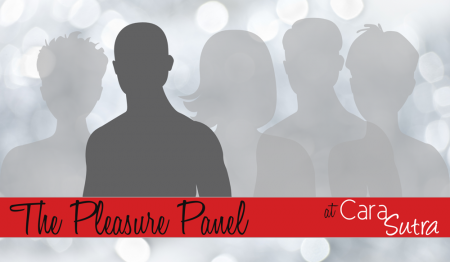 Contains affiliate links.