This month I will be reviewing the Prowler Flexi Anal Douche. I've recently started using these douches as a way to make anal play for my wife and I more pleasurable. It allows for less mess, easier cleanup and no awkward moments or smells. This is the largest one I have tested so its size makes me a little nervous, so we will see how things go.

The second time I used it, I did so while having intercourse with my wife by putting the cock ring on and inserting the vibrator into anus after I started having intercourse with her. We both enjoyed that more than using it on just me.

I have been sent the Royal Condoms Chocolate Flavour 3 Pack to test and review.  They are also available in 10 and 20 packs.  They are also available in strawberry and natural and can be purchased from their website and Amazon.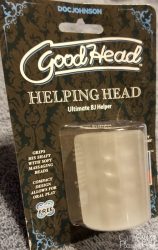 My second item to review this month is the Doc Johnson Good Head Blow Job Stroker.  I was excited to get the opportunity to review a Doc Johnson product.  I have heard they are usually good products, but I have never tried one. It sounds like something that would help improve this sexual area between my wife and I.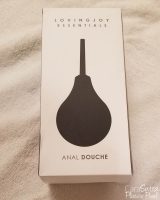 This month I will be reviewing a couple of toys again. The first one is the Loving Joy Anal Douche from Loving Joy. This is the first time I have used one of these. It's kind of like the little bulb syringe that you would use for flushing out your nose or ear only much bigger.

My second review of the month is the Rock Candy Purple Gummy Ball Waterproof Finger Vibrator. This is a relatively new toy having just been released August 1st of this year.

The Rock Candy Rock On Royal Blue Cock Ring has a simple but cute packaging. It comes in a plastic wrapper like you would find with a pop ring or some of other kids toy/candy. This makes it easy to open. It is available in other assorted colors like ice blue, red and black.

With just a little lubricant the Paloqueth Sound Activated Warming Remote Control Vibrator slides in nicely and your lips help hold it in place. She even wore it to a meeting without any discomfort or need to rearrange.