International Male Chastity Day | International Chastity Day Info
As a proud kinkster and huge fan of the chastity fetish in particular, it gives me great pleasure to share details of an official annual celebration of this highly erotic kink. International Male Chastity Day (also known as International Chastity Day) is celebrated on the 15th February* each year.
How did International Chastity Day start? Way back in 2014, BDSM gear specialists UberKinky launched the very first International Male Chastity Day, and chastity fans have been commemorating the occasion ever since.
Why Is There A Chastity Day?
There are legions of male chastity fans globally – those who love to be locked up and those who love to guide their journey, perhaps with some teasing along the way. Although for some people chastity is a very private affair, for others it can be an avenue for meeting like-minded friends in the BDSM scene, both online and in real life.
Setting a specific annual date to mark this fascinating fetish means raising awareness of the popularity of chastity, sharing chastity advice resources, intensely sensual chastity erotica and myriad opportunities to connect with other chaste kinksters and potential Keyholders.
What Is Chastity?
I'm wrongly assuming that everyone reading this article knows what chastity is. So, what is chastity? Being chaste means to refrain from sex. For the purposes of the chastity fetish in BDSM, this usually translates to no orgasms –whether via a partner or self-made, through masturbation.
Why would anyone want to avoid experiencing the erotic pleasure of sexual play with a partner or masturbation? For some people, their kink is enjoying denying themselves, or being denied, sexual satisfaction in whatever form. The denial may present a reward in terms of pleasing a Dominant partner, Top or BDSM 'owner', or an intense, powerfully explosive orgasm when, eventually, that climactic sexual relief is granted.
How It's Enjoyed
Enjoying the peak of sexual pleasure, an orgasm, is strong desire for the majority of sexually active adults. Therefore, it's understandable why the control & denial of it is intensely alluring to many BDSMers. People of all genders around the world enjoy chastity, which (contrary to your possible thoughts reading this article) isn't medieval misogyny with locked metal pants and possessive fathers.
How do people engage in chastity? Some fans of the fetish might have enough willpower to keep their hands (and sex toys, and other people) away from themselves, in a sexual sense, throughout the period of chastity. For others, a chastity cage or another option from the wide and varied world of chastity devices helps keep temptation firmly under lock and key.
Using Chastity Devices
Penis chastity devices or 'cock cages' come in a wide variety of sizes, styles and can be made from various materials. Some are better for short Dominance/submission role-play sessions, others can be worn over long periods of time –yes, even whilst asleep, while you're at work and during your workouts at the gym.
Some chastity cages lock with a traditional padlock and key, others have an integral lock. You can buy plastic numbered tags for when a metal lock isn't appropriate, or safety while retaining the reassurance of chastity and obedience during long-distance play.
Other penis cages aren't lockable at all, and simply provide tantalising restriction and adornment. There are also 'female chastity devices' available, usually in a chastity belt style.
Metal chastity devices can be either closed ended or open ended, with some cages even specifically designed to integrate a Prince Albert piercing. There's no excuse… whatever your size and situation, there's a chastity device to fit. #sorrynotsorry 😊
Chastity With A Keyholder
Those who seek a higher level of control might be interested in having their orgasms controlled by their Dominant partner, whether just for the duration of a session in the bedroom or other appropriate play area, or over a longer period of time with the help of a chastity device. In the world of FemDom, within the broader BDSM universe, male chastity play is a common and popular feature.
Chaste periods are often seasoned with the art of 'tease and denial' by the Dominant which not only emphasises their control, but ensures the erotic sensuality which makes the chastity kink so alluring to many. Being teased whilst in chastity, whether with or without a chastity cage, has been known to help submissives realise an incredibly deep sense of submission, known as subspace.
Join In The Fun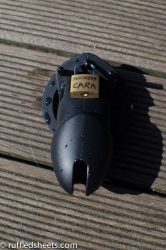 Ready to find out who else loves being locked up? Or somebody who loves doing the locking up? You can get involved this year. You might decide to get amorous for Valentine's Day, then begin your chastity adventure on International Chastity Day itself. Maybe you're already locked up and looking to set yourself a new chastity record by reaching and surpassing the annual event. If you've been considering purchasing one of the many chastity devices available, this is your perfect opportunity! Take the plunge and lock up that cock (or 'lock away the vajay'? I'll work on it) for the erotic thrills only chastity can provide.
Whether locked up or not, if you're interested in chastity you might enjoy connecting with like-minded folk on various kinky chat forums, like The Cage and Fetlife.
Over on social media, you can find plenty of chastity-themed updates via the usual hashtags:
#chastity #permanentchastity #malechastity #keyholder #orgasmcontrol #teaseanddenial
Plus there are specific hashtags for this annual event:
#chastityday #internationalchastityday #internationalmalechastityday
Further Reading
I've written plenty of chastity advice articles here at the Cara Sutra sex blog which I hope you'll be motivated to check out, whether on International Chastity Day or at any other time! Here's some of the highlights:
---
Click to read more BDSM advice articles, & shop for sexy accessories:

Contains affiliate links
*some online sources note the day as the 14th February, but the original date from launch was 15th February