DIY Chastity Getting Hard? Try Keyholding Services
By Cara Sutra
We're approaching International Male Chastity Day once again (15th February) which seems to roll around faster each year. I wanted to write something on the subject of chastity, but looking at my past blog posts it's been a challenge to find a new angle. I've written various articles on the subject. What I get out of locking a guy up in a chastity cage. Female chastity. Slaves have written their experiences, and there are several chastity device reviews. This year, I'm focusing on Keyholding services.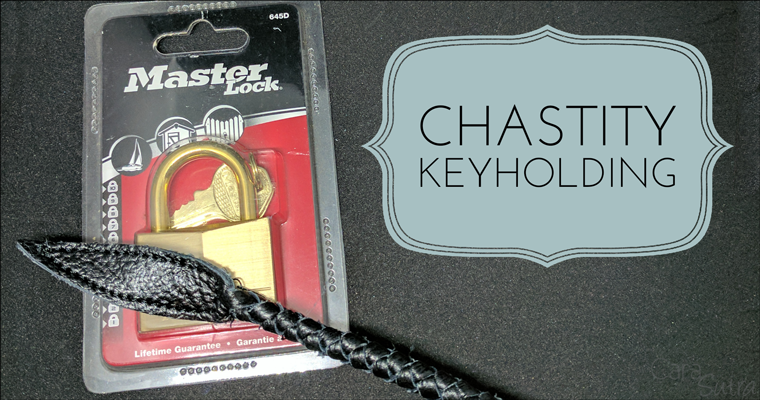 What Are Keyholding Services?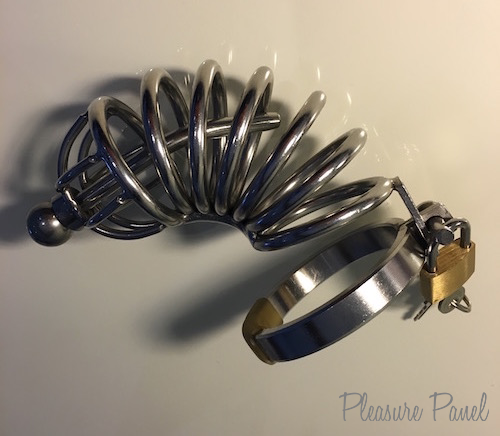 Keyholding services within FemDom are offered by Dommes and Mistresses. It's when a Dominant woman holds the keys to a chastity device, without necessarily having any other sort of BDSM relationship with that person.
A Keyholding service is literally that; someone holds the keys to a chastity device. The length of time the keys are held for can vary. Depending on the specific set-up of your Keyholding service, the duration may be pre-arranged or it may be open-ended. In that case it's down to the discretion of the Domme, unless you safe out before she permits release, of course.
How Much Do Keyholding Services Cost?
As with most pay services in BDSM, there doesn't seem to be a set going rate for Keyholding services. Each Domme sets the price she feels her Keyholding service is worth, and that's the price you'll need to pay. Some Dominant women have a set price across the board, whereas others (like myself) tailor their prices according to the person.
For someone looking simply for their chastity device keys to be held, I ask £50 per week. If a person requests tease and denial throughout the Keyholding, the price can increase to between £100-£150 per week. This is due to the photographs taken and sent, emails carefully drafted and sent, as well as other forms of teasing to add to the tortuous chastity experience.
Why Keyholding Services Are So Popular
Chastity is an incredibly popular fetish amongst submissive men. In fact it's rare that I see a submissive man who doesn't have some form of chastity fetish. It doesn't necessarily include a chastity device, sometimes it's the desire for orgasm control or a ban on masturbation and sex.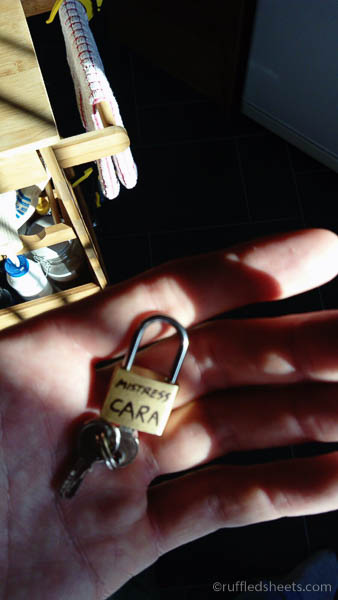 I find that male submission is strongly motivated by sexual appetite. Therefore, there's a strong connected desire to relinquish control over sexual urges & their physical consequences.
It can be difficult for submissive men to find a regular Domme or their own Mistress – and not all chastity fetishists want a D/s relationship, of course. That's where Keyholding services come in (excuse the pun) – chastity lock up without obligation.
Are There Any Risks?
As with many things in BDSM, there are risks involved. For many people, risk is part of the appeal. However, if everyone follows the golden rules of BDSM, everything should be fine.
The golden rules? Active consent, communication & mutual respect.
Although you consent to give your keys to a Domme/Mistress, they should respect your wishes throughout. Chastity keys should only be held until the pre-arranged date or you safe out.
An external risk factor is the post service. I always require chastity keys to be sent by a guaranteed & tracked method. No-one wants chastity keys going missing.
I'd advise only sending chastity keys to a respected/trustworthy Domme/Mistress in the BDSM scene. You might find a woman who says she'll take keys for £5 a week, but if she doesn't know about/follow the golden rules of BDSM, who knows when or if you'll ever see those keys again?
Where To Find A Keyholder
Fetish forums such as Fetlife and Collarspace gather people interested in the BDSM & usually have search options. You can find people interested in Keyholding by visiting the chastity or FemDom tease & denial forums, or simply typing in Keyholding and seeing what comes up.
There are various Mistress directory websites online. Not only can you view thousands of Dommes on one website, you can often find Dominant women close to you. Handy if you're hoping to move to real time rather than online/post Keyholding services.
If you don't fancy signing up for a fetish forum or Mistress directory website account, you can always dip your kinky toe into Twitter. As one of the only social media with a good freedom of speech policy, there are loads of Dommes and subs there. Type Keyholding or chastity into the search box and view by tweets or people.
My Keyholding Services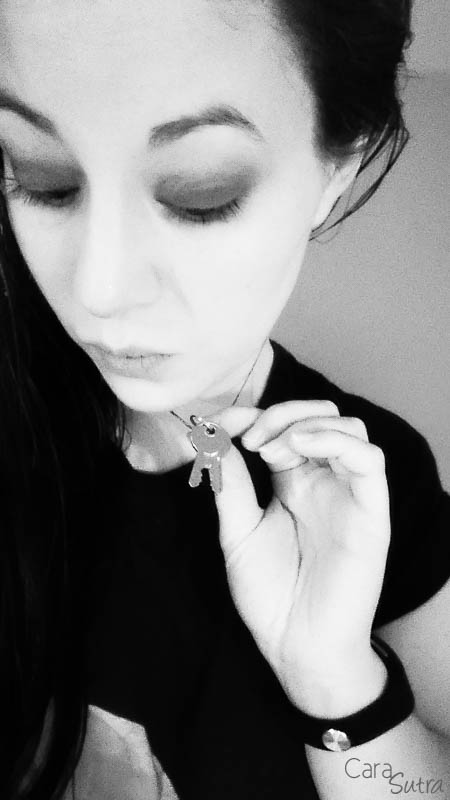 Although it's not something I engage in regularly, I have been known to offer Keyholding services. I only accept chastity keys from submissive men, and from men who have the right attitude from my point of view.
As stated above, I charge a flat rate of £50 per week if you only want the chastity keys held. For tease and denial and anything above and beyond, the fee will increase. For me, chastity Keyholding is a service, and one which requires my time, attention, experience and skills. As with anything in life which requires those, and for which there is demand, there are fees involved.
If you're interested in my Keyholding services and would like more information, you can email me here.
Before You Send Your Keys: My Requirements
Be aware of the following before you send your chastity keys to me:
If you lie about being locked in chastity, it's yourself that you're kidding. Why rob yourself of the real experience?
Chastity keys sent by an untracked and not protected form of post will be returned immediately & contact terminated. I cannot hold keys for/Dominate someone who acts with such disregard for their own safety.
It's rare that I hold chastity keys for someone in a vanilla relationship. I prefer someone unattached.
30yo+ only please. Another personal preference.
Communicate clearly & regularly throughout the Keyholding. I need to know how you're feeling about chastity, to help me gauge if you're ok/desperate. Safewords and traffic lights are always respected.
Note: it will take at least 24 hours to return the chastity keys to you by post. They will be sent by a tracked & guaranteed method.
Keyholding: Not Just A Job To Me
It would be easy to think that because I charge fees for my Keyholding services I simply don't care about the chaste submissive. That it's just another job to me, and that my heart isn't in it. Well, that's a naive and entirely wrong point of view.
In life, I don't spend my time doing anything I don't want to do. I love my day job, which is a career carved out of a passion. Likewise, I identify as & love being a Domme – with everything that involves.
Why I Enjoy Keyholding
Keyholding gives me a sense of control and power over the chastity submissive, sure. But it's more than that. It's not simply an ego trip. Anything I do with a submissive (as a Mistress in the BDSM scene) is done for the fulfilment of that person's needs.
There are so many men out there literally aching to be in chastity – and to be in chastity for a Domme or Mistress. I've thoroughly enjoyed holding the chastity device keys of many such men, and teasing them through the experience. Their absolute need, the vocal and physical reactions as well as consensual pain are the reasons I adore male chastity.  All I ask is the complete honesty and respect that I offer out.
Chastity Keys Symbolism
When I'm holding chastity keys for a locked up guy, the tangible control over them is thrilling. The chastity keys worn either on a chain round my neck or on an anklet are physical proof of that sacrificed control, and as such are sacred.
Time passes and as the locked up chastity submissive gets more and more desperate for release, the keys come to feel even more valuable than at the start.
The Effect Of Keyholding On My Sex life
When the guy starts promising anything in order to be unlocked, perhaps with a few tears along the way, that's when the Keyholding affects my physical sex life. Until that point I enjoy the control in a light-hearted, amused way. In this later stage I often masturbate over their need, and pain, and sobbing pleas of desperation.
To reach the stage where chastity Keyholding affects me in such a raw and carnal way, I need a communicative and open chaste sub as a muse. Although I can hold anyone's chastity keys, it's only the most communicative and trusting chaste subs who contribute to my masturbation sessions & fantasies.
An attractive proposition, I'm sure you'll agree.
---
What do you mean, you don't have a chastity device or cock cage?! Quick, shop for chastity devices at UberKinky or Lovehoney in the UK, or at Lovehoney USA.


This post contains affiliate links but is not sponsored. Written as part of my Fetish Friday series.


Many thanks to Ruffled Sheets for the use of his padlock/keys photo. This pic was originally used as part of the chastity erotica two-parter: Her Icy Response.
If you've enjoyed this post please buy sex toys here (this is an affiliate link and I get a small % of the sale). All pennies raised through affiliate sales go towards keeping this site open and full of sexy stories & more. Thank you!