Watching My Boyfriend Suck Another Man's Cock
How did it feel watching my boyfriend suck another man's cock? Read on to find out…
I don't remember how the evening started now. When I let my mind wander back to that night, it leaps straight to the heart of the action. My man's mouth pleasuring another man. Watching him suck another man's cock made for a fucking arousing sex memory; one I'd like to share with you today.
Honestly, I'm struggling to recollect the events leading up to that moment. Bed, people, chatter, tease. Then all of a sudden: crystal clear memory. There he was, my boyfriend, laying between his friend's legs. His face, sporting a wicked grin, turned up towards him in supplication and statement combined.
A nod from his friend, and with the foreknowledge of my approval – it began.
There was something so illicit about the encounter. Two men engaged in something other than the typical buddies-yet-gruffly-unaffectionate chatter, but not the oiled-up frenetically fucking bodies of gay porn either. A very well lit room; no dimmed light required for this atmosphere, thank you. Absolutely raw live footage of man-on-man cock-sucking. That I was being allowed to watch. How was I doing, the audience? Captivated & hugely aroused.
Both men were still fully dressed. That fact made the cock-sucking even more decadently indecent, somehow. Such a spur of the moment, intensely passionate happening. Spontaneous, not pre-meditated. His friend's jeans and his black trousers brushing against each other, and watching my boyfriend unzip those jeans and free that eager cock from its confines.
He'd looked up. The nod came. His head moved down.
His mouth, with all its masculine bearded surround, enveloping the cock tip. My boyfriend's lips forming the O around the collar of his friend's dick, as if it were second nature. I moistened my own lips, as if in readiness. I could almost taste and feel every millimetre for myself, so familiar were the actions. I've sucked cock a thousand times and know the tricks. What I didn't know was that I'd been giving my boyfriend lessons.
I knew the tip of his tongue would be relishing the taste of his friend's foreskin, gently moving over it and exposing the shiny head beneath. His hand was helping proceedings now, gripping the shaft with intent and angling it slowly deeper into his mouth.
While he lavished his oral attentions, don't assume his friend sat nonchalant and aloof. From a soft yet adequately audible gasp as my boyfriend's mouth made first contact, his arousal became increasingly obvious. His straining cock disappeared deeper and deeper into my man's mouth, and with every inch the squirming on the bed turned into louder sighs and gasps. Fingers entwined in my boyfriend's hair, and for once they weren't my own. Curious and thrilling to watch. In stark contrast to our own sex, it was now his head being bobbed up and down on a cock full of urgent need.
But he didn't complain. Didn't care. All my boyfriend wanted was to continue tasting, continue sucking, continue pleasuring. Seeing his absolute joy at blowing his friend gave me absolute joy too, in a particularly filthy compersion.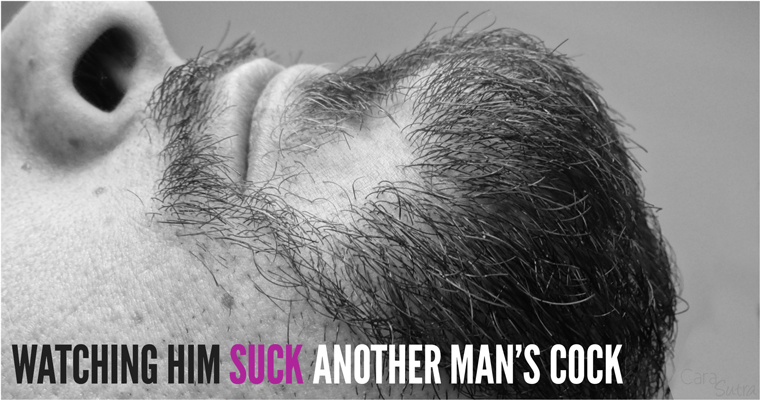 Yet my happiness and arousal weren't strictly empathetic. Man-on-man sex has always been fucking hot in my books, and to see two players on the same bed as me, perhaps even forgetting I was there… letting their carnal passion take over from cold logic and rationality for once… Yeah. I knew this was going to fuel my personal wank bank for some time to come.
Beyond the physicality of cock-sucking, the perversion of watching him suck another man's cock, everything else is misty memory. I don't know how long it lasted, or what it was he did that caused his friend to reach the point of no return. I don't remember the exact mouth movement that made the guy shoot his spunk down my boyfriend's throat. The man-on-man cock-sucking was one of those times which seems to last for an eternity in just a few minutes. The clarity of a few pivotal moments burned into my memory for the rest of time.
It was almost as hot as that day he fucked my boyfriend's arse; I'll tell you that story another day.
---
Update: Click to read the hotness that occurred when I watched a man fuck my boyfriend…


Contains affiliate links