John Thomas The Twisted Hog Pink Pig Face Butt Plug Review
I've been enjoying trying out some of the wondrous John Thomas toys recently, as you'll have seen from my recent Skittle Dildo and Buxom Lady dildo reviews. I also chose two butt plugs from the colourful and diverse range; the Sergeant Major butt plug and the item I'll review in full below: the John Thomas The Twisted Hog Pink Pig Face Butt Plug.
John Thomas are famous for their fun and gasp-inducing range of sex toys. Huge dildos and massive butt plugs abound, made from body-safe platinum silicone in a wide variety of colour-blends and shapes. They're extremely popular with anal reaming and pegging fans, and those who love the challenge and thrill of enveloping a monster cock or anal plug. They're not all humongous though, don't worry; JTT offer their products in smaller sizes too, with full details on each product page to ensure you get the perfect, pleasurable fit.
I chose the Twisted Hog butt plug in small size, with medium firmness silicone.


Enjoy all our John Thomas Toys reviews
Packaging
No need to worry about the postie or neighbours discovering your penchant for super-cool sex toys; all John Thomas Toys are packaged discreetly in a boring brown cardboard box or packet. The toy itself is securely nested in recyclable packaging inside.
My John Thomas The Twisted Hog Pink Pig Face Butt Plug was shrink wrapped in plastic for hygiene reassurance, with a John Thomas sticker of authenticity and a label declaring the silicone firmness level of my new toy.
What You Get
At the time of writing, a lot of the John Thomas Toys are being sent with a free Vac-U-Lock style suction cup adaptor. This is worth £13.99 by itself, so it's a great freebie as well as being extremely handy for versatile & safe usage of your new toy.  You'll be able to tell if your JTT product of choice comes with the free adaptor as it's clearly stated on the product page on their website.
As well as the freebie suction cup adaptor, you get a free, branded, velvet-touch drawstring storage pouch with each John Thomas Toys purchase. This is a lovely touch but I tend to just chuck my silicone toys in my sex toy drawer by the bed (if they've made it to the 'quick grab' collection) or alternative sex toy storage. Silicone toys can be stored next to one another without any problems arising, just as you would silicone bakeware in the kitchen cupboards.
Measurements
This John Thomas The Twisted Hog Pink Pig Face Butt Plug measures 4 inches in overall length, with an insertable length of 3 inches. The maximum circumference of the shaft is 4.5 inches around (quite a wide 'head' to insert), while the minimum circumference is 3.1 inches (around the 'neck', just above the base).
During Use
GNARLY. That's the word that keeps popping up in my mind after several playtimes with this kinky butt plug.  This is one goddamn gnarly little butt plug. Gorgeously deceptive little bastard.
Don't be fooled by the apparent small size of this John Thomas The Twisted Hog Pink Pig Face Butt Plug. Sure, the length is fairly standard and the 'neck' is absolutely doable. Trying to insert that pig face anally, though… well, it soon became clear why this hog was sporting such an evil grin.
Thankfully, I'd already grabbed and applied my lubricant of choice, one of my fave water-based lubes. Lubricant is a must for any sort of anal play, and this toy is a fine example of why. The seemingly small points of this little piggie's ears and chin feel much more defined when you're trying to glide the plug into your arse. Things in your butt really do feel much bigger than they do in your hand.
Eventually, I managed to slide the plug home. Using the included Vac-U-Lock suction cup adaptor was only of limited help with this John Thomas toy, as the hole in the base of the John Thomas The Twisted Hog Pink Pig Face Butt Plug is rather shallow. This means that the plug is balanced somewhat precariously on the tip of the adaptor, rather than slid securely down the length of it to keep it in place during use. I don't know if this is true of all Twisted Hog plugs, or if I just have an extra shallow little piggy who didn't want to open up.
While we're on the subject of stuff I'd change, there's an unfortunate black dot on my Twisted Hog's face which must have happened during the silicone pour. Doesn't affect use, just gives my piggy a bit of a surprise facial mole.
What I particularly love about the Twisted Hog plug, other than the spectacular sensations felt while attempting to insert that gnarly face, is that once it's inside you have an actual piggy face deep within. And it's a glorious kinky secret which adds a devious, sensual layer to the entire experience.
Summary
This little piggy made me squeal until it slid all the way home. I huffed and I puffed 'til I fully sat down. Although this toy wasn't a rash(er) choice, I still felt totally roasted after it was through with me.
Ok, enough piggy puns. You get the point.
Here's a butt plug which will definitely appeal to those who want a body-safe anal sex toy with an alternative twist. The John Thomas The Twisted Hog Pink Pig Face Butt Plug is bright pink, comes in a range of sizes, comes with a free suction cup adaptor and storage pouch and is easy to keep clean. It glides so much better with the addition of your fave sex lube, and you certainly won't forget your piggy pleasure sessions in a hurry.
This is the small size –but the Twisted Hog is also available in Medium, Large or Extra-Large. The XL size is insertable to 8.2 inches, has a max circumference around that evil grinning face of 11.2 inches, and weighs over 1.5kg/3.35lbs!
Back in just a moment, I think I need a lie down. 
Buy Yours Today
Thanks so much to John Thomas Toys for sending this product to me free of charge, in exchange for this fair & honest review.
Buy your John Thomas The Twisted Hog Pink Pig Face Butt Plug directly from JohnThomasToys by clicking through the big green button below: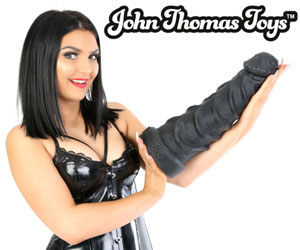 John Thomas Toys is a sponsor of carasutra.com