Why Do We Fetishize Strap-On Sex? The Top 10 Reasons
Plus, why phallus supremacy is a fallacy
Strap-on sex is seen as an incredibly kinky act in the world of BDSM. Many submissive men view being 'taken' by a woman wearing a strap-on dildo as terrifyingly arousing. But strap-on sex isn't only enjoyed by men who identify as submissive in the world of D/s and power exchange. My partner, for example, is Dominant – yet absolutely loves when I don my strap-on harness and dildo and give him anal pleasure with it. Other men out there enjoy strap-on sex from their partner without the pre-requisite for submission or a power exchange dynamic. So: why do we fetishize strap-on sex?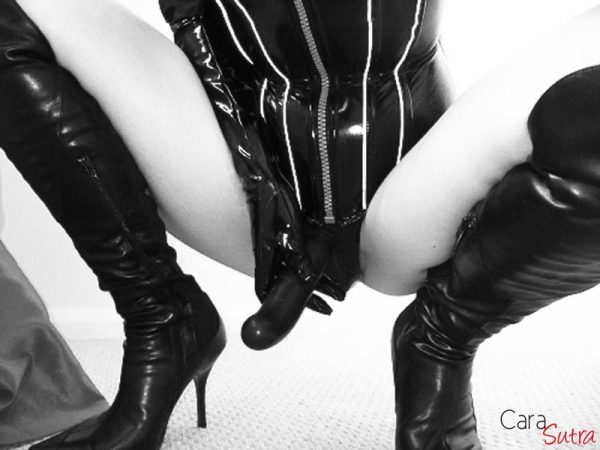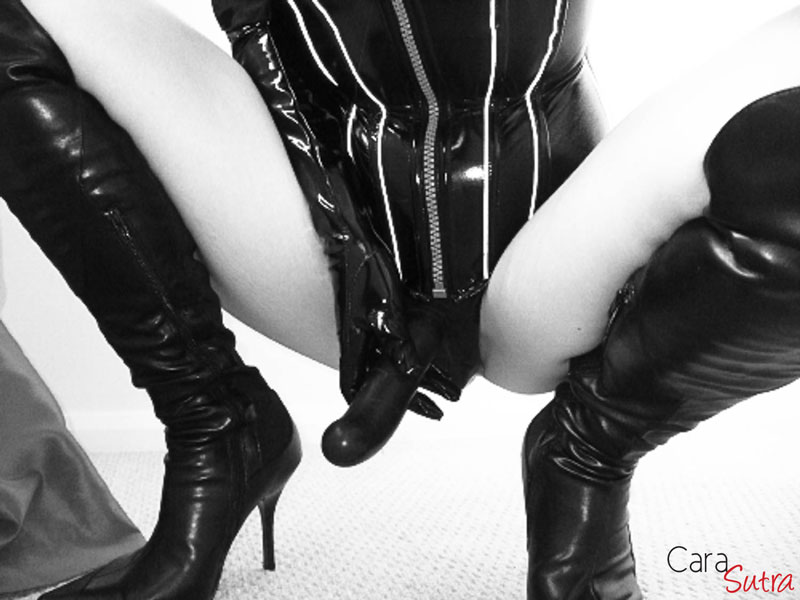 Why Many People Fetishize Strap-On Sex
1. The belief that sexual (& other) power lies with the one who wields the penis
Sex has historically been seen as something men 'give' and women 'take'. During unenlightened times when anatomy was seen as inextricably connected to gender, it was understood that men have the penis to thrust and ejaculate with, and women have the vagina to be thrust into and to receive the penis. Therefore, the act of sexual penetration was seen as not just the normal (or even only) way to have sex, but as a display of power by the dominant party (the penis-wielding man) over the submissive, vulnerable one (the penis-receiving woman).
There's still a widespread (and incorrect) belief, whether spoken outright or held subconsciously, that whoever has the penis has the power and control. And not only in sexual situations, either. This, I believe, contributed greatly to women's struggle for recognition and respect in many areas of society. In fact we can see the prevalence of toxic masculinity throughout a few groups in society, which is what happens when this belief in penis-related superiority is left unchecked.
2. Many view men as superior to women because of the penis
This may not be a conscious belief, but following on from the above point there is still a widespread notion that men somehow have intrinsic superiority because they have and are able to wield the penis. Even choosing not to wield it, to respect women, boundaries, and consent, is seen as a courteous choice, the kind option, gentlemanly.
Tied into this is men's greater physical strength capabilities, when we're speaking in general terms. Being generally physically stronger than women, plus having the potential capability to penetrate women with the penis they own, can lead to a conscious or unconscious feeling of superiority.
3. The penis recipient is viewed as the vulnerable party
Whoever is taking the penis during sex, receiving it into their body, is commonly viewed as the more vulnerable party. They're trusting that the penis-wielder will care about their pleasure as well as their own, that they'll stop thrusting and fucking whenever the recipient asks them to, and respect their limits in other ways too such as comfort.
Plus, although full and active consent to sex should be required from all parties, it does feel like in our society we expect that the majority of consent provided will be from the person receiving the phallo-penetrative act – in the case of sex where penis is involved at all, of course.
Receiving penis is seen as the weaker act, in comparison to penetrating with a penis. This has given rise (!) to plenty of phrases meaning 'weakened' or 'broken' in our culture, such as 'assuming the position', 'get royally fucked', 'riding my ass', 'totally screwed', 'fucked over' and references to not dropping the soap in the shower…
4. Penises are still seen as exclusively men's territory
The very thought of a woman owning, donning or using a penis is something that's quite fascinating for a lot of men. It's an alien concept. Penises are for men to have and wield, not women!
Combined with the points already made above, the fact that a woman can wear and use their own penis is a rather intoxicating, kinky prospect to the strap-on loving submissive man – thrilling and terrifying all at once.
5. Sex using a strap-on is no longer real-penis-centric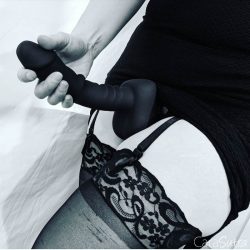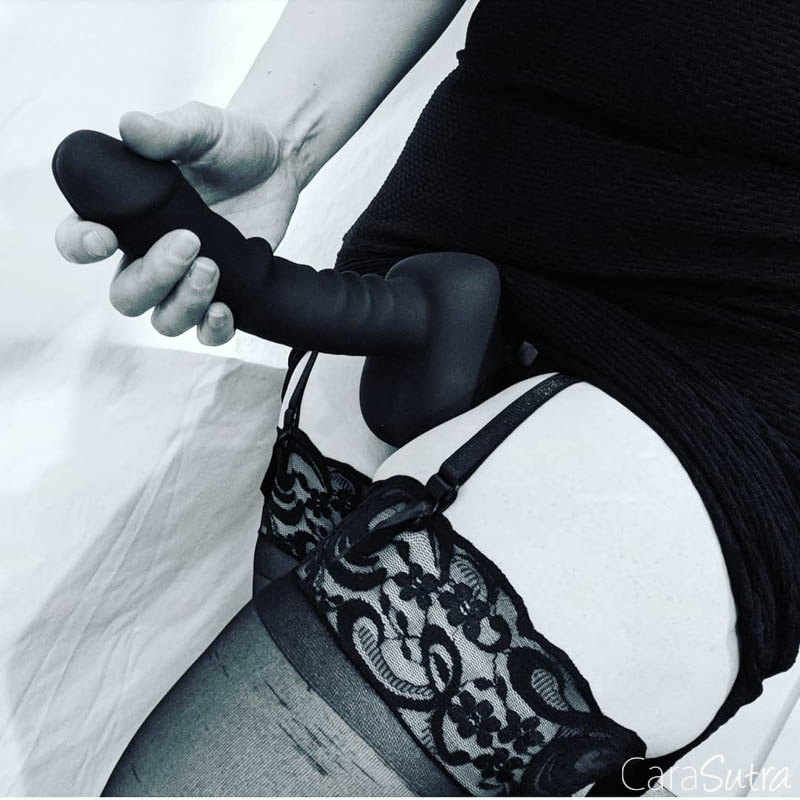 As a bisexual woman, it has often occurred to me that much of heterosexual sex is enormously penis-centric. You get the penis erect. You stimulate the penis. The penis penetrates… is given consent to penetrate. The penis thrusts and thrusts and ejaculates. End of sex. If you're having really dull sex with an uncaring person, at least.
It's rather refreshing having sex which isn't real-penis centric. Whether that's through woman/woman sex where there's no penis at all involved/to worry about, or sex with a male partner which doesn't totally focus on his phallic stimulation needs.
For many, sex which doesn't totally revolve around a real penis is a novel concept. Strap-on sex fits the bill, removes the notion that 'real-penis = position of power' and offers something completely new, mysterious and exciting.
6. A woman with a bigger penis is an ego challenge
Considering the points raised about traditional views on men and women relating to penis ownership and use, the thought and sight of a woman wearing her own penis and ready to use it can be rather intimidating for a man. Many strap-on harness compatible dildos come in sizes much bigger than the typical real penis, too – which simply adds to the feeling of vulnerability, fear, apprehension… and overall massive kink-appeal.
This is especially the case when you consider the pressure on men to have the biggest penis possible, that bigger is better, that women love bigger penises and that men with small penises are somehow inferior and mocked because of it. For strap-on loving submissive men, this complete challenge to traditionally held views in society about who wields the penis, who has the power during sex and penis size – as well as their own ego – is the driving force behind the fetish.
7. Anticipating brand-new sensations is enormously alluring
A big part of many kinky fantasies is simply that we've never experienced whatever it may be before. BDSM is often turned to in order to make fantasies reality because it incorporates many activities which are seen as the 'next step' in couples' sex. The risk elements involved in power exchange sessions and the use of various accessories are not usually associated with typical sex.
It's the same with strap-on sex. For many men who currently or eventually identify as a strap-on loving submissive, this activity offers the exhilarating highs of a combination of extreme mental and physical sensations. There's the challenge to the ego we discussed above, the contrast to historical and unconsciously still held beliefs about penis ownership and use, as well as the physical sensations of being penetrated in a highly sensitive area.
8. The potential for pain through anal sex creates vulnerability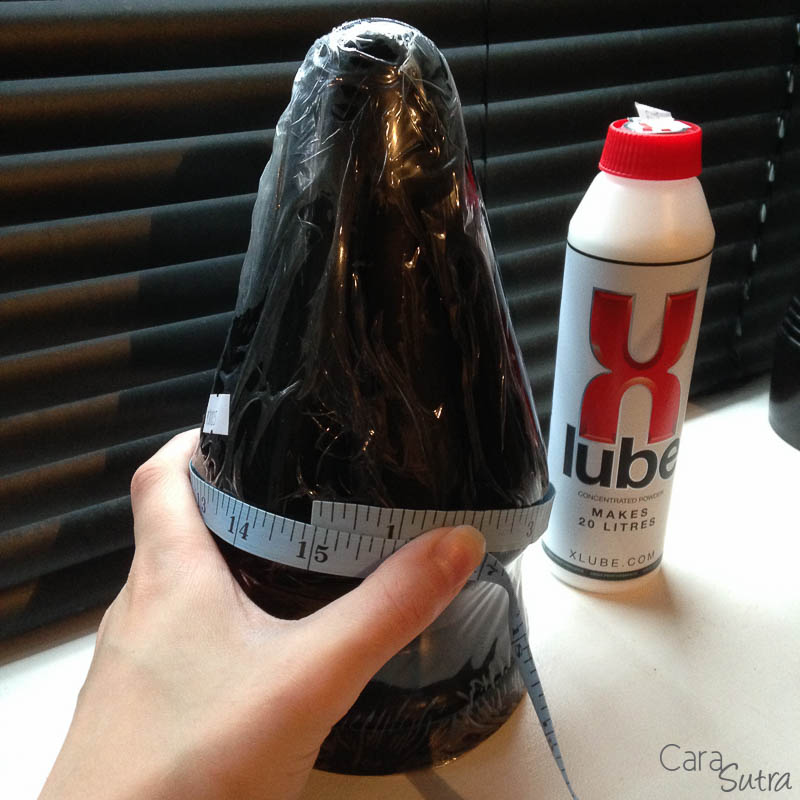 Speaking of the physical sensations during strap-on sex, there's a big potential for big pain. Consenting to someone else penetrating your arse with a strap-on harnessed dildo is to trust that person to consider your comfort, to not put you in too much (or any, depending on your limits) pain, to respect your boundaries and your safeword.
This enormous amount of trust can make the strap-on loving submissive feel at their most vulnerable, often leading to sub-space, which is why strap-on sex remains a huge and popular fetish in the BDSM scene.
9. Anal pleasure is still viewed as taboo and even exclusively gay by many
Despite the chorus of myth-busting communications from sex bloggers and the world of sex education, there's still an overwhelming sense that society views anal sex as something illicit, dirty, kinky, depraved. If a woman 'allows' anal sex it makes her more of a 'slut', that she's 'up for it'. Not that it's a typical part of many women's preferred sexual repertoire. If a man enjoys anal pleasure then he's gay, because only gay men like it up the arse.
Wrong, wrong, wrong.
So many submissive men have told me, when expressing their desire for strap-on sex, that it would 'only be from a woman, though' and that they're 'not into cock'. I hadn't assumed they were into real cock just because they like the idea or reality of strap-on sex. But for some reason they felt the need to reiterate that they're 'not gay' just because of their strap-on sex kink.
The presumed taboo nature of 'backdoor fun' therefore lends a fetishistic element to strap-on sex.
10. Using sex toys or accessories during sex is often seen as kinky
Although in my world, and presumably that of many Cara Sutra readers, using sex toys and sexual accessories is a normal part of life, there are still plenty of people out there who don't own a single one. Yes, really. And for whom, the idea of introducing a sex toy in the bedroom would be an enormously kinky move.
Imagine, then, how much more kinky it would seem to indulge in strap-on sex.
Even for those who think nothing of whipping out a mini vibrator during sex with their partner, or grabbing the fluffy handcuffs for extra naughtiness, this is a far cry from the woman strapping on a harness with dildo and fucking her partner's arse with it. You don't tend to find strap-on harnesses in the 'beginner's sex toys' section on adult toy websites, and the activity itself is seen as quite (appropriately) niche.
*** *** ***
The above reasons are simply why I believe many people fetishize strap-on sex, based on historical knowledge, observations of society, gender roles and my experience in the BDSM scene as a Dominant woman attracting submissive men.
Strap-on sex doesn't have to be fetishized or seen as a kink, in my opinion – women can and do enjoy sex with each other using strap-on harnesses and dildos without any need for power exchange. I have sex with my male partner using a strap-on harness and dildo and we're both dominant – he simply and unashamedly enjoys anal sexual pleasure.
The fact that many people do fetishize strap-on sex, and insist that for them, it's a kinky act, isn't wrong or offensive to me. Pointing out the many reasons why this may be the case, what may have contributed to this conclusion that strap-on sex is necessarily kinky, doesn't mean I disagree that it is. For submissive men who love the idea or reality of strap-on sex, the truth is that it is kinky – and therein lies much of the enjoyment.
Throughout whatever society-rendered shame is engendered when a woman fucks your arse with a strap-on, whatever humiliation you feel that you're being taken with a (albeit fake) cock, and by a woman of all people, is the active consent and enjoyment of all people involved.
And that's what BDSM is really about, I think. Having as much consensual kinky fun as possible – whatever the deep-rooted reasons behind the specific kinks.


Contains affiliate links