Handy List of BDSM Fetishes and Kinks: UberKinky Periodic Table of Kink
The world of BDSM is enormous and diverse. People can be kinky in so many wonderful and beautiful ways. It can seem like the deeper you explore the rabbit-hole of bondage & discipline, dominance & submission and sadism and masochism, the more this universe seems unlimited in terms of kinky activities and flavours. For those who would like a handy list of BDSM fetishes and kinks, I believe I've found a fantastic resource. The UberKinky Periodic Table of Kink provides an easy to understand, visual representation of the majority of the recognised BDSM activities.


Enjoy all our UberKinky reviews & BDSM articles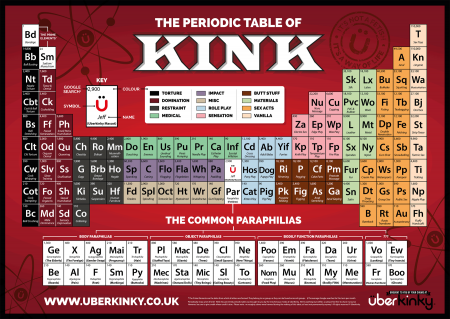 Click on the above image to pop it out full size
The Periodic Table of Kink is educational with the information presented in a clear, fun way. I bought my very own from UberKinky, and it arrives in discreet outer packaging from this reliable company. This kinky table (the layout based on the scientific periodic table of elements) is an A1 poster with the information printed on great quality, glossy-front paper. I bought my own frame for it elsewhere (Amazon.com / Amazon UK).
It was really fun looking over this kinky periodic table with my partner, especially when he playfully said we could treat it like a mix 'n match menu. What will we delve into and experience tonight? We can pick and choose our favourites, with this period table framed on the wall as a 'menu' style reminder – or use it as inspiration to try something new (obviously with the freedom to veto anything that doesn't suit our personal tastes).
I even went so far as saying that we could lay it flat on a table and roll dice to see which kinky squares they landed on, as if it were a sexy adult board game… that wouldn't be everyone's thing, I know!
So what exactly is on this table, this list of kinks and fetishes from the world of BDSM? In this feature I wanted to not only cover what's on the table, but also give a little description of each facet of the D/s world too. Let me tell you something: I thought I knew quite a bit about BDSM before I started, but I learned plenty researching these!
List of BDSM Fetishes and Kinks on the Periodic Table of Kink
Prime Elements
Bondage:
The art and enjoyment of being restrained, for sexual and/or psychological fulfilment.  Click to read my beginner's guide to bondage for a more in-depth look at this subject.
Sadism/Masochism:
Gaining sexual and/or psychological fulfilment from consensually bestowing or receiving pain and suffering. These terms are derived from the notable historic figures the Marquis De Sade, and Leopold von Sacher-Masoch, respectively.
Torture
Ball Busting:
Infliction of intense pain and suffering to the testicles, by a variety of means. This may include kicking, trampling, using corporal punishment tools such as crops, paddles and whips or by placing the testicles in a vice, for example.
Nipple Torture:
Pain to the nipples, which may be carried out in a variety of ways and with a variety of tools. These may include but are not limited to nipple clamps, weights, needles, suction devices, BDSM pinwheels, teeth or fingers/nails.
Cock and Ball Torture:
Often shortened to CBT (but not to be confused with Cognitive Behavioural Therapy!). Pain delivered to the penis and testicles of the willing recipient, by whatever means. Unlike ball busting where the pain is generally inferred to be through hard impact, cock and ball torture may be carried out through slower means such as humblers, weighted cock rings, spiked cock rings, the application of irritants or having them twisted and mauled by hand.
Ball Stretching:
The practice, whether for consensual pain or pleasure, of stretching the testicles away from the body. This is often done using specific tools for the purpose, such as ball stretcher rings, weights and similar accessories.
Clit Torture:
Clitoris-based pain inflicted by through variety of methods and implements, for example: irritant topical gels, clips and clamps, pressure, pinching, slapping, suction devices, ice cubes, tickling, flogging/whipping, predicament bondage resulting in unavoidable pressure on the clitoris.
Cock Whipping:
Self-explanatory: the practice of whipping a cock.
Cock Trampling:
Trampling over the willing recipient's cock, in shoes or bare feet.
Ball Crushing:
The practice of extreme compression of the testicles for sexual/psychological enjoyment. This can be done by hand, or through foot trampling – or with the help of a specific tool for the job, such as a vice.
Domination
Tease & Denial:
Tease and denial is teasing to invoke sexual arousal, teamed with the denial of the pinnacle of that arousal, release and relief by orgasm.
Cuckolding:
Cuckoldry in BDSM is enjoying being present/watching/being aware of your romantic and/or BDSM partner having sex with someone else – or being the one to 'cuckold' your partner or submissive in this way.
Forced Feminisation:
The practice of dressing a partner in traditionally feminine clothing and telling them to act in a stereotypically feminine manner for mutual sexual/psychological pleasure and the fulfilment of submissive needs. There is often a humiliation aspect as well, hence the 'forced' part of the name despite the fact that all activity should be actively consented to. Also known as sissification.
Orgasm Denial:
Denying a kinky partner's orgasms for mutual sexual/psychological fulfilment. This could be through obeying and submitting to the dominant person's command only, or with the addition of a physical orgasm release barrier such as a chastity device.
Slave Training:
Training a submissive to become a slave, in the specific manner the dominant partner desires.
Forced Orgasms:
Forced orgasms involves demanding that the submissive partner brings themselves to orgasm, once or repeatedly, or the active stimulation of the person to orgasm by the dominant person or a tool/machine of their choice. For example, the dominant person may hold a magic wand vibrator against the genitals of the submissive, who may or may not be restrained in bondage to heighten the sensations, until they are 'forced' to orgasm.
Male Dominance:
Self-explanatory: the consensual enjoyment of a male dominant partner.
Small Penis Humiliation:
The enjoyment of humiliating a like-minded, consenting partner about the (real, imagined or fantasised) diminutive size of their penis, or deriving pleasure from being the target of this humiliation.
Queening (Facesitting):
Facesitting is the kinky practice of sitting on or hovering over another's face, submitting them to pressure from the sitter's bare or clothed genital area, or simply their scent and proximity. It may also be done to allow or force oral servitude from the 'sittee' to whichever area of the genital region the 'sitter' desires.
Sissification:
Similar to 'forced feminisation' above, with more weight given to the humiliation aspect rather than a true representation of a stereotypical female by the submissive partner. Enforced clothing is likely to be more costume in style, with pink satin, oversized bows, ribbons, lace and garish accessories often heavily featured.
Sexual Humiliation:
The practice and enjoyment of humiliating someone, consensually, through a range of methods and activities.
Sensory Deprivation:
Temporary removal of one or more of the senses to heighten arousal and intensify the experience. BDSM sensory deprivation is often achieved by using accessories such as blindfolds and total sensory deprivation hoods.
Restraint
Chastity:
Abstaining from orgasms and sex, whether self-enforced or at the behest of a Dominant partner. May be with the use of chastity devices such as a chastity cage, or without. Find a wealth of kinky chastity advice here at the Cara Sutra sex blog, as well as plenty of chastity cage reviews.
Gags:
Device worn in or over the mouth to prevent speech and to heighten the bondage & humiliation aspect. Types of kinky mouth gags include ball gags, bit gags, dildo gags, ring gags, inflatable gags, dental gags and lots more.
Kinbaku:
A Japanese style of bondage. The word means "tight binding". This style of bondage is visually intricate, and carried out with several pieces of thin, natural-fibre bondage rope. In Western BDSM, we commonly refer to this as Shibari.
Collaring:
Placing a BDSM collar around the neck of a submissive. Although attaching and wearing a collar may form just one small part of a D/s play scene, it may in other settings be a more meaningful and symbolic act to seal the relationship between Owner and submissive. There are collaring ceremonies in BDSM akin to a wedding, of sorts.
Shibari:
As mentioned previously, a Japanese style of bondage. Known as Kinbaku in Japanese, the Western BDSM scene refers to this visually intricate style as Shibari bondage. This word has a broader meaning in Japanese, however; it means "binding" or "tying" in a variety of contexts.
Breast Bondage:
Restriction and binding of the breasts, for sexual/psychological fulfilment. This may be done with rope, clamps, harnesses and other specialised accessories.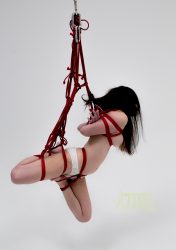 Suspension:
Hoisting a person into a suspended position while bound. Care must be taken to only use frames designed for suspension bondage, or that the ceiling or beam you're attaching the hoist to is secure enough to support a bound person safely.
Mummification:
Wrapping a person completely, in the style of ancient Egyptian mummies, to completely prevent movement. A variety of materials may be used to achieve this, including clingfilm, cloth, bandages, rubber strips, duct tape, plaster bandages, body bags, or straitjackets.
Hog Tie:
Freedom of movement is severely restricted in a 'hog tied' position (all four limbs shackled together, whether on back or on front). This provides the consenting submissive with an alluring heightened state of vulnerability. Find out more in my BDSM Hog Ties 101.
Human Furniture:
Also known as forniphilia. The enjoyment of being regarded and used as a piece of furniture, for example a footstool, a table, tray, chair or other inanimate object of furniture.
Medical
Douching:
Inserting water or other liquids into a bodily orifice (usually vaginal or anal) to be swirled round then ejected, for the purpose of cleansing and/or sensory pleasure. This is done with vaginal or anal douches.
Enemas:
The insertion of water or other liquids into the anal cavity which may be immediately ejected or kept in for a time of the dominant's choosing by use of a plug or other suitable device.
Urethral Sounding:
Urethral sounds are specialised pieces of equipment designed to be inserted into the urethra of someone with a penis. They are usually made of a body-safe metal, can be different diameters and have different style tips.
Urethral sounding is intensely stimulating. There are even electrosex sounds for greater intensity and layered stimulation styles. Read more about this fascinating activity in this fab beginner's guide to urethral sounding.
Penis Pumping:
Using a penis pump for sensory pleasure – or being 'forced' to use one/having one used on you as part of a Dominance/submission scene. The intense stimulation of the penis can be overwhelming, leading to physical and mental torture.
Needle Play:
The use of needles in a BDSM context to provide physical and psychological stimulus. This type of play piercing or recreational acupuncture is done for the enjoyment of the experience, rather than to lead to any permanent body piercing or adornment. Any piercing accessories such as needles are removed after the scene to allow the skin to heal. Can lead to an intense natural endorphin high or even orgasm for fans of needle play.
Catheter Play:
Catheter play is most often practised upon those with a penis, due to the comparative ease of inserting items into this style of urethral opening. Catheters are flexible tubes which are inserted in this way to allow for the sensation of something being put into the body, as well as the loss of control over bladder evacuation. If the catheter is closed off, there is no possibility of relieving the pressure in the bladder by urination, no matter how desperate the urge becomes.
Scrotal Inflation:
The enjoyment of the visuals and sensation of scrotum stretching, which is usually by injecting fluid or sometimes air/gas into the scrotum. This is a risky practice.
Impact
Spanking:
The practice of spanking the one in the submissive role, usually by hand spanking / over the knee (OTK) spanking. Those involved gain physical and psychological fulfilment and there may be a strong sense of sexual arousal too, although this is not always the case. Find out more about which tools can be safely used, in my big guide to spanking toys.
Caning:
Inflicting pain to comparably safe areas of the submissive person's body (buttocks, fleshy backs of the thighs) by use of a spanking cane.
Flogging:
Giving corporal punishment to fleshy areas of the recipient's body by use of a BDSM flogger. This is a multi-tailed whip, where the tails may be long or short in length.
Flagellation:
An umbrella term to describe beating the body for masochistic / sadistic purposes in BDSM, by using a variety of corporal punishment tools. These may include but aren't limited to floggers, tawses, crops, paddles, whips, switches and other lashing items.
Whipping:
Corporal punishment by using BDSM whips. This may be a single tail whip such as a bull whip, or multi-tailed in style. The term 'whipping' usually implies a heavier punishment style than 'flogging', which can be done in a light, sensual and teasing manner – as well as in a more brutal way, too.
Paddling:
Corporal punishment by using spanking paddles. Paddles are hand-held, flat implements which may be light-weight (leather wrapped) or heavier in style (wooden or metal). Paddling the buttocks of a submissive partner leads to sadistic and masochistic pleasure for both, with related visuals of the reddened cheeks. Using a paddle is another way to deliver a spanking.
Misc
Feeders:
A feeder gets pleasure from feeding large amounts of food to their consenting partner, often with the intention of making them gain weight. Feeders may enjoy the process of feeding and 'fattening' up their partner by itself or related to a sexual attraction towards heavier or fat people.
Sploshing:
Sploshing is the enjoyment of using various foodstuffs and other gloopy, sticky or slippery materials over and inside the body, with or without clothes on. The physical sensation of having foods and liquids poured over the body, sliding around in them and suchlike induces sexual arousal for fans of this fetish.
Tentacle Sex:
A sexual interest in or fascination with tentacles, whether watching related porn or including tentacle sex toys and similar in sex.
Nyotaimori:
Also known as 'body sushi', this is the Japanese tradition of serving sushi or sashimi on a naked woman's body. With a naked man, it's called Nantaimori. The naked person is expected to lie completely still throughout and there is no conversation between diners and the person adorned with the items of food.
Oculolinctus:
Also known as 'worming', this is the practice of licking a partner's eyeballs or having one's eyeballs licked for the purpose of sexual arousal and gratification. In 2013 it was reported in various newspapers that this fetish had become popular in Japan; however, other media outlets reported the existence of this fetish was a hoax.
Gut Flopping:
Where someone with a large belly raises it then allows it to 'flop' down on their partner creating a smacking or slapping sound. The physical sensation, plus the visual and auditory stimulus, is sexually arousing for fans of this fetish.
Role Play
Cross Dressing:
Dressing in the traditional clothing of a gender other than one's own, for psychological fulfilment and/or sexual pleasure.
Adult Baby:
Part of the wider ageplay fetish. Also known as ABDL (Adult Babies/Diaper Lovers). You can read more about this complex and often misunderstood kink in my Adult Baby Fetish 101: Complete Guide To Adult Babies & ABDL.
Furries:
Enjoying role play as an anthropomorphic animal. Those in the 'furry fandom' often have a certain animal-based identity and may also have the relevant outfit or costume to enhance their 'furry' related experiences, activities and meets with others in the 'scene'. Furries may enjoy this fetish for psychological fulfilment, for sexual arousal purposes, simply for fun – or all of the above.
Pony Play:
A sub-section of animal role play where one partner takes on the role of a pony, while the other is usually their handler, or rider. This fetish can be enjoyed without any accoutrements, but accessories such as crops, riding whips, pony head harnesses, bit gags, reins, stirrups, saddles, butt plug tails and even hoofed footwear are often used.
Puppy Play:
Similarly to pony play, this area of animal role play focuses on the consenting fetishist assuming the role of a puppy. Puppy play can simply involve power exchange and activities through stance and vocal commands, but accessories such as collars, puppy hoods, puppy tail plugs and the like are often used for a more dramatic and intense experience.
Kitten Play:
Animal role play where the consenting fetishist takes on the role of a kitten. Accessories such as tail plugs, collars, ears and costumes may be used to intensify the enjoyment gained from the role play session.
Pig Play:
Where the consenting fetishist assumes the role of a pig or piglet. Accessories include collars, curly pig tail plugs, trotter bondage gloves and 'piggy' hoods and masks.
Enjoy all our tail plug reviews for various types of kinky animal role play.
Butt Stuff
Rimming:
Using the tongue to give sexual stimulation in and around the anus area (analingus). In recent years, sex toys have been created to try and recreate the sensation, such as the B-Vibe Rimming Butt Plug.
Pegging:
Using a strap-on dildo anally on someone else, for mutual kink fulfilment and/or sexual pleasure. Enjoy our related article discussing how a woman can get pleasure from pegging, as well as my big guide to strap-on dildos and all our strap-on sex toy reviews.
Cake Farts:
An offshoot of a flatulence fetish, made popular by an infamous website from 2008 featuring a video clip of a porn actress farting on a frosted cake. Therefore, the cake farts fetish is, as it states, the act of farting on a cake (where the butt or ass-hole is in contact with the cake). This may be for the sensual pleasure or sexual arousal of the farter, the viewer, or both.
Prostate Massage:
The practice of massaging the prostate gland for sexual pleasure, in order to 'milk' it for kink fulfilment or health reasons or as part of wider sexual play. The prostate gland is found a few inches inside the rectum of a cis-gender man. P-spot massage may be done with fingers (gloved or ungloved) but is often easier when using a specially designed prostate massager and some compatible lubricant.
Find out more in this fantastic prostate massage guide for beginners, and discover the best tools for p-spot massage in our many prostate massager reviews.
Prostate Milking:
As touched on with prostate massage, prostate milking is the act of massaging the prostate gland until fluid is released which comes out of the penis (prostatic fluid, which is basically ejaculate without the sperm). This may be done for its own pleasurable merit, as part of a wider D/s power exchange scenario or for health reasons. Again, this practice is often found to be easier with the use of a specially designed prostate stimulator, due to the location of the prostate gland.
Figging:
Figging is the practice of inserting some peeled root ginger into the anal or vaginal area, for sado-masochistic reasons. This could be for one's own kinky pleasure or requested of the consenting submissive partner as part of a wider D/s power exchange scenario. The peeled root ginger induces a fiery sensation inside these sensitive regions. Figging was first used outside of the BDSM sphere, as a form of punishment for female slaves in ancient Greece.
Anal Stretching:
Enjoying the sensation and/or visuals of stretching the anal entrance for kinky fulfilment. Anal stretching might be achieved with fingers then fisting in time, or anal sex toys and tools such as fisting dildos, monster butt plugs and anal spreader devices like tunnel plugs, 'blossoming bud' style plugs and inflatable anal plugs. Find a wide (!) range of massive anal sex toys here at UberKinky.
Anal Gaping:
Further to anal stretching, anal gaping is the enjoyment of forcing the anus to gape. The sensation of having a gaping anus or watching your consenting partner's anus gape is extremely arousing for fans of this fetish. Unlike stretching where the anus reverts to a tight pucker after fingers or toys are removed, the anus remains open for an amount of time during anal gaping. Some people also enjoy experiencing and watching anal prolapse.
Sensation
Nuru Massage:
Nuru is a Japanese form of massage where both participants are naked. The one giving the Nuru massage rubs their naked body over the naked body of the recipient, with the aid of specially formulated massage gel. This highly intimate form of massage delivers intense visual, mental and physiological stimulation which leads to psychological and physical fulfilment and/or sexual arousal.
Cupping:
Cupping is an ancient type of Chinese medicine which has been adopted by some in the BDSM community for its sensually erotic benefits. Cups or bowls are used to create an area of suction on the skin, and this may be done over erogenous zones like the clitoris, breasts/nipples, inner thighs and other in order to heighten arousing sensation.
Electro Sex:
Electrosex is the practice of stimulating areas of the body using currents of electricity through specially designed equipment like electro pads and electrosex toys. This may be done for pleasure or consensual pain.
You can find out much more about this fascinating activity in my beginner's guide to electrosex as well as a guest introduction to e-stim and the electrastim sex toys range. We also have a selection of electrosex toy reviews to enjoy.
Edge Play:
Edgeplay is an umbrella term which related to physical or psychological experiences which go further than the traditional SSC style of BDSM power exchange. It falls under one of the other styles: RACK. Examples of edgeplay include certain heightened types of wax play and temperature play, knife play, fire play, breathplay, cutting and barebacking. You can read more about the play styles mentioned in my related article, What Do SSC And RACK Mean In BDSM?
Wax Play:
Wax Play (sometimes written as waxplay) is the BDSM practice of dripping melted wax on to a the consenting partner's body for sensory benefits and/or sexual arousal. It may be combined with bondage for a more intense experience.
Care should be taken to only use wax play candles and wax dripping pots specifically designed for these sessions. Find out more in my Kinky Wax Play 101: Beginner's Guide To BDSM Waxplay.
Knife Play:
Knife Play in BDSM, is, as you'd expect, activities involving the use of knives. Items used may include swords and daggers as well as knives. They give the consenting submissive partner an element of fear which heightens sensory stimulation. This is achieved by physical methods such as scratching the skin, cutting away clothing or peeling away wax after wax play, or psychological such as threats with or without the use of a blindfold.
Temperature Play:
Another wide-ranging term used to describe the use of objects and liquids in a BDSM session which are heated or cooled for a more intensely sensual experience. This includes fire play, ice play, wax play, the use of warmed or cooled glass dildos, metal sex toys and bondage accessories and suchlike. Blindfolds are often used to intensify the effects, while being bound during the session can amplify the experience.
Fire Play:
In fire play, a flame is used on or close to a consenting partner's skin in order to create physical and psychological arousal and to enhance the power exchange session overall. It's considered edge play due to the various risks associated with it. The aim isn't to burn or leave marks, just to enjoy an enhanced sensual session using fire. Tools used may include fire wands, flaming gloves or floggers.
Sex Acts
Cream Pies:
Enjoying the visual of a vagina from which just-ejaculated semen is leaking, and/or consuming the semen which has just been ejaculated into the vagina.
Deep Throating:
Taking the penis right to the back of the throat and slightly beyond that point during blow jobs.
Bareback:
Vaginal or anal sexual intercourse between persons of any gender without the use of a barrier method of protection such as condoms.
Bukkake:
Where a person is the recipient of multiple loads of cum over their face and body delivered by a ring of ejaculating spectators around them.
Fisting:
Stimulating the vagina or anal area by penetration with a clenched or open-handed fist. There are fisting dildos available which replicate the sensation (take a look at our fisting dildo reviews to find out more).
Double Penetration:
Often shortened to DP, double penetration is where someone is sexually penetrated by two people or objects at the same time. There are various ways this could happen, such as by simultaneous penetration of the vagina & anus, of the mouth and vagina/anus (aka spit roast), of the anus by two penises or toys at once (DAP) or of the vagina by two penises or toys at once (DVP).
Cum Shot:
A depiction of the moment of ejaculation from a penis, such as you may see in vanilla porn (facials etc) or bukkake films. The cum shot may also be on to the receiving person's bum, breasts, back or another area of their body.
Watersports:
Sexual activities involving urine or urination, which includes but isn't limited to golden showers.  Find out much more about this subject in my Watersports 101: Complete Guide To Golden Showers & Piss Play.
Group Sex:
Sexual activity where more than two people are involved. This could be anything from partner swapping in the same room (soft swinging) and threesomes/foursomes, up to mass sex gatherings and orgies.
Rusty Trombone:
The act of rimming someone (giving anal oral sex/analingus) while reaching between their legs to simultaneously give them a handjob (masturbate their penis).
Anal:
Sexual stimulation or penetration of the anal entrance. This might be with a penis (or two!), anal sex toys such as butt plugs and prostate massagers, or rimming/analingus.
Don't miss my beginner's guide to anal sex toys as well as my guide to anal sex for beginners for the complete lowdown and my top tips.
Squirting:
Squirting usually refers to the specific ejaculate from the urethra of someone with a vagina, which is caused by sexual stimulation – and which is not urine. The term 'squirting' refers specifically to this type of sexual ejaculation as opposed to that from a penis.
Teabagging:
Lowering of the testicles on to someone's face, by assuming a squatting position over them, without actually sitting on their face.
Felching:
Similar to cream pies, except that it's the anal area which is full of semen that is 'eaten out' during analingus.
Snowballing:
Passing semen between mouths, usually during kissing.
Pompoir:
Using the muscles of the vagina to stimulate the penis, in a rippling motion, while the people involved otherwise stay still. This is easiest to achieve when the person with the vagina is on top of the person with the penis. The sensation has been likened to milking.
Public Sex:
Having sex or receiving sexual stimulation in a public place. These sex locations may include private places where the people having sex run the risk of being seen or 'caught' to heighten the excitement, such as a yard/garden, balcony, a quiet lane or field or similar. Or it could refer to more public spaces such as cinemas, shopping centres, beaches or while travelling such as on an aeroplane.
Autopederasty:
The extremely rare ability and practice of someone with a penis being able to penetrate their own anus with it.
Vanilla
Sex Toys:
Sex toys are tools specifically designed for sexual pleasure, which may be enjoyed alone or with a partner. This could be during mutual masturbation and couple's foreplay, or during sexual intercourse itself.
I have an enormous amount of information about sex toys here at the Cara Sutra sex blog, so why not check out my sex toy advice guides and sex toy reviews for more.
Lingerie:
Underwear and nightwear with an erotic design and allure. Lingerie is usually made with enticingly tactile and attractive materials such as lace, satin, silk – or even leather and PVC, depending on your preferences.
Sexy lingerie is designed to frame and present your body in the most attractive way, whether for your own enjoyment & a boost of body confidence, or to delight a partner.
Find out how to buy lingerie which suits your body shape, and enjoy browsing our many sexy lingerie reviews. I also model various items of lingerie in my Cara Sutra Photo Gallery.
Masturbation:
Masturbation is the act of sexually pleasuring oneself, with fingers or various tools specifically designed for self-stim: sex toys.
Oral Sex:
Oral sex is using the mouth and tongue to deliver sexual pleasure to the genitals of a partner; typically to the vulva and clitoris, penis and testicles or to the anal entrance during rimming/analingus.
Strip Tease:
A strip tease or strip show is a visually pleasing performance where clothes are slowly removed in a sensual manner, usually accompanied by music, for the titillation and sexual arousal of the audience.
Tantric Sex:
This ancient Hindu method of shared sexual pleasure has been practised for over 5,000 years. It means 'the weaving and expansion of energy'. Tantric sex or Tantra is a slow form of sex which increased the intimacy felt and shared through the experience and heightens sensuality and arousal for both partners. Focusing on the bond between you is said to lead to more powerful orgasms.
Tickling:
Tickling as a form of sexual stimulation can be the light, teasingly erotic whisper of tickles over aroused skin, with fingertips or a feather tickler, for example. Or, it can be as intense and extreme as being aroused simply by being tickled, tickling someone else, or watching tickling happening in a sexual scenario, where it's actually a fetish (knismolagnia).
Nipple Play:
Sexual stimulation of the nipples, on a person of any gender. Stimulating the nipples, which are a highly receptive erogenous zone as they're packed with nerve endings, can be achieved through various methods. Fingertips, the tongue and teeth, or toys such as nipple clamps, suction toys, feather ticklers, pinwheels and more can be used to deliver erotic stimulation.
Fluffy Handcuffs:
These cuffs are often seen from a vanilla perspective as being the first, tentative step towards an interest in more kinkier sex practices like bondage.
Fluffy handcuffs are often seen in pop culture such as TV dramas, films, on hen nights and stag dos where they're just a symbol of kinky sex usually without further knowledge or experience of the BDSM world.
Paraphilias (Fetishes)
Materials
These materials may be the subject of their own fetish, or what kink-related clothing and attire are made from:
Silk
Latex
PVC & Rubber
Wool
Leather
Metal
Spandex
Nylon
Fur
Satin
Body Paraphilias
Gerontophilia – The elderly
Pogonophilia – Beards
Xenophilia – The foreign
Algolagnia – Pain
Autogynephilia – Gender swap
Podophilia – Feet
Maiesiophilia – Pregnancy
Stigmatophilia – Markings
Trichophilia – Hair
Pygophilia – Buttocks
Object Paraphilias
Plushophilia – Stuffed toys
Mechanohilia – Machines
Macrophilia – Giants
Agalmatophilia – Statues/Dolls
Dendrophilia – Trees
Microphilia – Tiny Beings
Claustrophilia – Small spaces
Salirophilia – Soiling beauty
Neophilia – New things
Schediaphilia – Cartoons
Bodily Function Paraphilias
Coprophilia – Faeces
Sitophilia – Food play
Emetophilia – Vomit
Mucophilia – Mucus
Eproctophilia – Flatulence
Klismaphilia – Enemas
Dacryphilia – Tears
Mysophilia – Bodily filth
Urophilia – Urine
Menophilia – Menstruation
Miscellaneous Fetishes
Scopophilia – Looking
Forniphilia – Human furniture
Formiphilia – Tiny insects
Spectrophilia – Ghosts
Kinky Explorations: Conclusion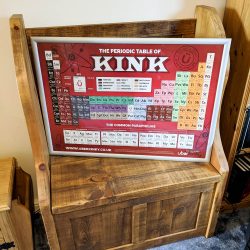 I wonder if all those years ago Dmitri Mendeleev imagined the impact his work would have on the world. Indeed, who'd have thought his organisation of the chemical elements would one day go on to inspire this kinky masterpiece: the Periodic Table of Kink? This poster of delicious depravity demonstrates that you don't have to be a scientist to experiment – all you need is kink and consent.
Whether you identify as actively kinky or kink-curious, you'll likely be intrigued by the many other weirdly wonderful fetishes out there. With this poster which groups many of the main fetishes in categories (with a few I'd never heard of before!) you'll be better placed to identify different kinks and activities which take your fancy. And even if you decide against any new kinky experimentation, you will at least learn several more kinks and fetishes as well as be the proud owner of the kinkiest periodic table poster around.
Buy the UberKinky Periodic Table of Kink Poster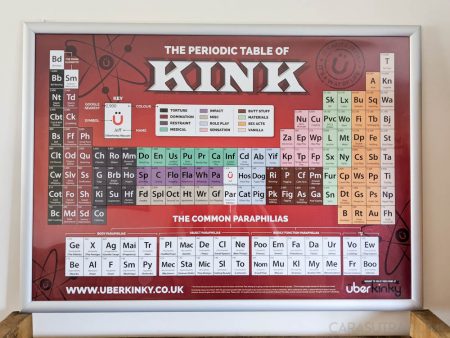 You can buy this amazing and comprehensive table, the Periodic Table of Kinks from UberKinky for just £11 with fast and discreet postage. Click through the button below to reserve yours!



Contains affiliate links