Tease And Denial
Enjoy my erotic thoughts on submissive tease and denial as a FemDom Mistress
I was turning some very kinky and evil ideas over in my mind last night…
To have him, strapped down, restrained tightly. Wide asylum patient straps, crossing over neck, chest, waist and each leg separately. Wrists cuffed and the chain fed around and underneath the bed, to connect and lock with the other cuff at the other side.
Ankles restrained in place, spreader bar between and the bar chained to the end of the bed, for absolutely restricted movement.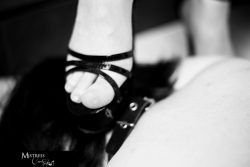 A leather mask over his face. Full black out. The only sensation comes from small slits for breathing holes around the nostrils and the limited circle for mouth. Just enough to, incidentally, let his tongue through.
You'd love to be in that position wouldn't you? Bound and completely restrained. Naked like that before Me to do as I want to you, your body… your mind.
You hear the click-clack of my heels on the floor entering the tiled room where you are set up just like this, for Me.
You catch the scent of My perfume through the breathing holes, and feel the air disturbance as I walk around the medical bench you're strapped to. Your cock stiffens as a hello.
I laugh, softly.
I am here only to take My pleasure from you. I don't care what else it is in your mind, what you want, what you were expecting or any of your internal demands, requests or wishes. I will get My pleasure from you and I don't care what it is you want.
I already know you want Me, that's the important thing. I can use that against you during this tease and denial torture.
You know better than to try and talk. I'd merely walk out and you'd never see Me again. No, you are far too afraid of the very real consequences if you displease Me in the slightest.
I trail one long red nail down your chest, (you paid for the manicure and lacquer last week) stopping where I meet the only other thing you are wearing apart from the leather hood. Some humiliatingly normal, grey boxers. How very ordinary. My perfect nail delves in just under the waistband and I tut with something close to irritation.
Your breath catches in fear. I have no such concern. Reaching for something you feel the chilling sudden feel of cold steel against your flesh.
Almost out of your mind petrified, you're close to speaking the word when you feel the 'snip, snip, snip, SNIP…'
and the material is roughly pulled away from your body, leaving you entirely naked but for the hood.
I am thoroughly enjoying your fear and discomfort, smiling away, but of course you're not to know that.
I am ready for My pleasure. Climbing up, I let My heels clatter to the floor. As I sit astride you, it is clear from the heat emanating that I am wearing only silk, lace top stockings, no underwear, and you can feel the bottom edge of the cup-less corset I am wearing.
I shuffle upwards on your body so your mouth hole is in front of My pussy. You cannot move your head apart from very limited from side to side. Your tongue probes out as you guess what your task is.
I sit forwards, letting my feet rest on your chest as I kneel either side of your head and tell you what do do. Please Me. Pleasure Me. Lick Me.
Tongue comes out to taste that first divine taste of wetness from Mistress, licking My already wet slit and delving inside. Circling up to suck on My hard clit. I'm gripping your head had and riding you like My personal Sybian sex machine.
It isn't long before I enjoy a huge, noisy climax – you feel My thighs shuddering about your ears and taste the gush of wetness delivered down your throat. With a sigh, I move down.
Your cock is now bristling, upright. I had forgotten about it, to be honest. I laugh aloud at it's pathetic, desperate state.
So you want some Mistress do you. Want to feel Me inside. Well ok then. Perhaps I am not so cruel.
Shuffling down on you, leaving a wet sticking trail down your chest and tummy, I position Myself.
Gripping your cock, or My cock rather, I place it at My entrance. I am in complete control of you, how you please Me and what I use you for.
I let you enter Me slowly and only to a maximum of 1 perhaps 2 inches. Using My knees to lever, I can bob on the end of that desperate cock, just playing, teasing. You can feel My tight wetness around you but only at the cock collar and not beyond.
How desperate are you to thrust it deep inside Me?
Tough. I've had My tease and denial fun and I climb off, just leaving a kiss on that cock tip…
You hear Me place My heels on once again, the rustle of a jacket going on, then the fading click-clack of My heels as I leave.
You know one of My male staff will be in shortly to escort you home again, but not too soon. I'll have him come to rescue you in a good couple of hours at least.
Same time next week, slave?
---
Click to read more kinky sexy stories.

Contains affiliate links