Oil-Based Lubes 101: Your Complete Guide
In my recent big guide to sexual lubricants, I looked at the huge and diverse world of lube. There are various types, each with their own pros and cons and recommended usage. Today, I'd like to take a closer look at oil lubricants in particular. What sort of oil can you expect to find in these lubes? What can you use oil lubes for – and what should you avoid? Welcome to my oil-based lubes 101: your complete guide!
Enjoy all our oil-based lube reviews
Main Features
Oil-based lubes are sexual lubricants which have a formulation made in part or entirely with a skin-friendly type of oil. Because of the slick nature of oil, and the fact it doesn't evaporate or dissipate in water, these lubricants provide excellent glide for a wide range of sexual activities.
Whereas water-based lubes and silicone lubricants are quite easy to identify in comparison to their peers, with 'water' or 'silicone' usually prominent on the bottle or tube, oil-based lubes can be a little trickier. Some oil lubes are simply sold under a brand name, and only a close examination of the ingredients on the label will make it clear that it's an oil-based lubricant. Other oil-based lubes are not purely oil but rather hybrid, where the oil part of the formulation is blended with silicone in order to provide an effective and uniquely blended lube.
What Type Of Oil Is Used In Sex Lube?
Oil-based lubricants are made with skin-friendly types of oil. Many of these are natural, such as coconut, olive, avocado, almond or other vegetable and/or plant oils.
Best For…
The thickness and consistency oil-based lubes mean that they're quite long lasting, in a similar way to silicone lubes. They don't evaporate with time or heat, but they can become less slick over time as they seep into and moisturise your skin.
As oil is water-resistant, oil lubricants provide a fantastic slippery barrier for you to enjoy water-based sexy fun. If you like to get down 'n dirty (well, clean eventually I guess), then oil-based sex lubricants can provide an effective glide that won't wash off with water alone. Shower sex or masturbation, or shared/self-pleasuring in the bathtub, can be delightfully slippery thanks to oil lubes.
Be careful though, as you don't want to get too slippy and end up falling and hurting yourself!
Not Great For…
People who use condoms during sex. Oil and latex condoms aren't compatible –the oil causes disintegration of the latex rubber material. Oil-based lubes may be compatible with non-latex condoms – check what material your particular condoms are made from, and research whether oil lubricants are compatible.
In addition, oil-based sex lubricants aren't compatible with some types of sex toy materials. Oil will corrode materials such as PVC, TPR, latex and other rubbers. Oil-based lubes are compatible with good quality silicone sex toys (ie. genuinely and completely silicone). You can also use oil lubricants with glass dildos and solid body-safe metal sex toys, such as stainless steel.
As always, if you're not sure how your sex toy will react with the application of your specific lube, do a patch test first, near the base of the toy.
Some people may suffer a topical (skin) or intimate-area reaction to the type of oil used in a lube formulation. Others simply don't like the feel of this type of lube. Oils will stain sheets and clothing, so prevent laundry-based upsets by popping some protection beneath you. I love the Cumpanion sex towels, and they're easy to chuck into the washing machine afterwards.
Top Tips
Don't buy more than you need
I'm not sure this would be as much of a problem with oil-based lubes as it may be with other types. I haven't seen gallons of oil lubricants for sale in a single container. Still, it's worth mentioning just in case. Only buy as much as you will actually use, before the expiry date.
Yes, lubricant has a use-by date! I've found that oil lubes can change dramatically after long periods of time – it can go completely hard, change colour and/or give off a strange scent. Better safe than sorry.
Get the right dispenser type for you
What sort of lube dispensing type do you prefer? Has it ever occurred to you before that how your lubricant dispenses can affect the flow of your playtime?
There are usually various dispensing styles for sex lube – sachets/pillow packs, twist-off cap bottles, flip-top caps, pump dispenser top bottles –but because of the nature of oil-based lube, it tends to be more limited. Some oil lubes can be firmer and almost set at room temperature, so they're often found in flip-top tubes and bottles rather than with a pump dispenser top like more 'liquidy' sex lubricants.
You can find my main pros and cons to the various lubricant dispenser styles in my guide to water-based lubes.
Warm it up before use
As some oil-based lubes can be firmer at room temperature and below, it's a great idea to factor in a little time to warm it up beforehand. That way, when you're ready to get started, your oil lube will be in more of a liquid state and easy to apply. You can warm it by placing the tightly sealed container in a bowl of warm water, or just by working a small amount between your fingers.
My Favourites
My top oil-based sex lubricant recommendations are:
YES Organic Oil Based Lubricant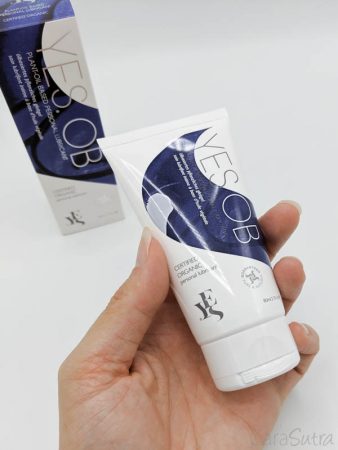 Our review, and all our YES Lubricants reviews
Sliquid Soul Organic Coconut Oil Moisturiser
Our Sliquid reviews

More Sliquid Lubes: USA | Canada | Australia | Europe | UK
The Butters

Coconu Coconut Oil Lubes
I had the pleasure of trying out three personal lubricants and enhancers from the Coconu range. There's a coconut water-based lube, but also a coconut oil lubricant which is skin and body friendly, cruelty-free and the company has a fantastic brand ethos.
Click to read my full Coconu Coconut Based Lubes review then click through the button below to buy yours:

Sexy Special Offers & Exclusive Discount Code
Click through the links below to find the latest special offers (& an exclusive 'Cara Sutra' discount) on sex lubes, sex toys, lingerie, bondage gear & more:
Use code CARASUTRA for 15% off your order!

Contains affiliate links