Beginner's Guide To BDSM | BDSM Tips For Beginners | BDSM 101
Beginner's guide to BDSM, fab BDSM tips for beginners & complete BDSM 101
The enduring popularity of BDSM cannot be attributed in its entirety to the relatively recent appearance of Fifty Shades Of Grey, no matter how much the media would love for that to be the case. Bondage and Discipline, Dominance and Submission, Sadism and Masochism are all power exchange activities, either including sex or entirely and deliberately absent of it, which have been practised for centuries. Plenty of beginners to BDSM have felt the call and subsequently enjoyed the thrill of giving control of their mind and/or body to someone else, whether through the temporary release of a play session or in a long-term relationship with a dominant partner. Likewise, those who have a dominant nature or like to act dominant in a scene are drawn to dominate those who consensually submit for mutual pleasure.
If you've felt the pull of BDSM and a kinkier aspect in your sex life and other adult pleasures, but you're not sure how to go about, it then this article is a great place to start.
I'm going to examine some questions that you might find it helpful to ask yourself right now, before you go any further – and explain why these questions in particular are so important to consider for beginners to BDSM.
How Do You Identify In BDSM?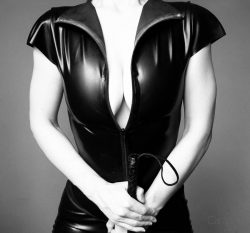 While you might know right from the start of your BDSM awakening exactly how you identify on the whole Dominant/submissive spectrum, at the same time it's absolutely fine if you're not sure at the moment.
Read up about BDSM on the internet, and if you have a partner who you're sharing this journey with, discuss activities which appeal to you and those that don't. That will help you figure out if you're more of a 'being in charge' type or more of an 'assuming the position, boss' type.
Dominant
Someone who takes the control in BDSM sessions and/or relationships, physically and/or mentally
Submissive
A person who hands over control to a Dominant in BDSM sessions or relationships, physically and/or mentally
Switch
Someone who enjoys being Dominant or submissive at different times/in different situations/with different play partners
Top
can fulfil the role of the one in charge in a BDSM scene without necessarily identifying as a Dominant
Bottom
Can fulfil the role of the one handing over control to a Dominant or Top in a scene without necessarily identifying as a submissive
Other ways to identify in BDSM also exist such as Mistress, Master, DaddyDom, sissy -to name just a few.
The activities mentioned above are all done with the full consent of other people involved.
Sexual Aspect?
Some have a very sexual focus when it comes to BDSM. For others, there's definitely a deeply intimate desire connecting them to BDSM, but it's more about psychological fulfilment rather than satisfying purely sexual needs. It's best to clarify exactly what BDSM means to you and how you hope it will improve your adult life before involving other people in your adventure. This will help to avoid confusion, misunderstandings and hurt.
What Appeals Most?
It might be the power exchange and control elements, the bondage sex toys, very specific fetishes, or a combination of all.
Chastity play is a very popular fetish in BDSM – click to read all our chastity advice & buy chastity cages at this brilliant fetish gear shop.
Knowing exactly what you want in BDSM will help you communicate that effectively to your partner (if you're embarking on this new adventure with someone else) or to your kinky play partners in the future. After all, how do you hope to have your desires satisfied if you don't understand clearly what they are yourself?
Any Complete Turn-Offs?
Perhaps even more important than clarifying what your desires are in relation to BDSM is knowing exactly what you don't want to get involved with. This helps to avoid situations where kinky surprises might be sprung on you and the whole session turns into an awkward mess – because the new twist either isn't doing it for you at all or it's an absolute turn-off.
Again, being honest with yourself and any future play partners is the best route to take. You might find it helpful to write a list of BDSM activities, fetishes or equipment which you really don't want to be a part of your kinky sessions (known as BDSM Limits). One way to categorise them is to mark each item on your list as 1, 2 or 3.
1 = Just no interest or desire for this
2 = Perhaps someday but not yet, thank you
3 = Hard limit. Definitely no way, not ever!
Most people I have spoken to in the BDSM scene find that their list of limits is a constantly evolving thing, whether through deeper trust, awareness or just changing as a person over the years.
Safety In BDSM
Because BDSM deals with the deepest part of the psyche in relation to both sex and intimacy, such as handing over control of yourself to another person sexually and for other behaviours, safety is absolutely paramount. Consent and safety are (well, should be) the two mandatory considerations of everyone engaging in any BDSM activities.
Read more about active consent
There are ways to protect yourself (and your partner/play partner) from physical or mental hurt and abuse in BDSM. Top of the list: don't engage in BDSM with anyone you don't know well or don't absolutely trust to respect your safeword/consent status/list of limits.
Safewords
What's a safeword? A safeword is you or your partner's 'immediate release' word during any type of BDSM session or activity. Should this word be spoken at any time, then the activity should immediately cease. Because BDSM often involves elements such as consensual non-consent (ranging from "please stop, you're hurting me!" but not really meaning it all the way up to rapeplay fantasy) it's very important that the safeword chosen before you begin is a word that wouldn't be said as part of any BDSM scene.
Therefore, it should be obvious that a word like 'stop' or 'no' are out of the question as effective and good safewords. You might say these words anyway and not really mean them!
My own chosen safeword for myself and anyone I get involved with in a BDSM context is 'lemmings', but you might choose another random word such as 'giraffe', 'orange', 'wardrobe', 'myxomatosis'… you get the idea.
Another way to 'safe out' of a BDSM activity is through the use of traffic lights, where red means 'stop immediately', amber means 'let's stop and discuss this, I'm not 100% comfortable' and green is the reassurance that everything is 'absolutely spot-on, cheers' (try not to read that in an extremely British accent!)
If you're using fetish gear which prevents a person from speaking (like a hood or mouth gag) then it's best to arrange some hand signals or give the person who is in a vulnerable position a buzzer to press in place of a spoken safeword but which is respected just as much.
BDSM Community
Will your BDSM pleasures be absolutely private, for you or you and your partner alone behind closed doors, or would you like to become part of the BDSM community in your area?
Yes, there is a very large BDSM community out there that you can meet up with in 'real life' as well as on internet forums. These meet-ups can be relaxed chat and making friends at what's known as a 'munch', or you could visit fetish clubs for chat with the possibility (and immediate availability) of more. Google 'local BDSM munch' or 'fetish clubs' for your area to get more information – or make use of the search box on open-minded social media like Twitter.
What are SSC and RACK?
SSC stands for Safe, Sane and Consensual. RACK stands for Risk Aware Consensual Kink. As you can tell, there are subtle differences between the two when it comes to the safety aspect.
Some may choose to enjoy RACK, where risky behaviours and activities might take place with any parties involved and this is part of the thrill and appeal.
I engage only in an SSC form of BDSM myself, because I want everyone involved in my BDSM activities (including myself) to be reassured of absolute safety at all times.
At all times consent and respect of the safeword/traffic lights are mandatory.
Bondage Sex Toys
Fetish gear and bondage sex toys, while not absolutely essential to enjoy the pleasures of BDSM, can definitely complement a power exchange session or kinky sex scene. There are enough bondage sex toys out there that I could write a book on the subject – but let's have a brief look at a few of the main types:
Corporal Punishment
Although OTK (over the knee) hand spankings of the submissive's bottom is beautifully satisfying in many cases for both the Dom(me) and sub, you might want something different at some point – or to just give your palm a rest!
Spanking paddles come in a range of shapes from large and round to quite slender and rectangular. They're often not too expensive so you could buy a few styles and see which is your favourite.
Floggers deliver strokes to the submissive's body which are as gently teasing and erotic or viciously stinging as the Dominant chooses. Kinky floggers have multiple tails while whips have only one tail or a few at most. Whips are seen as more brutal than floggers, so I'd advise a flogger for an absolute beginner. Think about how much space you have to play in before buying; long tails will need more room to wield them in than short tails, but you can deliver a wider range of sensations with a long tailed flogger in my opinion.
Sensory sex toys such as pinwheels, vampire gloves, waxplay candles and feather ticklers are fantastic for exploring new physical sensations which can lead to a deeper sense of mental submission, too. Not only do these kinky accessories open up prickly feelings, temperature play and tease and denial options, they're also ideal for using if you only have a small play area (such as a bedroom).
Bondage
Bondage is an incredibly popular form of BDSM fulfilment. I believe this is because for those attracted to BDSM pleasures, bondage binds the body while releasing the mind – a harmony rarely found in any other adult pleasure activity.
Bondage cuffs are the most commonly known of all bondage sex toys. Wrist cuffs and ankle cuffs are easy to fit, adjust and fasten. For an absolute beginner (and actually, for all those indulging in bondage pleasures) I'd advise avoiding metal handcuffs. These are rigid in a bad way – the metal does not allow for comfortable movement of the delicate parts of the body restrained in them like wrists and ankles. Instead, look for leather (or faux leather) types, or neoprene. Bondage cuffs might fasten with Velcro or a buckle fastening.
Bondage rope looks absolutely gorgeous in intricate bindings like Shibari (a Japanese form of rope bondage) but these can be very difficult for an absolute beginner to replicate. If you desperately want to try rope bondage then it's advisable to also purchase a guidebook on the subject – and have a pair of safety scissors at the ready while you're practising in case of emergencies. Bondage tape is brilliant for beginners to BDSM – easy to use and sticks only to itself, not the body.
Mouth Gags
Ball gags are a very recognisable type of mouth gag in BDSM but they might not be the best for you as a beginner, depending on your mouth shape and size. Beginners to BDSM often find bit gags much more comfortable, as the jaw doesn't have to open quite as wide. Other types of mouth gags are ring gags which offer the potential for particularly sexy sessions as they hold the submissive's mouth open no matter what…
Hoods and Masks
A gimp hood makes it very clear who the submissive person is in any BDSM scene, but it might surprise you to learn that hoods and masks (where the wearer can still see) are often worn by Dominants in BDSM as well. In fact, if you're a beginner to Domination, wearing a face mask can take some of the pressure off you in front of your new submissive. Covering our facial features often helps us to act in a less inhibited way than we would otherwise. Just make sure you always follow the main rules of BDSM – consent and safety.
For the submissive in BDSM, there are a large number of submission hoods and sensory deprivation masks to enhance and deepen the submission experience. If you're nervous about wearing a full leather, locked-on sensory deprivation hood, don't worry. There are beginner options available to get you used to the feeling of being hooded, such as spandex head and face coverings which are totally breathable. Some have eyeholes, others do not. A simple and cheap alternative is to use one of these bondage blindfolds to get used to not having your sight during BDSM sessions.
Collars and leads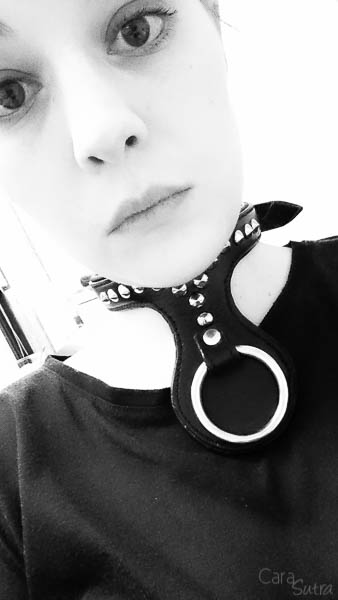 For those in BDSM, a collar is a clear, visual symbol of ownership. Just as we place a collar on a domestic pet such as a dog or cat, a submissive person wearing a collar is making a clear statement that they are owned by someone else.
There are so many different types of collars (also known as slave collars) available for those who want to show their submission either in public (like at a fetish club) or in the privacy of their bedroom with their partner. Collars might be decorative with jewels and spikes, slender or thick enough so they're a posture collar (keeps the head upright no matter what) or might just be functional in traditional black with an O ring or D ring at the front where a lead can be attached.
Some slave collars come with a detachable lead which attaches to the ring on the collar by way of a trigger clip. This means you can take your submissive 'walkies' if you have enough play space, or just keep a sexy hold on them in the bedroom.
---
I hope this article has been a useful beginner's guide to BDSM and it gives you the confidence to carry on exploring this deeply rewarding avenue of adult pleasures. I'm a very vocal and proud member of the BDSM community and I believe that power exchange with the right person can be as satisfying as the best sex. Are you willing to give it a go?
Related articles: 
My Big Guide To Bondage Sex Toys & my Bondage 101
BDSM Gear & Bondage Sex Toy reviews


Contains affiliate links