Njoy Eleven Extra Large Stainless Steel Dildo Review
Three amazing things to kick-start this review: Twitter, sex bloggers and Njoy. In a tweet earlier this year I said how much I'd love to own & review the Njoy Eleven Extra Large Stainless Steel Dildo. Long story short, the fab Ruffled Sheets and a rep from Njoy sex toys saw this tweet and a few What's App conversations and a few emails later there's a shiny solid steel Njoy 11 dildo en route for me to test and review.
Enjoy all our njoy reviews
I could scarcely believe it, as I'd wanted this particular Njoy dildo for years. If you've read my other Njoy sex toy reviews you'll see just how much my love of these beautiful solid steel pleasure tools shines through in my words and even more literally, in my photographs. There's the powerful curves of the Njoy Pure Wand, the delicious Njoy Fun Wand and the cool, satisfying fullness of the Njoy Pure Plug. Why did I feel the need to add the Njoy Eleven Extra Large Stainless Steel Dildo to my already diverse collection?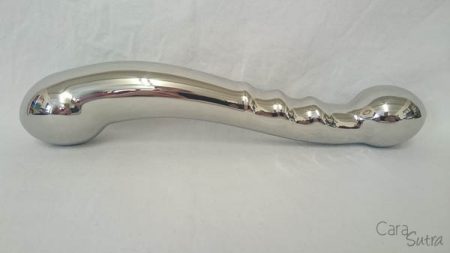 The Njoy Eleven Extra Large Stainless Steel Dildo is, in my opinion, the star of the Njoy sex toys range. It's the largest sex toy Njoy make, it's lusted after by many sex toy connoisseurs the world over, it's solid steel polished to a high shine finish, it's a hefty heavyweight piece and it has two differently sized ends one can use for penetrative pleasure. Just looking at the bulbous ends – one fairly large and the other smaller with ridges on the insertable shaft area – makes my pussy walls tighten and tingle expectantly.
Arrival & packaging
My new Njoy dildo arrived in discreet outer packaging and was packed carefully inside the box so no harm would come to the product or its box during transit and delivery. The Njoy Eleven Extra Large Stainless Steel Dildo itself comes in a black branded leather carry case with magnetic closure, which in turn comes inside a glossy white card outer packet again with the Njoy branding and with Velcro closure round the handle.
Inside the black keepsake carry case, along with the Eleven, I received two cute Njoy badges. One with the company logo on and another saying I <3 Anal (where the heart is actually a silhouette of the Pure Plug). I actually had this anal badge in pink back in the day, when I visited their stand at Erofame 2012. So long ago! I think the move to black badges is a good one, and these two now have pride of place on my desk to give me a smile as I'm working.
Njoy Eleven Extra Large Stainless Steel Dildo Video
I'd been expecting a hefty toy but when I lifted the dildo out of the black bag I was still in awe of its size and weight. It's like having my very own sex toy dumbbell! I made a pledge there and then to try and use a different hand each time I used it so I didn't end up with one Popeye arm compared to my other spindly one.
Unlike other marketed-as-metal dildos, which are actually steel plated (they're cheaper but I literally have ZERO idea what they put inside them) the Njoy Eleven Extra Large Stainless Steel Dildo and in fact all their sex toys are solid steel -hence the extra weight. It makes me feel, with the Njoy 11 dildo in particular, that I really do own a sex toy which is worth every penny of its asking price. This is a solid, sculptured fucking tool which promises amazing sensations and experiences.
During Use
First of all, this is definitely not a dildo I use in the standing up position. Or on all fours, come to that. It's just too heavy for all that palaver and standing up I'd be afraid I'd drop it on my toe and/or wake up the neighbourhood. It has to be on my back for me, relaxed, legs apart and resting the protruding part of the Njoy 11 on my palm as I ease it in and out, or move to massage my G-spot.
Being a steel sex toy I can use whatever lube I like with the Njoy Eleven Extra Large Stainless Steel Dildo, although my preference is a great quality water based lube. I'm not a big silicone lube fan (I find the lasting residue and feel of it on me annoying) but if you are, then you'll be happy to know you can use it with this steel dildo. Hybrid, oil, whatever sex lubricant really. It's also easy to clean after use because it's steel, so non-porous and waterproof.
If I'm already 'in the zone' and aroused I sometimes don't even need to use lube with my Njoy Eleven Extra Large Stainless Steel Dildo. I can just gently nuzzle the tip between my labia and slide it inside. This is usually the smaller end as the larger bulb end needs me to help it inside. Although you can warm the Eleven in warm water before use (if you find steel sex toys a bit chilly to use otherwise) I actually like the cold touch of steel against my warm skin. If I'm aroused then my pussy lips are even hotter as the blood's rushed there, and the contrast of cool steel to hot, puffy pussy lips and then gliding that steel home – amazing.
I hadn't thought of myself as a size queen previously but that large bulb end… wow. The angle of the centrally held shaft to that bulb tip angled upwards means that when the Njoy Eleven is inside me the convex area of that bulb is right against my G-spot. I was literally breathless as the cool shaped steel slid inside and gasped again as it effortlessly massaged my G-spot with little effort from my fingers supporting the external portion.
The gently pointed tip rounds off the comfortable, satisfying and wholly filling vaginal penetration experience. The wider shaft of this larger bulb end means that I feel absolutely fucked, in the truest sense of the word. It's the upward angle of the bulb though, and that flare of the teardrop shaped steel, which makes the Njoy Eleven Extra Large Stainless Steel Dildo a dream G-spot dildo.
With the narrower end of the dildo I can have an entirely different solo sex session. After my hungry cunt envelops the cold, beautifully shaped steel, there's three ridges for my pussy entrance/labia to enjoy. Visually, these ridges slightly resemble spinal vertebrae, as if lightly covered with a shimmering silk material. The ridges are on the upper side of the insertable portion of shaft only; it's smooth on the underside.
I hesitate to say any experience with the Eleven is in any way standard, but if standard could ever be applied to the Eleven then it's with this side inserted. The icy coldness of the steel is spectacular, of course, and the sublime shape feels mesmerising. The size of this end is more standard, is what I mean. Sure, it's the larger dildo size when we're talking about standard dildos, but I can insert this end without any other manual help from me. I just part my lips with the gently pointed tip and enjoy burying it inside.
Whichever end of the Njoy Eleven Extra Large Stainless Steel Dildo I'm using, for me this isn't a fast thrust toy. I enjoy the shape and size of the Eleven, the stimulation isn't from how fast or hard it thrusts into me. I have a fucking machine if continually fast, hard, thrusting sex is what I'm after – but enough about the man. This large Njoy dildo is about form and grace.
If you've already got a handle on your G-spot stim, whether for G-spot orgasms or squirting (female ejaculation), then you'll probably adore the Eleven. Whether that's the smaller with ridges end or the 'don't argue with me, lie back and get fucked' larger end. Personally, it's the larger end of the Eleven which makes my G-Spot suddenly a very real, very sensitive and very easily stimulated thing. I was surprised, elated – and a little emotional, to tell you the truth – when I was able to G-Spot orgasm with my Eleven. I haven't managed to squirt with it yet, even after over a month's use, but I don't doubt that's coming too. As it were.
The only time I've ever come close to this sensation in recent years is with the LELO Ina Wave (from which I can also achieve a G-spot orgasm), and that's mainly due to the clitoral stimulation at the same time, as well as the vibrating stimulation. I'm a 'powerful vibrations on my clitoris please' kinda gal.
Imagine a fantasy where a lover approaches you from behind, tangles one hand in your hair, pulls your head backwards and at the same time shoves their other hand into your knickers to seek out your sopping wet cunt to toy with… as they proceed to kiss you deeply like you've never been kissed before. That's what comes to mind when I try to describe the sensations the Njoy Eleven Extra Large Stainless Steel Dildo gives my G-spot.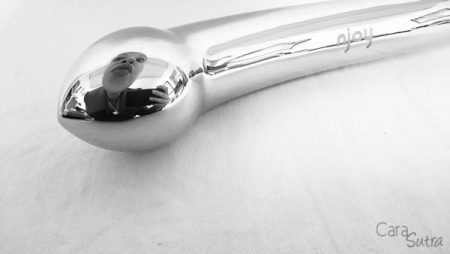 A breathless high, the combination of cold steel and hot inner parts, the radio static between my ears as everything but the sensation is swept out of my mind.
There can be no doubt about it, the Njoy Eleven is a wondrous work of art. Crafted to give sublime orgasms, its simple elegant form delivers on its promise of delicious, unforgettable and easily repeated pleasure performances.
Although I prefer to use the Eleven vaginally, as with all good sex toys it's not made for or targeted at any particular gender. The length of the dildo means you'd have a sturdy handle to hold on to if you wanted to use it anally. For me, I have other sex toys I prefer to keep in the 'bottom' drawer, especially as the dildo tends to my pussy's needs so brilliantly. It's not even simply a solo sex toy, as my partner enjoys watching me enjoy this dildo as well as 'taking the weight' sometimes and toying with it inside me.
Wondering whether the Njoy Eleven Extra Large Stainless Steel Dildo is for you? In my opinion that comes down to your preferences about such things as;
Size of your sex toys – the Eleven is not petite
Whether you really need vibration to get you off
What your relationship with your G-Spot is like
If you like steel sex toys – they're cold, but you can warm them up
If you're ready for a heavier sex toy than you might be used to (I weighed this dildo as 1250g)
Measurements
the Njoy Eleven Extra Large Stainless Steel Dildo measures in at approx 11 inches in overall length, with an insertable length either side of about 6 inches max for comfort. The more slender end has a max circumference of 5.25 inches whereas the wider end has a max circumference of 6.25 inches. All these measurements are my own and not from official sources.
Buy Yours
Checked all of the above? Then all that's left is my belief that the Njoy Eleven Extra Large Stainless Steel Dildo is worth every penny of its admittedly hefty price tag.


This review contains affiliate links