John Thomas Toys Platinum Silicone Sampson Squirting Dildo Review
Enjoy this thorough review of the John Thomas Toys Platinum Silicone Sampson Squirting Dildo (Medium size, firmness: Soft), by Tigerlily 
Sampson won't just fill your every hole with his enormous girth; he'll also cum all over you. That's because the Sampson is a rare breed—a squirting dildo—so you can live out all your bukkake or creampie fantasies.
Thanks to JohnThomasToys for sending over their John Thomas Toys Platinum Silicone Sampson Squirting Dildo for review.
Enjoy all our John Thomas reviews
To be clear, I've been testing this mainly for anal use. We opted for Medium size, and it was just too big for my wife to use vaginally.
Packaging and Bits
As a squirting toy, there's a bit more to unpack than usual. As well as the Sampson itself, you'll find a 150ml medical catheter syringe in a sealed packet, a piece of silicone tubing, and a male-male tube connector already connected to the tubing on one side.
As with all John Thomas Toys, you'll also receive a nice faux suede drawstring bag in the appropriate size. This is perfect for storage, ensuring you keep the Sampson alongside any other materials and objects in your drawer. It should also keep the dust bunnies away.
The John Thomas Toys Platinum Silicone Sampson Squirting Dildo should be shrink wrapped on arrival, with a small sticker of authenticity.
Design and Colours
Sampson is a humanoid dildo, though the head veers a little into fantasy territory, as does the overall musculature. There's a lot to love above the design, from the strong curvature and bulges of the shaft, to the pronounced veins.
John Thomas Toys has recently begun offering fusion pours on a number of models. These are multiple colours of silicone, poured together to create incredible and unique marbled patterns. It's worth noting that since these are unique pours, you won't get an exact match to that either presented here or on the product page. The more colours a toy has, the more variation you'll likely end up with.
The design we opted for is made up of pink, gold, and black. Which are basically all the best colours of anything. In person, ours ended up looking even better than the sales pictures (which is rare with most things you buy online!). The pink is most prominent colour on the lower half, but it's been expertly marbled with black and gold, creating an intricate and frankly gorgeous tiger-stripe.
The upper half is a full mix of mostly black and gold, with no specific discernible pattern, but still a great looking marble effect throughout. This is without doubt the best looking John Thomas Toy we've got our hands on yet (and we have a few).
If you're keen on the design but not the colours, you'll also find a version in blue and milky white, or plain black. Keep an eye on the site though as they regularly launch new colour variations of existing popular models. And judging by how often this one is sold out, we'd say it's a popular model.
Despite being an ejaculating toy, the glans doesn't have an obvious hole. Instead, you need to manipulate it a bit to reveal the small tear where the fluid exits from. In actual use, the sheer force of the ejaculate would naturally open this as much as it needs to. The benefit of not having a gaping hole there is that as well as not ruining the overall aesthetics, it also naturally remains closed during use, preventing lube and other bits from 'backwashing' down the tube.
Material
John Thomas Toys range generally have two firmness choices: Medium (Shore rating equivalent of A-20), or Soft (A-15). We opted for soft, and I'm really glad we did, because it's absolutely luscious. Not only because it's easier to ride a toy this large with some added flexibility, but also because the surface is so smooth when lubed up. So much so, in fact, that I felt the need to record a video of running my fingers up and down it.
You see: not all silicone is the same. Some silicone toys have a tendency to drag a little, so you need to apply lubricant quite frequently. The soft Sampson feels more like a well-oiled latex dress, and it's honestly fun to just… feel it. Feel those bulges in the shaft. Run your finger over the indentations around the glans. Squeeze tightly as it grows toward the base. This is one dildo you might actually want some foreplay with first!
Handheld Only
Unlike most of the John Thomas Toys, the Sampson is not vac-u-lock compatible, due to having a hole down the centre of the toy for its main ejaculating feature. This also means that a suction cup adaptor is not supplied. The base isn't flared either, so it's difficult to see how you could use this in a harness. You should see the John Thomas Toys Platinum Silicone Sampson Squirting Dildo as a toy for handheld use only then, at least with the tube attached.
Of course, you don't need to attach the tube at all. If you leave it unattached, you can happily sit the Sampson on a flat surface and grind away all you wish, but you'll still need your hands to hold it in place.
Sizing
All John Thomas Toys dildos come in four sizes: small, medium, large, and extra large. You'll find photo comparisons to a 330ml can on the product pages for comparison's sake, but even then you should scroll down to the size specifications and try measuring up against some other toys you own, or household objects.
While length doesn't matter too much (after all, you can still use a toy that's only half inserted), the girth or circumference is particularly important. To say this bad boi Sampson is girthy would be an understatement. This Medium Sampson is 5.8 inches in circumference at the tip, rising a little to 7 inches at the bottom of the shaft, about 9 inches of insertable length, and weighs in at 578g.
If you love the design, but find the size intimidating, the small version goes from 4.5 inches circumference at the tip, to 5.5 inches at the bottom. On the opposite end of the spectrum, large goes from 7.8 inches at the tip to 9.5 at the bottom; while extra-large is 10.2 to 12.5, and weighs over 3kg.
The Squirt
Dildos that feature an ejaculation function are surprisingly rare; this is the only one in the John Thomas Toys range so far. This works by way of a small cavity that runs through the centre of the John Thomas Toys Platinum Silicone Sampson Squirting Dildo. On the base of the toy you connect another tube via a male-male adaptor, and then a syringe on the end of that. A massive 150ml syringe is supplied, which is about half a can of pop. Fill it with warm water or your choice of liquid. Just not actual pop. (Note to self: try with plain fizzy water, 'fizzy jizz'?)
Although the hole at the base of the Sampson which you plug into is fairly large, the adaptor and tube itself are small. Because the flow is constricted, the pressure is increased—meaning that even a slight push on the syringe will result in a water pistol type squirt. But only if you fill it with water. By contrast, if you fill the syringe with a thick lube or fake cum mixture, you'll find it can't really squirt. Instead, it just sort of spooges out slowly, and the plunger is fairly hard to push.
Of course, you could remedy this with some different sized tubing and suitable adaptor, but as it stands, the included pump and tubing is best suited for water shenanigans or piss play.
Some ejaculating dildos you'll find elsewhere on the market use a bulb built into the toy itself. These are difficult to clean, and can't hold much volume. Others have a tube built into them. While convenient, you're stuck with what they give you. While the John Thomas Toys Platinum Silicone Sampson Squirting Dildo might be best suited to low viscosity fluids out of the box, it is at least the most flexible design I've seen yet. You can clean or replace the syringe easily, swap the tube for something larger, or even connect an automated pump. That's right: if you wanted to hook up a five gallon bucket of cum and a high viscosity pump, your bukkake fantasies are now perfectly feasible.
The location of the tube can be problematic though. I understand there's no way to fit a vac-u-lock cavity, but right now there's no practical way to ride the Sampson either with the tube attached, because it sticks right out of the bottom. An L-shaped valve would have helped, but even better would be shifting the tube off to the side somewhere, and perhaps integrating a suction cup, or something to allow for harness use.
Tackling Sampson
As mentioned, Sampson is a bigger boy than other toys in this size range, so while I can easily tackle the other JTT toy I have in Medium size, my first attempt with this was a challenge.
There's very little taper in the head, so my hole was rammed open from the start and kept wide open all the way down his shaft, as this muscle-bound brute relentlessly forced his way in.
In Soft, the surface is both super smooth when lubed up, and has a good bit of squish, which means it won't hurt when you hit a wall. While it does dull the textures a little, you'll still be able to feel every sinew and bulge.
Is Sampson The Squirting Dildo For Your Fantasies?
The John Thomas Toys Platinum Silicone Sampson Squirting Dildo a gorgeous sex toy, full of character, girth, and a delicious bend to hit all the right spots. There's just enough texture to delight without any obtuse points that can sometimes be painful. Although larger than other JTT toys, our choice of Soft meant that it conforms to your body easily, and gives it a delightfully smooth surface to slide down.
The fact it can squirt just gives an already incredible dildo some extra bonus points. Be prepared to get some bigger tubing and a different syringe if you want to play with fake cum or lube though.
Our rating: 11/10, assuming that doesn't break the internet. I genuinely can't stop touching this thing. Send help.
Buy Yours Today
Thanks so much to Tigerlily for this fantastic & thorough sex toy review! Find more fab dildo & sex machine reviews by Tigerlily here at CaraSutra -as well as at their own website, sextoydb.com.
Buy your John Thomas Toys Platinum Silicone Sampson Squirting Dildo directly from JohnThomasToys by clicking through the big green button below: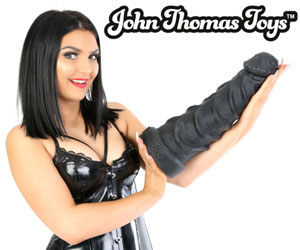 John Thomas Toys is a sponsor of carasutra.com