Firstly thank you to Cara, For letting me review the Tickle Me Bits Rechargeable Sensation Vibrator from ticklemebits.com. When I first saw the Tickle Me Bits Rechargeable Sensation Vibrator, it immediately jumped out at me for the sheer reason it looked and sounded completely different from what I have seen before.

Firstly let me start by saying thank you to Cara again for letting me review the SVAKOM Alice Rechargeable G-Spot Rabbit Vibrator. At first glance it looks like a normal rabbit but when you read the description I noticed 'Let Svakom Intelligent Mode bring you to climax with gentle vibrations that lead to an intense ending' This had to be tried!

Firstly thank you to Cara for letting me review. When I saw the So Divine Let's Go Crazy Rabbit Vibrator I knew exactly what I wanted. A rabbit vibrator with multiple settings and a insertable shaft that vibrates too! (Instead of the usual rotating) The thing that really got me interested though was the heat aspect - this rabbit heats up to 37/38 Degrees.

My god this toy is big! That's the very first thing I thought about the NS Novelties Femme Rocker G-Spot Rabbit Vibrator. Surprisingly though, it is mostly the packaging that makes it so daunting.

By Toraval: Thanks to Cara Sutra, I got the pleasure of trying out the Fun Factory Cayona Mini Vibrator (which retails at £59). I received the package through the post very quickly (thank you Cara). I eagerly opened it, and found...

When I saw the Adrien Lastic Couple Secrets Vibrator on Cara's list of available sex toys for testers, I had to jump at the opportunity to review it. I thought, a couples toy! and a remote control one! (me and my partner have a remote controlled egg which we really liked playing with). So I thought it would be great... a treat for both of us.

The DONA by JO Kissable Massage Oil (Chocolate Mousse scent, Aphrodisiac and Pheromone Infused) proves too much of a good thing can actually be a bad thing. When I first saw The DONA by JO Kissable Massage Oil, my first thought was ' A bottle that small wont last long!' To be fair it is a small bottle but boy was I wrong!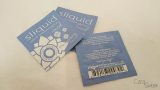 Recently the lovely Cara Sutra sent me the Sliquid Swirl Blue Raspberry Lubricant to try out. A girl can never have to much lube! Well this review took me a long time to make up my mind about - and all in all I have very mixed feelings about it...

I would have preferred these anal beads to be a little bit more solid as they were just a bit too flimsy for me, but in saying that it's not at all bad. Out of all the anal sex toys I have tried so far, this is the one I will be sticking with. On a side note, I like that the silicone anal beads are black, which is so rare for female toys.  They are also incredibly easy to wash which is a plus.

Once out we found the vibrating cock ring to be a soft pliable rubber ring which stretched and fitted without abrasion or rubbing. You could feel mild vibrations around the ring as soon as you switched it on. Once we got going the vibration was lost, it was only when we slowed down or stopped did any feeling reoccur.

When I received the Minx Vibratone Duo Balls I was firstly disappointed by the packaging. It looked like something you could buy in a pound shop (never judge a book by its cover though). I was further let down by the lack of storage. I have bought a few different balls in the past which have always had either a small bag to go with, or a small box to place them in, This however had nothing.