By edn: The Bondara Padded Black Eye Blindfold is a surprising nice piece of kit. OK it is not a luxe piece, but it is comfortable, reasonably effective and looks good too.

Once they got the basics right, they have added variety. I tried the Original Pink Lady Vagina Fleshlight model. Want more tightness? Then there is the Super Tight. Want ribbing or nubs rather than smooth? You're more than catered for. Don't like the vaginal moulding? There is mouth, ass and even butt cheeks. (An aside to Fleshlight here, I'd like a glory hole version with no external anatomy moulding please.) Want to channel your inner voyeur? Then go for the transparent Fleshlight Ice.

By edn: Initially the Tracy's Dog Oral Sex Penis Masturbator (who comes up with these company names?) looked promising. It came in rather fetching subtle packaging; all blocks of pink and black.

By Edn: The first thing I have to say about the Bondara Control Master Body Harness is instructions! Some sort of how to guide or even a photo of the product in use would have been so nice. I'm reasonably au fait with the process of tying people up but this setup was definitely not obvious. OK, now I've got that off my chest, on to the actual product.

So let's have a look at the Linx Ultimate Power Vibrating Penis Pump. When you open the box you see a large clear rigid tube with a very thin rubbery (latex free so not actually rubber) diaphragm with a central hole over the base and a tube with a small bulb pump that attaches to the top. Wrapped around the main body of the pump is what is basically a thick elastic band that holds both an egg style vibrator and its battery (yes, battery in this day and age!) pack. It doesn't come with batteries so you'll need a pair of double-A's; a common enough battery, but annoying if you're more used to rechargeable toys.

You probably have multiple toys for different things - vibrators and butt plugs and cock-rings oh my – so why not different lubes for different purposes? If I use a silicone toy I'll use the ID Glide Natural Feel Lube - for everything else I'll use the Give Lube Silicone+. They are both really good lubes and a good lube can be the difference between OK and WOW so I would urge you to give both a try.

I have to admit that I was initially dubious about the Rocks Off 8-ball as I've not had a lot of luck with rubber style cock rings. I've generally found them to be so uncomfortable to wear that they have usually been binned after a single try, not so the 8 Ball.

By edn It's often said that lube is your friend, but like all friends you have to pick them carefully. You basically have two choices; water based lube which you can use everywhere but that tends to dry out and go sticky in use or silicon based lubes which can be a bit dodgy with some toys but retain their lubrication over time.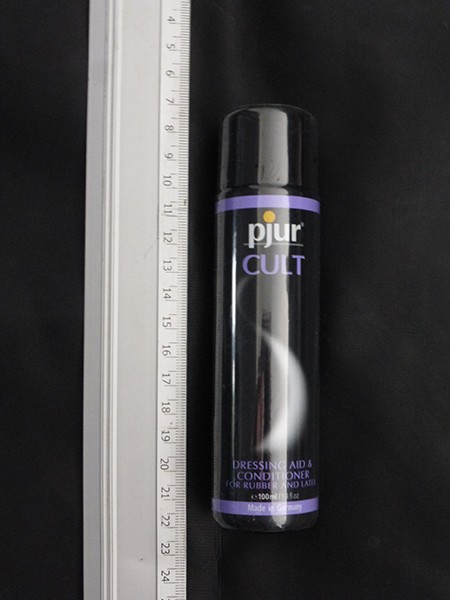 Functionally the Pjur Cult Easy Latex Dressing Aid does the job, I'm not sure if it's any better than talc to get your rubber on but at it doesn't turn into that thick, claggy white gunk we all know and love after a bit of sweating. All in all I can't honestly say that Pjur Cult dressing aid and conditioner is an essential product but it is much more convenient than carrying around a tub of talc and leads to more pleasant cleaning up process afterwards.