Pjur Cult Easy Latex Dressing Aid Review
The Pjur Cult Easy Latex Dressing Aid is an alternative to the tried and tested staple of talcum powder but is it a necessity?
Click to enjoy all our Pjur reviews and sex lube reviews
First impressions of the packaging are pretty good. It comes in a neat tubular container with minimal branding in case you forget and leave it in your bag for non rubber outings.
The tube comes firmly sealed in shrink wrapped plastic with an easy tear strip. With this I was half expecting the cap to be a loose clip on cap that needs the shrink wrap to stay in place during transit. I was pleasantly surprised to find that the cap is firmly screwed in place, taking three full rotations to remove, which means it's unlikely to come off and leak the contents all over the contents of your bag.
To the next surprise: there is no spray or pump system, instead you just get a small nozzle. This leads to the major problem with the Pjur Cult Easy Latex Dressing Aid; it's really difficult to apply. As it has roughly the consistency of vegetable oil it tends to sit in little blobs rather than spread out. You can of course spread it by hand or using a cloth but I found the results of that rather patchy at best and the spreading process can lead to further problems.
The texture of product is rather sticky and greasy and you get a lot of transfer. This is fine inside your latex but the chances are you'll have it all over your hands and from there all over everything you touch. Suffice to say if you have this stashed in your bag you'll want a pack of wet-wipes as well.
Packaging-wise one problem you may find is that Pjur have tried to jam a piece of text onto the tube in five different languages. The result is that it's pretty much impossible to read without a microscope! To save your eyes and sanity it says the following:
"Pjur CULT is a revolutionary formula that helps you slip into tight rubber and latex clothing (even for the very hairy). Pjur CULT is also an excellent rubber and latex conditioner. The special ingredients penetrate the molecular structure and extend the life of garments, making rubber and latex soft and supple. A little goes a long way. Breathable. Tried and tested. Skin compatibility dermatologically tested. Water free. Fragrance free. No preservatives. Oil free and non greasy. For exterior use."
Of course this is an idealised advertising blurb and your personal experience may vary.
Functionally the Pjur Cult Easy Latex Dressing Aid does the job, I'm not sure if it's any better than talc to get your rubber on but at it doesn't turn into that thick, claggy white gunk we all know and love after a bit of sweating. All in all I can't honestly say that Pjur Cult dressing aid and conditioner is an essential product but it is much more convenient than carrying around a tub of talc and leads to more pleasant cleaning up process afterwards.
Pros:
Odour free
Little goes a long way
Spill proof screw top cap
Cons:
Patchy and difficult to spread
Sticky and greasy feeling
Dimensions: Bottle: 14cm x 3.5cm diameter
Contents: 100ml / 3.4 fl. oz.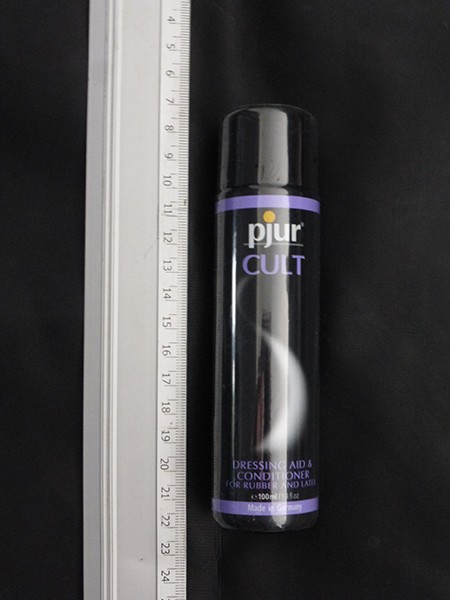 tube in shrink wrap with ruler for scale
tube out of shrink wrap with ruler for scale
– edn
---
Thanks to Pleasure Panel reviewer edn for this review of the Pjur Cult Easy Latex Dressing Aid.
This product was sent free of charge, in exchange for a fair and honest review by the Cara Sutra team.
This review contains affiliate links