Pussy Juice Vagina Scented Lube Review
If you're following me on Twitter you may have seen me mention this lube over the past couple of weeks. When I spotted Pussy Juice Vagina Scented Lube in the 'up for being tested' monthly list that UberKinky sends their regular reviewers, I knew I had to give it a try. VAGINA SCENTED LUBE. Yeah.
Bypassing the prettier and probably more popular items on the list such as pony tail butt plugs and nipple clamps I opted for the 'weird' thing (again). It's not every day you get to own & try out pussy juice lube, right? Apart from the natural stuff, obviously. I had no idea what to expect. I mean, what does pussy really smell like? Do they all smell the same? On second thoughts, don't answer.
At this point I'd like to make it clear that the Pussy Juice Vagina Scented Lube is meant to smell like clean vagina, so don't be too afraid. I didn't pass out when I opened it, nor was the smell offensive in the slightest.
We'll get into more detail about the scent later.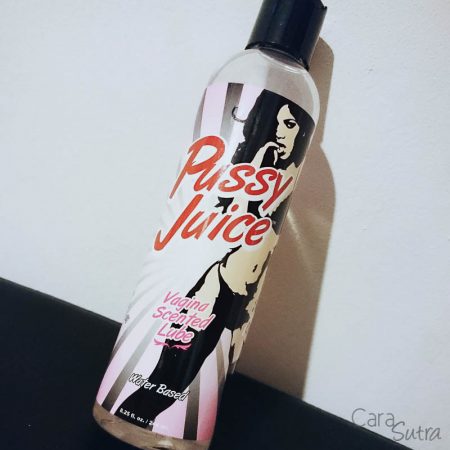 Pussy Juice Vagina Scented Lube comes in a typical lube bottle, with a snappy character style label and funky lettering. The back of the label has everything you'd want to know about the lube such as ingredients, where it's made, how much you get in the bottle etc. Long story short, pay £14.99 and you get 244ml of vagina scented lube in this depress-cap bottle of water based lubricant. It's glycerine and paraben-free (yay!) but does contain fragrance. Which I guess is infinitely preferable to natural pussy juice in the formulation. Yeah, I'm fine with it having the fragrance in.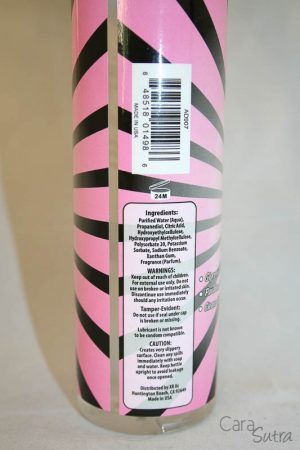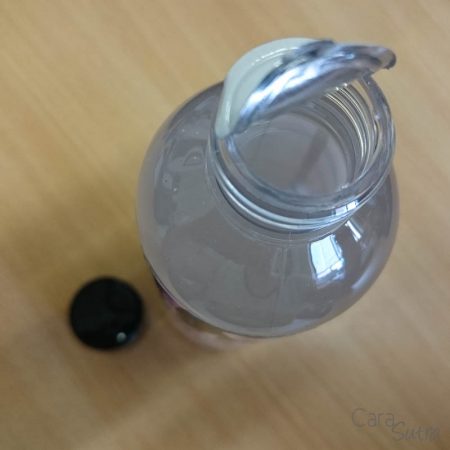 There's a hygiene seal under the Pussy Juice Vagina Scented Lube lid which needs peeling off before you replace the cap and can dispense the lube. Random thought: I really want to see a hygiene seal with "Hi Jean!" in bold lettering. For the LOLs.
Now for the bit you've all been waiting for. The smell.
The answer comes in two parts.
In the bottle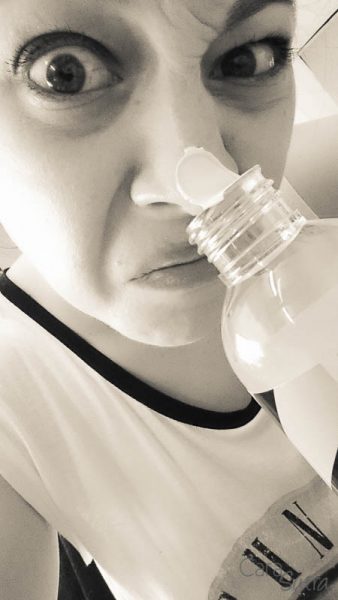 Upon tearing back the Hi Jean seal I put my nose to the bottle opening, without the dispenser cap on, and took a big sniff. I'm brave like that. Hardened, through years of kinky reviewing. They say it smells like clean vagina? Yeah, I'll give that a go.
It didn't smell like clean vagina.
In fact it didn't smell like vagina at all, in the bottle.
It smelled like… lemonade.
Lemonade, yes.
I don't know why! Stop asking me difficult questions.
Actually, it's probably something to do with the sheer quantity of the lube all together in the bottle. It gave off a sweet, citrusy smell – one which was only just about detectable, to be honest, but definitely there – and not like vagina at all.
On my skin
The second test was what the Pussy Juice Vagina Scented Lube would smell like on my skin, when using roughly the same amount that I'd apply during sex or when using sex toys. If I ever wanted to use pussy scented lube during masturbation.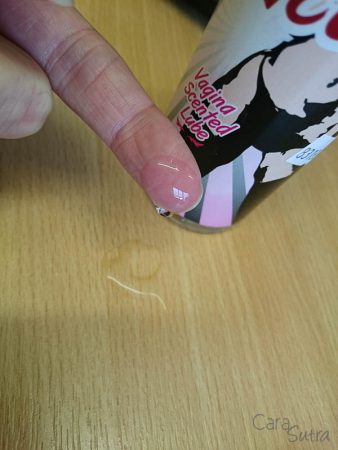 Replacing the dispenser cap I squeezed out a small amount (about the size of a 5p/dime) on the back of my hand. The lube is crystal clear and pours well, without being too watery or alternately, too gloopy and sticky. It looks like your bog-standard water based lube.
Using my fingers to move the Pussy Juice Vagina Scented Lube around a bit it became clear that this is a great lube (in my opinion). It's slippery, warms fast on my skin, and the slipperiness lasted ages without getting sticky like glue or evaporating too fast.
Back to the smell.
On my skin the results were startlingly different to the in-the-bottle sniff test. Once smeared over my skin I could tell it was meant to resemble the smell of clean vagina, which is a difficult scent to really describe.
Without getting too crass about it, there's a reason why there are jokes correlating vagina and the smell of fish. The first identifiable scents of this lube on my skin were more like hot, moist body – not sweaty and yukky but more like freshly showered without any soap smell added in. Once the lubricant warmed to my skin it became more like… fresh slices of smoked salmon, or a sliver of sushi (sashimi), or a piece of supremely fresh cod.
Here's hoping I've not put you off. Just being honest!
During Use
Being completely truthful, the only reason I used this Pussy Juice Vagina Scented Lube during sex & with sex toys is in the interests of a fair review. Pussy scented lube isn't what I'd usually reach for first when it comes to sexual lubrication. That said, this is a great lube – it's clear, glycerine & paraben-free, long lasting, water based so usable with any sex toy and didn't lead to any vaginal (or other) irritations.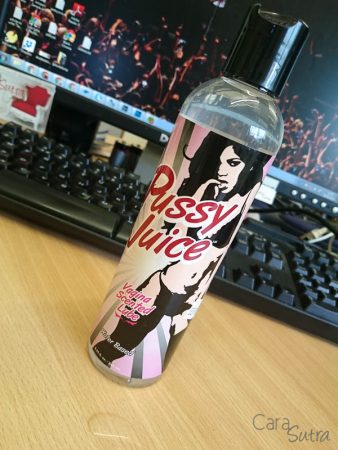 I started thinking about people who would want to buy this lubricant. Amongst them, I imagine, are those who want to 'real-up' their Fleshlights or other male masturbators with some lubricant which smells like lady parts. Or lesbian/bi women who want a girl/girl fantasy masturbation session with sex toys? Maybe there are women who suffer from vaginal dryness, don't want their sexual partner to know about it and so somehow secretly apply this vagina scented lube before sex.
Or simply men & women who just love the smell of clean pussy that much?
On the other hand it would be a great accessory to some kinky mind-fuck… or maybe to dab in the gusset of 'worn knickers' if you're in that market.
Hey, I'm just thinking laterally here.
The Pussy Juice Vagina Scented Lube is fantastic to use during sex or with my dildos & vibrators, as a slippery lube, but the scent isn't needed for me to enjoy it, personally. I think the novelty value of the vagina scent is just an added bonus and to be honest, the reason why people would buy this over other lubes. It's just… great water-based lube, body friendly, with a novelty factor.
As I've got loads of other lubes (fruity-scented and odourless) I'd rather reach for them rather than this one during sex or masturbation. Just personal choice really. The Pussy Juice Vagina Scented Lube is hilarious though, there's no getting round it.
If you want to give your sex zones (or worn-knickers slave) an irritation-free vaginal treat with a twist, buy your Pussy Juice Vagina Scented Lube at UberKinky for £14.99.


This review contains affiliate links
Photographs