Master Series Extreme Steel Chastity Cage Review
By Strapon_Banana
This month the fantastic Cara Sutra sent us the Master Series Extreme Steel Chastity Cage which was supplied by the lovely people at UberKinky.


Enjoy all our chastity cage reviews & chastity advice articles
As this item is a cock cage I'm definitely exempt from physical testing – but I relish the thought of being the enforcer and key holder. This is what we found…
Materials and Design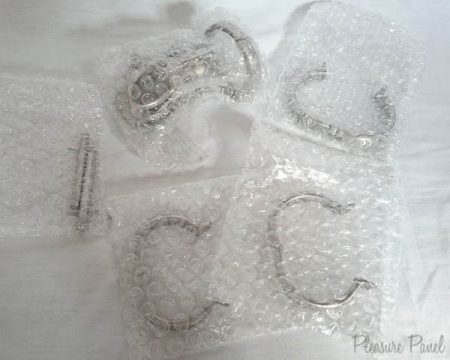 The Master Series Extreme Steel Chastity Cage retails at the eye watering RRP of £199.99. This is expensive especially when you think the very popular CB-6000 now retails at half the price. So is it worth it? In short, yes! You're buying a chastity cage for the professionals. It'ss made from high grade stainless steel and comes with 4 sized rings to fit the majority of men.
My favourite aspect of the design is the locking system. No padlock is required and your sub is locked in via a specially designed locking system likened to a locking wheel nut on your car alloys. So no actual key is required as such, rather a specifically designed tool.
Mr Banana pointed out that he could easily find something in the garage to get the screws out without using the "Tool" however this isn't in the spirit of things and is your sub who is wearing this so desperate to take it off?
I know Mr Banana isn't, however it is worth pointing out for any strict chastity players who maybe locked up for long periods of time as they could potentially release themselves and refasten the cage with Mistress / Master totally unaware. Compared to the CB cock cage which offers an obvious advantage here when considering plastic numbered non-reusable locks that can be used.
Fitting and Initial Testing
With pure coincidence the day after the Master Series Extreme Steel Chastity Cage arrived it was Mr Banana's birthday, what better way to celebrate his birthday than locking his cock away in this wonderful cage. He didn't take any convincing and we set to choosing a comfortable ring. With the chosen ring sized and the cage pushed into place I was able to use my special "Tool" to lock that cock down!
We hadn't used the detachable urethral tube at this point as the plan was to head out for dinner with his cock locked away and we were taking it steady with our new device at this point. The cage held him beautifully and the weighty stainless steel really looking like it was pulling his cock and balls down a bit I loved it I really did. It sat wonderfully and passed mistress inspection, I chucked him some pants and we got dressed for dinner.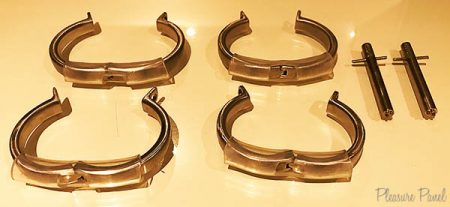 Over dinner I felt so aroused and horny to the point I was getting uncomfortable! It's just such a turn on to have his cock under lock and key and be in public.
Back from dinner after a few drinks and feeling brave we decided to try the urethral tube. A nice touch here is the end of the cock cage is removable using the special tool. This enables you to screw the urethral tube into the end piece and reattach all the while keeping most of his shaft and balls locked up.
Unfortunately the urethral part just didn't work, We don't blame the design or anything its just us we have tried in the past with other similar products and come to the same conclusion. Mr Banana just finds it a little painful and for us that's the time to stop! Neither of us really minded as this is still a great cage without the urethral tube.
He was released after having worn the Master Series Extreme Steel Chastity Cage for about 4 hours. I couldn't leave him locked up it was his birthday after all! During the time he reported no pain or discomfort.
Final Opinion and Longer Testing
Over the course of the month we tested the device out for varying lengths of time but nothing over 48 hours, Sorry guys, this will sound very tame to some readers – but it works for us and that's what we enjoy. During the 48 hour periods Mr Banana only complained during the night this is due to night time erections. I know this is a common occurrence with any chastity device. My advice: don't wear if if your at a job interview the next day, you may not get your usual amount of sleep.
A quick note on my partner's mood. I found him very attentive, very cuddly and more willing to do household chores than normal. Yes its true girls: lock his dick away and suddenly he's washing the pots for you… I know, it's crazy!
Final Comments
The Master Series Extreme Steel Chastity Cage is a great cage – but probably not for chastity new starters. It's strong, well made, well designed and we also found it impossible to pull out of. Just don't wear it at the airport!
Result 10/10
– Strapon_Banana
---
Thanks to our reviewer Strapon_Banana for this review of the Master Series Extreme Steel Chastity Cage. 


This product was sent free of charge, in exchange for a fair and honest review by the Cara Sutra team.
This review contains affiliate links